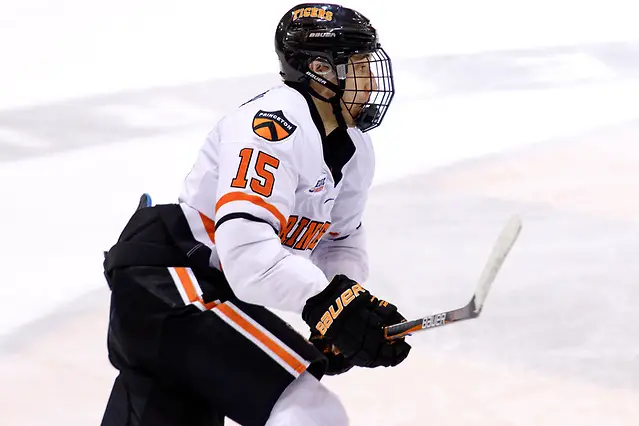 PHILADELPHIA — It wasn't sunny in Philadelphia early on for Princeton University, night game notwithstanding. It got a lot better, though, thanks to the Tigers' top line.
Ryan Kuffner tallied the tying goal with just 1:08 remaining in regulation Saturday as the Tigers rebounded from a three-goal deficit to force a 4-4 tie with Penn State in the 2018 Philadelphia College Hockey Faceoff at the Wells Fargo Center.
Kuffner's linemate and fellow 2017-18 All-America selection Max Verroneau paced Princeton with two goals and two assists, and also had a chance to win the contest in overtime, only to be thwarted by Penn State goaltender Peyton Jones (31 saves). The Tigers trailed, 3-1, after 20 minutes of play, with just three shots on net to that point, before righting themselves in the second period.
"It was an attitude adjustment," said Princeton head coach Ron Fogarty. "It was overdue. We're an extremely positive staff, but it was unacceptable. There was no push back by us, and it was our worst period in my five years here."
No. 9 Penn State fell to 11-5-2 on the season, while Princeton (3-8-2) snapped its losing skid at eight games.
Penn State's fourth line dominated the scoresheet early on, as Brandon Biro and Chase Berger notched first-period goals, and Alec Marsh added another to start the second session as the Nittany Lions went up by a 4-1 count.
"We came to play," said Penn State head coach Guy Gadowsky. "We played our game, but give Princeton a lot of credit, they came back strong. We didn't manage the game well in the second period, and they overtook us in the third."
Princeton's Josh Teves exchanged even-strength goals with Biro in the first six minutes of the contest, as Biro's score came just after the first "We Are Penn State" chant of the evening — even though Princeton was the designated home team. The goal stretched Biro's personal point streak to four games.
After Nate Sucese outraced a defender to a loose puck in the Princeton slot and fired home a shorthanded goal at 5:42 for the Nittany Lions, things went from bad to worse for the Tigers when Berger redirected home a feed from the corner by Derian Hamilton at 15:40 to make it 3-1.
"We came out flat and made mistakes, myself included," said Veronneau. "The first period was probably the worst of my Princeton career."
Austin Shaw replaced starter Ryan Ferland (12 saves) in goal for the Tigers just 17 seconds into the second session after Marsh raced in, avoided a stick check, and deposited the puck into the Princeton net for a three-goal lead, on Marsh's third goal in two games.
"We said, 'one more goal and Shaw's going in'," related Fogarty. "He played great, and the second and third periods were a great response by our players."
Shaw shut the door the rest of the way, finishing with 21 saves in his third appearance of the season.  He stopped a breakaway attempt by Sucese with just over six minutes left in the second stanza to keep it at 4-1, and was rewarded shortly afterwards when Veronneau scored on a partial breakaway at 17:03.
"We needed that," said Veronneau of Shaw's performance. "We needed him to stop every puck, and he played phenomenal."
The two teams skated back-and-forth through the third period, with Princeton killing off an early penalty, although the offensive pace was nowhere near as frenetic as over the first 40 minutes until late. Princeton closed to within one on Veronneau's second goal of the game, this one on a tap-in at the far post off a pass from Kuffner with less than five minutes left.
"It's a big line, a heavy line," said Gadowsky of Kuffner, Veronneau and Alex Riche. "It's not just points, they're tough to play against, and as good of a line as we've seen this year."
With the clock winding down, Jones stopped a backhand attempt by Veronneau—but the rebound went to Kuffner on the other side, and he connected on his own backhand to bring Princeton all the way back.
"It's good Ryan was there," quipped Veronneau. "He was in the right spot at the right time."
Princeton is now idle until it hosts Maine for two non-conference contests on Dec. 28-29, while Penn State will be off until it visits Minnesota in Big Ten action on Jan. 4-5, 2019.
"Maybe you want to get going right away," said Gadowsky regarding the upcoming layoff, after settling for a tie with his old team. "There's some areas we didn't manage well."
Penn State outshot Princeton, 37-35, overall on the night, while neither team scored among a combined five power plays. The Tigers outshot the Nittany Lions, 32-22, following the opening period, including 17-7 in the third.
Around the Nation
No. 12 Bowling Green 4, No. 3 Minnesota State 1
For the second straight night, Bowling Green found a way to upset the WCHA's top team, Minnesota State, by an identical score of 4-1.
Lucas Craggs scored twice for the Falcons in less than six minutes to blow open the game as Bowling Green jumped to a 3-0 lead.
Connor Mackey pulled Minnesota within two, but Taylor Schneider's goal late in the second restored the cushion.
This is the first time since Bowling Green joined the WCHA that either team has swept a weekend series from the other.
No. 15 Arizona State 4, Colorado College 0
Host Arizona State completed the weekend sweep of Colorado College and won its fourth straight game and its 14th overall win to tie for the most wins with Quinnipiac, Massachusetts and Minnesota State at the holiday break.
PJ Marrocco and Austin Lemieux scored second period goals to take control offensively while Joey Daccord made 31 saves to earn the shutout and his nation's best 14th win of the season.
Arizona State returns to play on December 28th in arguably the best holiday tournament – the Desert Hockey Classic – where all four teams, Arizona State, Minnesota State, Minnesota Duluth and Clarkson could possibly be nationally ranked entering the event.