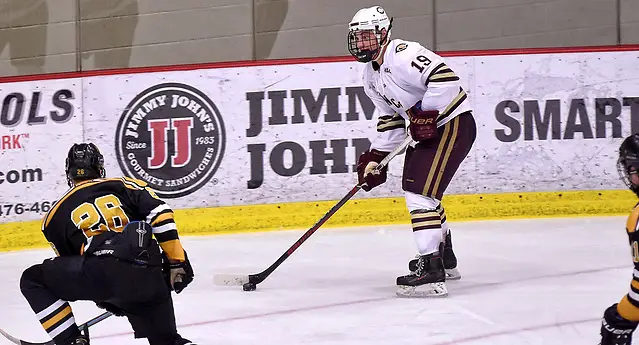 When it comes to surprises in this first half of the NCAA Division III hockey season, there are, without question, a handful of them in the West region.
While teams like Adrian, St. Norbert, Wisconsin-Stevens Point, and Augsburg are carrying on with business as usual (all four on pace to return to the NCAA tournament), there are other teams that have taken this first half of the year by storm.
Concordia is one of those teams. The Cobbers have nine wins before Christmas for the first time since 2013, when they won eight games prior to the arrival of Santa. They won eight games in 1980 as well.
The Cobbers are on an eight-game unbeaten streak, the longest since the 1990-91 season, and the six-game win streak is the longest since the 1999-2000 season.
Concordia is 9-2-2 overall, 5-0-1 in the MIAC, and very much in contention for a conference title and NCAA tournament berth. Not bad for a team that won just 10 games total last season, including only seven in MIAC play. Concordia might just be the biggest surprise story of the year in college hockey.
Wisconsin-Stout is a contender for that honor as well. The Blue Devils have already won nine games, two more than they did all of last year. They will ride a three-game winning streak into 2019, and that in itself is impressive considering they didn't win three in a row at any point last season.
Wis.-Stout also has a signature win this season, knocking off Marian when it was ranked in the top 10 in the nation. The Blue Devils rolled over the Sabres, 4-0, back in November.
Whether or not they win the WIAC remains to be seen. It won't be easy considering top-ranked Wisconsin-Stevens Point is in the conference, but the Blue Devils are at least going to have a shot to pull off the unthinkable, and that's impressive.
Speaking of Wis.-Stevens Point, the Pointers are definitely a surprise to a degree. Everyone expected them to be good again this year. They are one of the best in the nation year in and year out and played in the Frozen Four last season.
To be undefeated heading into Christmas? That's impressive, and a little surprising. The Pointers lost three games in the first half of last season. It's not easy staying unbeaten, but the Pointers have managed to do it, and they've done it despite playing seven games away from home.
This is a team that is good enough to win it all, and that wouldn't be a surprise.
St. Scholastica is the other big surprise of the first half. The Saints are rolling along at the moment. Ranked 15th in the nation, they have lost just once in their last 10 games. Their only loss during the stretch has been to Augsburg.
St. Scholastica goes into Christmas with an 8-2-1 record and feeling confident about its chances to contend for an NCHA crown.
One of the keys to the turnaround has been coach Tim Madsen. He was hired in May as the 10th coach in program history and has turned things around in a hurry for a team that won just 15 games all of last season.
If this team maintains its momentum and continues to play with confidence, it will be a tough team to beat come tournament time.
What isn't a surprise, though, is the quality hockey being played in the West region. Eleven teams have winning records, and seven teams are nationally ranked.
That's impressive, to say the least.