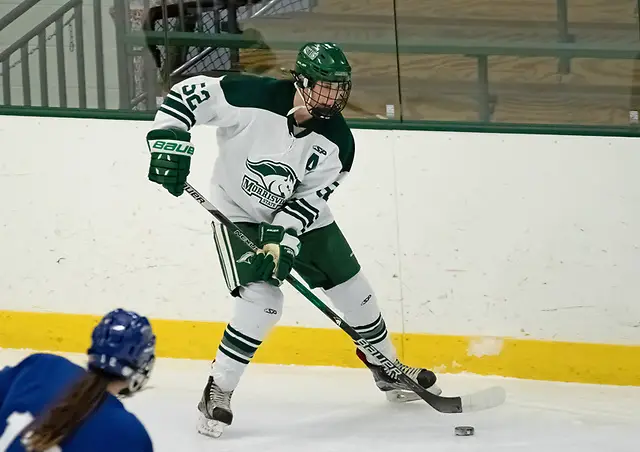 Spectators and teams have seen some good hockey during the first half of the season. The anticipated top teams in the East, Plattsburgh, Middlebury, Norwich, and Elmira, have proven why they are the programs to beat. They have been ranked the entire first half and defeated almost everyone who has come up against them. The second half of the season should prove to be entertaining with these four leading the way. An inaugural team and a program with only one year underneath them have shocked the league with impressive records and skill. Nazareth and Suffolk created an incredible start for themselves and should make their respective conferences a fight to the finish.
Colonial Hockey Conference
Currently leading in the standings, the women playing for the University of New England have six conference games left in the season and will be looking to hold on to the lead. The start for the University of New England was unexpected, as they were picked to end in the middle of the conference. Not far behind, Morrisville and Nichols are tied for second and will be gunning to take the top spot.
University of New England's last two games of the regular season will be played against Nichols, and this series will be extremely important for both teams. Endicott, currently occupying the third-place slot, has played two conference games less than the teams holding the first- and second-place spots. Endicott has some important games that await them both in and out of conference for the second half of their season. No doubt it will be a challenging road for whoever ends up claiming the conference title. Standout defenseman Jessica Ujcik from Morrisville has been finding the back of the net, to say the least. She has scored 11 goals and assisted on eight others in 15 games. Maddison Devlin has played an important part for Morrisville too; the forward has scored 10 goals and assisted on 11 so far.
NEHC
The season preview had Norwich pegged as the favorite, and they have played up to that prediction. Massachusetts-Boston has been struggling and has not quite performed the way they were expected. Suffolk has been a surprise underdog this season and could potentially outperform UMass-Boston. The standings in this conference are not as close as the teams would like to have seen, with the exception of Norwich, who is leading the conference. The Cadets currently are sitting on top in the rankings, and behind them seven points away is Suffolk.
Although Suffolk has played one conference game less than Norwich, the Cadets have still created a nice gap as they enter the second semester. These teams still have plenty of games to be played with conference points still up for grabs. The teams behind Norwich will need to step it up to catch the reigning NEHC champions. Forward Amanda Conway and goalie Emily Lambert have been key players for the 2018 national champions. Conway has started her season with 13 goals and seven assists. In the opening night for the 2018-19 season, Conway recorded two goals against No. 5 Elmira and currently has four game-winning goals already this season. Lambert, a sophomore, has played seven games and has a .72 goals-against average and .965 save percentage. She will need to continue to be a brick wall in net as the Cadets start the New Year against ranked opponents.
NEWHL
All five teams that encompass this conference are almost even with the number of games played. No surprise that leading in the standings is Plattsburgh State. Trailing the Cardinals by six points is Oswego. The predicted order to finish in the season preview is exactly how this conference will end during the break. The Lakers will need Plattsburgh to lose a few games for them to get closer in the standings. These two have already played each other this season, with Plattsburgh completing the sweep.
With 10 conference games left for Plattsburgh and Oswego, the possibility of Oswego catching Plattsburgh in the standings is there, but a tough road and most likely not achievable. The preseason predicted top performer Kassi Abbott has played extremely well, and defenseman Hannah Rose has stepped up tremendously, which was an unexpected surprise. Both have played a huge part of the Cardinals' number one defense. Rose not only prevents the opposing team from scoring, she has been scoring herself. Rose has scored six goals and assisted on three goals so far this season. Abbott, a Massachusetts native, has been nothing but solid in the net. The goalie has played in 11 games and only allowed four goals. Her .38 goals-against average and .980 save percentage is incredible, and we should expect to see the same type of performance as she closes out her collegiate career.
NESCAC
Teams in the NESCAC started later this year than other conferences, so this is not considered the midpoint to their season. However, a check-in never hurts, and the NESCAC is a conference we should keep our eyes on. With only four conference games played, Middlebury holds the lead in the standings. Right behind Middlebury is Hamilton, and then sharing the third-place spot are Colby, Connecticut College, and Williams.
Amherst was predicted as the dark horse of the conference, but as the teams enter Christmas break that title can now be passed on to Williams. It's tough to tell how the NESCAC will ultimately turn out, as they all seem to be close in skill, with each of them having had a notable start. However, the conference favorite, Middlebury, will need to fight hard to fend off a strong Williams team. William's Meghan Halloran has been extremely effective for her team, especially in the upset over ranked opponent Elmira where she scored two goals. Coming off a strong freshman season, the sophomore has five goals and 10 assists in nine games. Middlebury's Jenna Marotta has also had a successful start. The defenseman has two goals and four assists in seven games, as well as a key game-winning goal against Trinity.
UCHC
The largest conference out East, the UCHC has seen great conference play. Five teams in particular have this conference pinned as one of the more exciting leagues: William Smith, Elmira, Nazareth, Utica, and Manhattanville have made any series played against each other very unpredictable. Currently sitting on top in the standings is William Smith; however, Elmira is right behind them with two games yet to be played. Elmira was an early favorite at the beginning of the season, and they have not disappointed.
The predicted dark horse from the UCHC season preview, William Smith, has proven to be noteworthy; however, who would have predicted that a freshman would lead the way for the team. William Smith's Abbey Luth has started her collegiate career on a high note. She has scored 10 goals and has seven assists. She has helped her team start the year with a record of 10-0. Elmira's star forward, Katie Granato, started the first game of the season with a hat trick and has not slowed down since. She has recorded 14 goals and eight assists in 11 games. Manhattanville has two players that have allowed them to rebound from their rough season last year. Forward Amanda Sabia and defenseman Zoey Pellowitz have stood out greatly. Sabia has scored 11 goals and assisted on seven. Pellowitz has scored three goals and helped on 10. These two have led Manhattanville to a 7-2-1 start.
Midseason Standout Players*
Forwards: Amanda Conway, Norwich; Katie Granato, Elmira; Amanda Sabia, Manhattanville; Maddison Devlin, Morrisville; Meghan Halloran, Williams; Abbey Luth, William Smith
Defense: Jessica Ujcik, Morrisville; Hannah Rose, Plattsburgh; Jenna Marotta, Middlebury; Zoey Pellowitz, Manhattanville
Goalies: Kassi Abbott, Plattsburgh; Emily Lambert, Norwich
* This is not an award or a prediction of future awards.