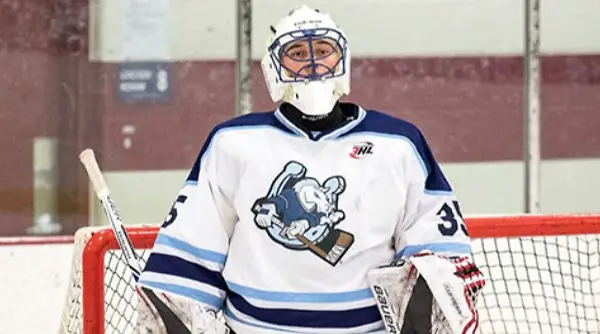 Oswego Stampede goaltender Colin Burgess has committed to King's and will join the team for the second half of the 2018-19 season.
"Coach (Stephen) Mallaro came to get eyes on Mark Mannarn (King's 2019-20) and was very impressed with Colin," said Stampede coach Mike Beavis in a statement. "About a week after committing Mannarn, I received a call asking if I could part with Burgess for the second half of the season. My reply was, 'For sure, as long as that is what Colin would like to do.'"
This year with the NA3HL's Stampede, Burgess went 5-6-2-1 with a 3.23 GAA and a .923 save percentage.
"We would like to thank the Oswego Stampede organization and head coach Mike Beavis for putting Colin Burgess on our radar," said Mallaro. "Colin is coming to King's College at an opportunistic time to start his college career. We look forward to helping him progress into a student-athlete and having a successful college career at King's College."