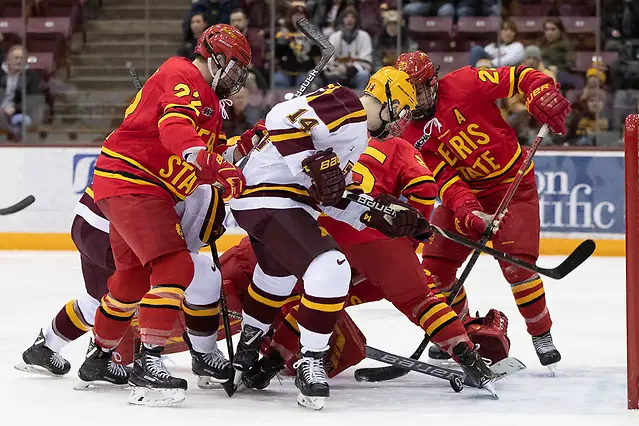 Each week, USCHO.com picks the top 10 moments from the past weekend in our Monday 10 feature.
1. Clarkson upsets Minnesota Duluth in Desert Hockey Classic
There's no better way for 19th-ranked Clarkson to bring in the new year than by knocking off No. 4 Minnesota Duluth, the defending NCAA champions, during the third annual Desert Hockey Classic in Glendale, Ariz.
Clarkson goalie Jake Kielly was named the showcase's Most Valuable Player for turning away 29 shots throughout the 3-1 championship game victory. Nico Sturm had a pair of goals and one assist on the weekend.
The Golden Knights blanked Arizona State 3-0 to open the Classic.
2. Mankato, Duluth play overtime thriller in the desert
The Desert Hockey Classic couldn't have gotten a better game to open the tournament Friday, as Nick Swaney tossed in the game-winning goal for No. 4 Duluth at 2:17 of overtime. The Bulldogs topped cross-state rival No. 3 Minnesota State 4-3 to earn its berth into the championship game against Clarkson. Both Swaney and Peter Krieger assisted Kobe Roth's power-play goal in the third, which knotted the score at 3 and ensured overtime. Roth, Krieger and Swaney finished with two points apiece.
3. Friar fury in New Hampshire
No. 10 Providence College opened the Ledyard Classic on Saturday with a 3-1 win over crosstown rival Brown, giving coach Nate Leaman his 300th career win. The next day, PC captured the tournament crown by beating Dartmouth, relying on a shorthanded goal from Ryan Tait to knot the score at 2 and a pair of goals from Scott Conway to ensure the win down the stretch.
4. Streaking Northeastern wins twice but Catamount Cup stays in Burlington with host Vermont
Eleventh-ranked Northeastern is one of the hottest teams in NCAA hockey right now. The Huskies increased their winning streak to eight, which is the longest active streak in the country and third-longest in program history. They added to that streak Friday and Saturday, beating RPI 3-2 in overtime and Alabama Huntsville 2-0.
But that wasn't enough to take home hardware at the Catamount Cup. Because Vermont sets this tournament up with pre-determined matchups, both Vermont and Northeastern each finished the two games with 2-0 records. Vermont, though, had a plus-5 goal differential against RPI and Alabama Huntsville to Northeastern's plus-3, thus allowing the Catamounts to hoist the trophy
5. WCHA > Big Ten, at Great Lakes Invitational
Tommy Parrottino recorded a walk-off shootout goal to settle a 2-2 tie and push Michigan Tech past Michigan in Sunday's Great Lakes Invitational opener at Little Caesars Arena. Shortly afterward, Lake Superior State's Diego Cuglietta threw in a goal in overtime, helping the Lakers edge Michigan State 4-3 in the second game of the tournament.
WHAC and Upper Peninsula rivals MTU and LSSU will face each other in the GLI championship Monday. U-M and MSU will square off in a rivalry matchup as well, this one determining who will take third place in the tournament.
6. Union, Canisius play to tie
Five different players for No. 14 Union scored in Saturday's 5-3 win over Canisius, but it took everything the Dutchmen had to pull out a 2-2 the previous night. Jimmy Mazza gave the Golden Griffins a 2-1 edge in the second. Fortunately, for the Dutchmen, a power-play goal from Brandon Estes with about 10 minutes left ensured the stalemate. Brett Supinski and Sebastian Vidmar assisted on Union's tying score.
7. East coast trip no problem for the Pioneers
A year-end jaunt to Massachusetts was a boon for No. 8 Denver, as it topped Merrimack 3-1 Friday in North Andover and UMass Lowell 4-1 the following night. Jarid Lukosevicius scored a pair of power-play goals against Lowell, which included the winning goal at 3:19 of the third. Ryan Barrow scored once in each game, and goalie Filip Larsson made 20 saves in Game 2 to earn his second-career win.
8. Ohio State takes care of Mercyhurst
The seventh-ranked Buckeyes swept Mercyhurst 3-1 and 5-4 to conclude its non-conference schedule Friday and Saturday. Ohio State needed a pair of goals from Carson Meyer in Game 2, including Meyer tieing the score at 4 late in the second period. Defenseman Sasha Larocque put in the game-winner in the third. OSU will play eight different Big Ten weekend series to end the regular season, which includes playing both Michigan and Michigan State four times.
9. Princeton tallies eight goals against Maine
Princeton doubled its season win total at Hobey Baker Arena by sweeping visiting Maine 1-0 and 7-3 to wrap up non-conference play for 2018-19. Ryan Kuffner, who scored the lone goal Friday night, notched a second goal the following day, while Luke Keenan pushed through the game-winner at 15:05 on Saturday. Corey Andonovski also recorded a pair of goals for the Tigers, who will play 14-straight ECAC games to conclude the regular season.
10. Ferris snaps 11-game skid by upsetting Minnesota
Ferris State needed a pair of goals from its senior captain to end its 11-game drought without a win (10 losses, one tie). Corey Mackin blasted in the game-winner on the power-play at 11:20 in the third, helping the Bulldogs upset host Minnesota 3-2 in non-conference play. The Philadelphia native also scored with the man-advantage in the second.
The game could have gone either way had freshman goalie Roni Salmenkangas not made a staggering 44 saves for Ferris, which picked up its first win since Nov. 3 – a 4-1 victory over another Big Ten foe, Michigan State.