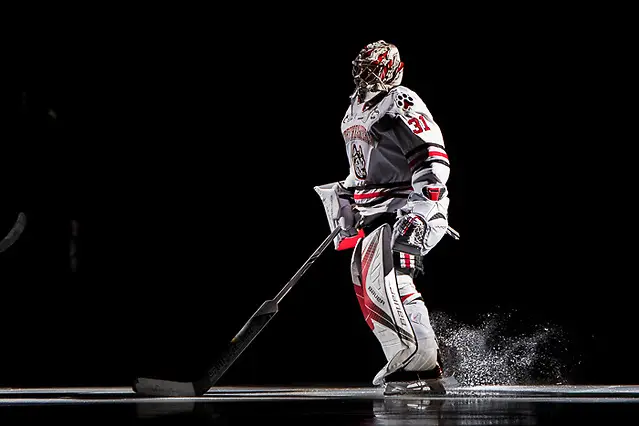 If you're the average person, you likely spent New Year's Eve toasting a goodbye to 2018.
Maybe you watched the ball drop from your living room or, if you're fortunate, actually made it to Times Square to see everything in person (and got soaked in the process).
Northeastern coach Jim Madigan took a different approach. He wasn't concerned about calendars turning or balls dropping.
Jim Madigan was watching hockey.
For New Year's Eve was a night that allowed him to be a proud papa. It was an evening when the U.S. World Junior team, to him at least, felt like "Northeastern Huskies Lite."
All-league goaltender Cayden Primeau got the start in net against Finland in Team USA's final game of the tournament's round robin. Freshman Tyler Madden was once again in the lineup having comported himself well throughout the first three preliminary-round games. And one of his right hand men, Jerry Keefe, was on the bench helping head coach Mike Hastings guide Team USA.
"It was awesome," said Madigan, noting Madden's two goals and Primeau's more-than-solid effort in 4-1 win over Finland. "Everyone here, our whole staff, our players, we've been following it since the kids left here in the exhibition games.
"I thought those two guys were the two best players [on New Year's Eve], Primeau and Madden. Madden gets Player of the Game. It's just great to see."
The fact that there are players like Madden and Primeau, and for that matter a coach like Keefe, a part of this World Junior team is a testament to the success of Northeastern in recent years. For a long while, particularly in Hockey East, World Junior participation was limited to schools like Boston College and Boston University that could recruit the top talent at a young age to participate in the under-20 tournament.
Northeastern, which has won a Hockey East tournament and Beanpot and reached the NCAA tournament all in recent years, suddenly is in the battle for some the top end blue-chip talent at the youngest ages.
"We haven't been on that [World Junior] stage with Northeastern players in a long while," said Madigan. "Every program needs good players. That's a tribute to Jerry Keefe and Jason Smith, making sure we get the right players. Not always the best players but the right players that fit our style and the identity we play as a team.
"Some of those young men are getting the opportunity to play at the World Junior level. And last year, [Dylan] Sikura and [Jeremy] Davies getting an opportunity and a look for a [Canadian] Olympic program and [Adam] Gaudette with the American team."
Certainly, not having these players in the lineup isn't the most convenient thing for Madigan, whose team entered the break with a 10-3-1 record and squarely in the PairWise mix for an NCAA bid. But the experience that Madigan believes these players can gain on the international stage brings with it the necessary value that he hopes can benefit the Northeastern team in the second half and beyond.
"The experience that you gain from a tournament like this is invaluable in bringing it back to your campus," said Madigan. "They've gone through elite hockey playing with elite players. And a mindset, every game is important, even in the round robin. Then you get to the medal round, it's one and done. So you understand the sense of urgency. You understand the importance of details and habits.
"Then just the worldliness of playing on an international stage. That gives you confidence. It's a little bit of swagger. Not cockiness. But confidence and swagger that can help propel you and create a little bit of an infusion in your team in the second half."
While it has been enjoyable to watch the success that the Northeastern trio has had at this World Juniors, not lost is the fact that key players are missing from this team as it hopes to get off to a solid start in the second half.
Last weekend, the Huskies played games against Rensselaer and Alabama Huntsville in the Catamount Cup tournament, winning both. Ryan Ruck, who hadn't started a game since Oct. 28, 2017, was solid throughout the weekend, something that gives Madigan some pride.
It also allows him to draw a parallel to another very successful team from Northeastern's geographic area.
"Ryan did a great job," said Madigan. "[As a staff] we talked about it the other day where we think our program is at the point where the [New England] Patriots motto is of 'Next Man Up.'
"This past weekend, there was no panic that we [were without] a first-team all-Hockey East goaltender as well as one of our leading scorers in Tyler Madden. We're happy for them, but our train is still moving forward.
"Ryan Ruck did a great job. He hadn't [started] a game in over a year. He played really well and gave our team confidence. He came back early from the break so that he could get himself ready for these games. It was a testament a sacrifice that he made not being with his family at Christmas to be more ready on a short turnaround."
Whether or not there is a medal in the future for Team USA, you can know that the Northeastern hockey family is now very proud and, after many years seeing these "proud papas" down the road at BC and BU, Huntington Ave. is ready to welcome home their heroes from Team USA.