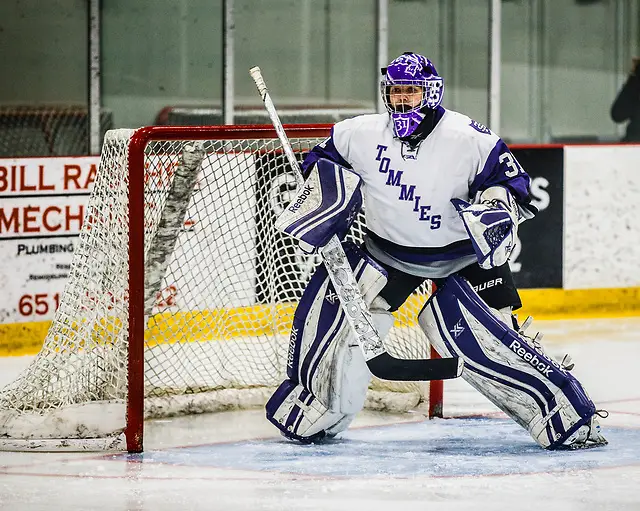 In her last season in net for St. Thomas University, Kenzie Torpy is having a record year. The Wisconsin native has played 11 games so far and has only allowed four goals. As she continues to have her best season yet, Torpy is quick to give credit to her teammates for having the second-best defense in the league.
"Our whole team defensively has been great in front of me this year, and I put so much trust in them," Torpy said. "From blocking shots to tying up in front of the net and clearing out rebounds, my teammates really battle in our end to keep things away from the front of our net. We take a lot of pride in our D zone, and one of the points that coach (Tom) Palkowski tries to really emphasize is working from our D zone out. In our conference, there's not a lot of games that are blowouts, and many of them come down to one or two goals, and this year we've put a lot of focus on taking care of our house first."
The effort put forth by Torpy and her teammates has led them to being undefeated nearly halfway through their season. Defeating top programs such as Augsburg University and Wisconsin-River Falls has been a confidence booster for the Tommies. Torpy acknowledged that during the preseason, she was hopeful for the potential that swirled around the women who made up their roster. However, being undefeated so far in the season was a pleasant surprise.
"We knew coming into this year that our roster had depth, talent, and the possibility to be successful if we all really committed ourselves and bought into the team. I don't know if any of us expected to be undefeated to start the year, but we've come into every single game with the same mentality, focus, and intensity, and it has paid off for us. There's obviously a lot of season left, but now that our team realizes what we're capable of accomplishing, it's only motivated us more."
Being the starting goalie is not a foreign position to Torpy. She has been the program's go-to goaltender since her freshman year. She reflects on playing for coach Tom Palkowski and the program he has created.
"Playing for coach Palkowski and the Tommies has been a great opportunity and experience that I am very grateful to have had. Coach Palkowski has created a great culture in the Tommies hockey program in the years that he has been here and works with each player to help them become their best, and I respect him and what he has done for our hockey program. Every week of practice is intense and competitive because girls are fighting to earn their spot in the lineup for that weekend. I am very lucky to have had the opportunity to play as much as I have as a goalie, and playing for a program with such a history of success and respect has made it so much more enjoyable. Our team is very competitive and pushes each other when it comes to hockey, but we are also a very tight-knit group off the ice. Our team chemistry has contributed to our success overall this season."
St. Thomas' most successful game yet, on paper, is defeating ranked opponent Wisconsin-River Falls. This victory solidified that St. Thomas will be a top team in the league and the MIAC. Torpy elaborates on what defeating the Falcons means to her and the team.
"Obviously River Falls has consistently had a great program and we've always considered them to be rivals, but the last couple years they've beaten us. With them being a ranked team and having a lot of success recently, I think we saw this game as kind of a measuring stick for where we are at against the top opponents in D-III. This was the first ranked team we've played all season, so it was important for us to go head-to-head against a great team and know that we can compete and even come out on top. Beating them was a big boost of confidence for us, and it came from our entire roster working as one unit to get the job done. I think it gave us a lot of momentum heading into the second half of the season, and hopefully we can keep building off it."
Now that St. Thomas has labeled themselves the MIAC team to beat, Torpy describes from her perspective what it means to play in one of the top conferences in D-III hockey.
"Playing in the MIAC is a lot of fun because anyone can really beat anyone at any point. No matter who you're playing, you must have a lot of respect for your opponent because all the teams are competitive, and they all work hard every second they're on the ice. There are the teams that we consider to be our top rivals, like Gustavus, Hamline, and Augsburg, but you can't overlook anyone in our conference. Being in such a competitive group is really fun and great preparation for other teams we may see at the end of the year."
When asked about personal and team goals, Torpy acknowledges her goal is to put the team in the best position to win. However, the team has a new goal this year as compared to past years.
"My goal in every game I play is always to put my team in a position to win. If I am working hard, supporting my team, battling and doing all I can to put my team in the best position possible to get the win, I am accomplishing that goal. Our team's goal since the beginning of the year has been to win a MIAC championship, and I think a new goal for us now is to compete in the Frozen Four. This is a high goal, but I think it is definitely something our group is capable of accomplishing if we continue to play as we have. It's great to have teammates and goalie partners who continually push and support one another on and off the ice to accomplish our goals."
The Tommies have great potential to make the playoff race even more exciting than past years. As this group continues to seek success, there will be teams that will be looking to deliver them their first loss.