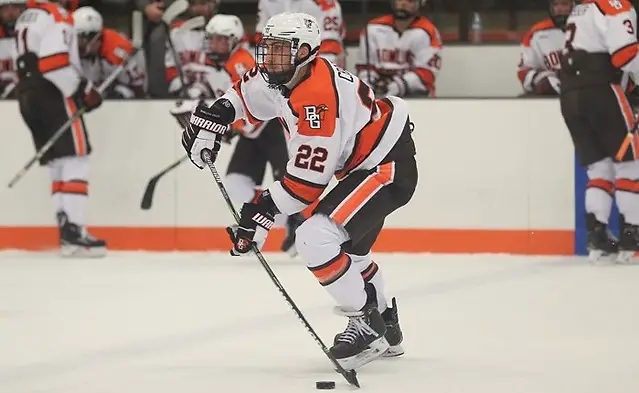 Bowling Green's Lukas Craggs has been named the Hockey Commissioners Association Player of the Month for December, while the HCA Rookie of the Month is Wisconsin defenseman K'Andre Miller and HCA Goaltender of the Month is Quinnipiac's Andrew Shortridge.
Craggs tied for the NCAA lead with six goals, and added three game-winning markers and a plus-nine rating as the eighth-ranked Falcons went undefeated at 5-0-1. He also added a pair of assists to tie for fourth in the WCHA with eight points (tied for sixth nationally).
Miller finished the month of December ranked third in points among all freshmen in the nation with six (two goals, four assists) to help the Badgers to a 3-0-0 record.
Shortridge did not surrender a single goal during the month of December.
The junior netminder posted a 2-0-0 record for the Bobcats in December, playing 114:55. He made 51 saves in the process, 32 of which came in a win for the Bobcats against then-No. 1 ranked Massachusetts on Dec. 7. At the end of the month, his shutout streak extended to 180:03 of perfect play.