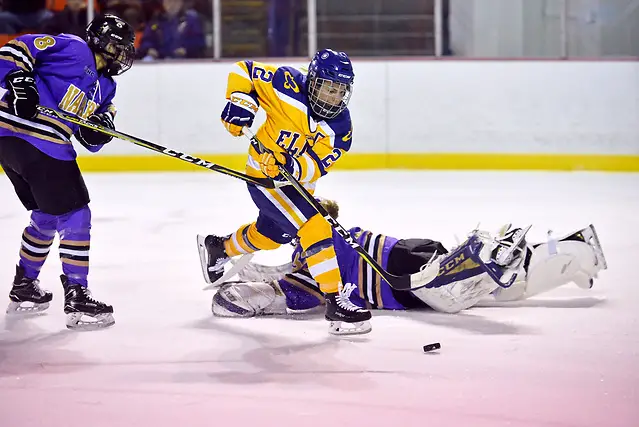 East/West Showcase
Semifinal Round
No. 2 Adrian versus No. 1 Plattsburgh: Plattsburgh 2-0
No. 3 Elmira versus No. 5 Norwich: Elmira 3-0
Championship Game – No. 2 Plattsburgh versus No. 3 Elmira: Elmira 4-1
Third Place Game – No. 2 Adrian versus No. 5 Norwich: Norwich 5-4 (OT)
Adrian College
Adrian was ranked first going into this tournament. After the loss to Plattsburgh Sunday night, they fell to number two in the Monday morning rankings. Monday afternoon, they took another unfortunate turn as they lost to No. 5 Norwich in overtime. The Bulldogs ranking is uncertain; however, expect them to continue to move down. In spite of the losses this weekend, the Bulldogs are still a powerhouse and have some key conference games ahead for them to clinch the regular season conference title.
Plattsburgh State
Plattsburgh was hungry to take back what they have owned for many years, which is the number one ranking, and defeating Adrian did exactly that. After the victory, the voters moved the Cardinals back on top, but will their ranking on top be short-lived? It very well could be after the 4-1 loss to Elmira. Picking the next team to be ranked number one will be as hard as it's ever been this season.
Elmira College
Elmira's performance in the previous holiday tournament in November was terrible, with them losing both games. In this weekend's tournament, they made it clear that was not going to happen again. The Soaring Eagles won the East/West Showcase very convincingly. Katie Granato had a hat trick against Plattsburgh in the championship game. Championship teams have their best players show up when the biggest game is on the line, and that is why Elmira is an extremely dangerous team. I can't wait to see how far Granato and the team will go this year.
Norwich University
Norwich had a tough loss to Elmira, but finished strong against Adrian. This team could possibly move up a spot in the rankings, but I don't see them surpassing the fourth spot. The Cadets have only one more game against a ranked opponent, Middlebury, and winning that game will be important to stay in the top five.
Trinity versus Connecticut College: Trinity 2-0,2-0
Trinity winning both games puts them in a better position in the NESCAC standings. They currently are tied for third and will need every point to move up. This is a disappointing result for Connecticut College. Had they won both games, the Camels would be tied for second. I've said it before: this conference will be extremely entertaining with every game played, and every point will matter.
St. Scholastica versus No. 7 St. Thomas: St. Thomas 5-1
The Tommies took down a top team in the NCHA and remain undefeated. St. Thomas' defense was stellar and only allowed 16 shots on net. We should see St. Thomas move up in the rankings to four or five. For St. Scholastica, if you want to be a top team in the NCHA you need to be able to handle top teams from other conferences. St. Scholastica completely got outplayed by St. Thomas. The shots and score were not even close. The Saints also had three power plays and didn't score. However, I do not see this being a setback for the Saints in the long term. They gained exposure to an extremely high level of hockey and should take that with them for future opponents.
No. 10 Gustavus Adolphus versus No.9 Wisconsin-Eau Claire: Gustavus Adolphus 3-1
Wisconsin-Eau Claire survives being bumped out of the top 10 rankings. They have yet to beat a ranked opponent, and they've been sitting at the bottom of the rankings for a while now. Gustavus Adolphus being bumped up to number nine came as no surprise. Who would take Wisconsin-Eau Claire's spot if they were knocked out of the top 10? Possibly Williams, as the Ephs have played extremely well this year and deserve to be recognized for it. Don't be surprised to see their name in the rankings soon.