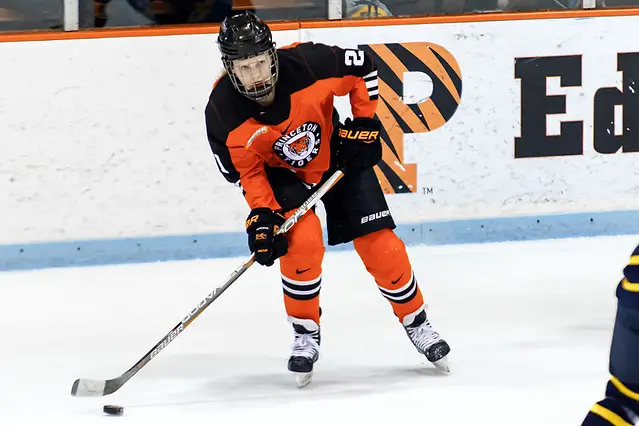 Arlan: Happy New Year! Many of our teams are back to work, so I guess we need to be as well. We don't have quite a full slate yet, but there is still plenty to discuss.
This weekend saw a pair of special events. I watched the first Minnesota Cup on the women's side, while a couple of top-five teams headed to Belfast, of all places. I'm on record as not knowing why No. 3 Northeastern and No. 5 Clarkson were playing in Northern Ireland, but it is likely that they wouldn't have been able to draw over 4,000 fans to a series in the United States, so apparently the schedule makers are onto something.
It wasn't a particularly good weekend for the ECAC. The two teams that faced off for the national championship in March both went winless on the weekend against squads that were knocked out in the most recent NCAA quarterfinals, each salvaging a tie in the opener. The Northeastern Huskies are apparently the queens of Europe, as they took the second game of the series in Belfast, 3-1, after a 3-3 draw with the Golden Knights on Saturday. No. 9 Colgate skated to a 1-1 tie at Mercyhurst on Saturday, but the Raiders found themselves in penalty peril in the third period of the second game. The Lakers scored three of their four power-play goals in that stanza, and they mixed in a couple of shorties, rallying for an 8-5 victory.
That series was a nice bounce back for Mercyhurst. We'd all been eyeing the final series before Christmas. The Lakers took Ohio State to overtime before falling in the opener, but endured a 9-2 trouncing in the finale.
Princeton, the team at the top of the ECAC standings, returned from the Christmas break with yet another tie versus Merrimack, but the Tigers have since rattled off comfortable wins over the Warriors, Harvard, and Dartmouth.
In what has surprisingly become almost commonplace this season, the hemorrhaging continued at Boston College. The Eagles saw another lead slip away and become a 3-2 triumph for New Hampshire.
What stood out to you?
Candace: I feel like there are two big storylines. First is Northeastern's continued great play. That the Huskies went two games against Clarkson and got a win and a tie shows that they are the team to beat in the East right now. Clarkson has been struggling, and as you pointed out to me a few weeks back, part of that might be that the Golden Knights don't have a lot of scoring depth. Their top line is as good as any in recent memory, but after that, aside from T.T. Cianfarano, Clarkson doesn't get a lot of scoring. Also, Kassidy Sauvé is not quite having the same year she did last season. She's still solid, but she was in net for both Northeastern games and gave up three in each. Clarkson will still likely get into the NCAA tournament, but a third straight championship is not looking promising at the moment.
For Northeastern, they have balanced scoring and strong goaltending, and seemed to have shaken off that strange loss to Holy Cross. Alina Mueller continues to be a force in her first season, and senior Kassidy Anderson had big goals in both Clarkson games.
The last time Northeastern got a big win, it was in OT against Boston College, and that was when they then lost to Holy Cross. Perhaps Northeastern will have a letdown this weekend in a two-game set with Boston College, which is in freefall. That Northeastern loss started BC's skid, as the Eagles have lost five of their last six. At this point, they need to win the Hockey East tournament to qualify for the NCAA tournament. Given some of the defensive lapses BC has suffered, I've been wondering lately whether we underrated Katie Burt when she was in net. I think we always figured Burt wasn't tested too often, because during her tenure it seemed like BC could score at will a lot of the time. Maddy Macarthur has played well, but she hasn't been able to steal games for the Eagles, and they seem to need it right now. Megan Keller leads the team in scoring, and it's not too often you see a defenseman pulling that off.
I can't figure out what's wrong at BC. Are they not responding to coach Crowley? Have they been unable to adjust to having to actually battle for wins? Do you have any better handle on BC than I do at this point?
Arlan: If women's hockey was a civil court, then Katie Burt would have been able to sue the BC offense for non support. During her tenure, the Eagles run at NCAA championships ended in games where the offense scored its first goal: at 15:37 of the third period; at 14:07 of the third period; never; never. Burt took some heat for the admittedly soft goal she allowed her freshman year in the loss to Harvard, but during her career, highly heralded players on offense did a whole lot of nothing with the season on the line. Her cumulative goals-against average in those four games was less than 2.00, but her teammates only scored twice in those four games combined.
What's wrong in the first season without Burt? It would seem that it is a little bit of everything. Are they not responding to Crowley? I suppose that is true macroscopically, unless she's telling them to go out there and lose. I'm not at BC's practices or film sessions. I don't know what the coach is telling the players before games or between periods, but by and large, it looks like the Eagles are playing roughly the same style that Crowley's teams have always played. They just aren't playing it quite as well.
Of late, the penalty kill has broken down at very inopportune times. Percentage wise, it ranks near the bottom at 81.9 percent, but that isn't much worse than a far more successful team like Minnesota (84.9 percent). The Gophers have survived with a mediocre penalty kill by limiting its exposure, averaging only 6.1 penalty minutes per contest. BC, on the other hand, commits an average of 10.3 minutes of penalties per game. So if Crowley is telling her charges to stay out of the box, the message isn't getting through.
Once the penalty kill is called upon, that may be where they most miss Burt. As the cliché goes, your best penalty killer has to be your goaltender. As you say, McArthur has been okay, but her save percentage doesn't approach Burt's in any of her four seasons. BC lost its lead and the game at UNH when the Wildcats scored one goal on the power play and another during a delayed penalty. BC has allowed at least one power-play goal in all eight of its losses. Stay out of the box.
The overall defense is 10th, and the scoring offense is ninth, when you exclude the NEWHA teams. None of us expected that, given what the Eagles returned and what they added. Other than Megan Keller, the top scorers aren't matching their career averages. Part of the reason may be that Crowley has tried to skate a lot of people, but there has been a big drop off in production from that depth. The top four average a point a game; the bottom of the rotation averages a point per month.
Hockey is such a funny game; confidence is everything. It's hard to be confident when you keep losing. I'm convinced that the Eagles will eventually have a strong weekend, they'll gain confidence, and they'll gather momentum like a boulder rolling downhill. The problem of late has been that the boulder has been going in the wrong direction, so now the negative momentum has to be stopped. Northeastern provides a prime opportunity to do just that.
That's my attempt to analyze why BC has been the biggest disappoint so far this season. Would you like to attempt to do the same with Colgate, or would you prefer to try to explain how Princeton has been able to build a national-best 16-game unbeaten streak?
Candace: While I'd prefer to talk about Princeton, perhaps I should leave that to you since I asked you to delve down the BC rabbit hole. Regarding Colgate, it looks like a big part of the problem is team defense. Last year, goaltender Julia Vandyk posted a .929 save percentage and 1.77 goals-against. This year, her save percentage is at a career worst .914 and her goals-against is also at a career worst at 2.51. While Colgate has the sixth-best offense in the country when you exclude the NEWHA teams, the team defense is only 25th.
I don't think everything can be blamed on Vandyk though. Colgate's top three scorers have all improved their point production over last year. In retrospect, the depth Colgate had last season with seniors Breanne Wilson-Bennett and Megan Sullivan up front and Lauren Wildfang on the blue line may have been more important than I originally thought. Colgate was able to play a strong two-way game last year, and right now things are not clicking on the back end.
Looking over Colgate's roster, one thing that pops out is that they are quite young overall, with nine underclassmen playing regularly, including freshman defender Tanner Gates and sophomore defender Shelby Wood. Colgate graduated a ton of experience that may have been overlooked with the return of Jessie Eldridge and Shae Labbe up front and goaltenders Vandyk and Liz Auby.
Colgate faces a tough test this weekend against Princeton and Quinnipiac. The last time the Raiders faced this travel pair, they tied Quinnipiac and got blown out by Princeton. If they want to have a shot at the NCAA tournament, they need to win those two games.
Now that that's out of the way, I'll turn Princeton over to you. One interesting thing about the Tigers is that if the season ended today, they would not be in the NCAA tournament despite sitting atop the ECAC and sporting said 16-game unbeaten streak. That's probably partly attributable to not having many quality wins. Most of the wins during this streak have come against non-contenders. Princeton is currently eighth in the PairWise, trailing Clarkson and Cornell among ECAC teams. Do you think the Tigers will be able to push ahead and make the postseason?
Arlan: The most appropriate Magic 8-Ball answer would be, "Cannot predict now."
Once the NCAA eliminated the criteria for Last 16 games and Teams Under Consideration, the women's PairWise almost always aligns with the Rating Percentage Index. Excluding Saint Anselm, RPI shows Princeton in eighth prior to the games of January 8, but the gap between the Tigers and fourth-ranked Ohio State is just 0.0082. Thus, the relative positioning of the Buckeyes, Clarkson, Providence, Cornell, and Princeton can flip on any given weekend. The separation is much greater between these teams and the top three of Wisconsin, Minnesota, and Northeastern. Those teams will have to play themselves out of a hosting spot, while the ordering of that next tier could even change based on how past opponents perform.
Princeton will have three crucial weekends prior to the ECAC playoffs, and one occurs this weekend when the Tigers visit Cornell and Colgate. On home ice, Princeton skated to a tie with the Big Red. Princeton needs a minimum of a tie this time versus Cornell to maintain control of the ECAC race despite its nine-point lead, as the Big Red have four games in hand.
I wouldn't be surprised if the league playoffs wind up similar to last year when three teams made the NCAA field thanks entirely to winning an autobid. If so, then the question of who winds up eighth versus sixth or seventh may become moot.
As far as that logjam of teams in the second tier goes, I don't feel like I have any real handle yet on how it will play out. Based on history, it seems that Clarkson will eventually figure some things out and be ascending as the postseason dawns. Will it be chasing Princeton in the rankings, or have already left the Tigers in the dust? Both teams have middling penalty kills that have been successful around 84 percent of the time, with Clarkson being slightly better. However, Princeton has a decided edge in overall scoring defense, yielding an average of 1.72 times per game, compared to 2.10 for Clarkson.
Offensively, the two teams have been more comparable than we might think. We've talked a great deal about the Clarkson top line, but when it comes to scoring average, Princeton freshman Sarah Fillier is right there with Loren Gabel and Elizabeth Giguère, and junior Carly Bullock isn't that far behind. While the Tigers may not quite have the clout of the defending champions, there is still plenty of firepower to take advantage of a team that is off its defensive game.
January will be a key month for Ohio State, the team that currently holds the fourth spot in the rankings. The Buckeyes host No.1 Wisconsin and No. 2 Minnesota, sandwiched around a trip to Minnesota Duluth. The Bulldogs had Minnesota on the ropes this weekend, and while their hole is likely too deep to make the NCAA tournament without winning the automatic bid, they will be an opponent that nobody can afford to overlook in the second half. Given the gauntlet that awaits, do you think that the Buckeyes can hold onto a spot in the national tournament field?
Candace: I think it's possible, but it won't be easy. Ohio State swept Minnesota Duluth at home in the first half, but playing in Duluth is different. Regardless, the Buckeyes probably need to go at least 2-4, if not 3-3, to solidify their spot, especially since I agree this year might see 1-2 teams win the conference autobid who aren't in the top seven of the PairWise. The next three weekends are brutal, and then the Buckeyes close their regular season against Wisconsin as well. Honestly, despite going 2-2 against Wisconsin last year, I don't see it happening again this year.
While OSU split with Minnesota back in October in Minneapolis, I feel like the Gophers have come together in the last 10 games or so and are on a different level. It's going to be tough for OSU to split that series.
Their is also room for OSU to fall further when they aren't playing the top teams. Bemidji swept Ohio State in November, and the Buckeyes were also only able to muster two one-goal wins against St. Cloud, their other opponent. A loss in any of those four games could make things even more problematic.
With the volatility we are seeing, plus the CHA getting one of the eight slots to the NCAA tournament, I think a team has to be in fifth to feel comfortable. Clarkson is currently in that spot, with Providence and Cornell following. I could see someone other than Providence or Northeastern winning the Hockey East autobid; in fact, I think it's likely. Follow that up with the ECAC being such an open tournament and someone like even Colgate getting hot, and that takes away another spot, and brings you down to five.
The only league I feel fairly comfortable saying a top PairWise team will win the conference autobid is the WCHA. While we are seeing a lot of improvement, the format doesn't favor an upset. I don't think any team in the last five spots can win a best-of-three first round series against Minnesota or Wisconsin, and then for the semifinals and finals, I think it's too tough to beat those teams back-to-back.
Speaking of the Gophers, what were your takeaways from the Minnesota Cup? Were they flat against the Bulldogs? Do you feel they are gearing up for a serious run at the national championship?
Arlan: Minnesota definitely has a national-championship caliber roster. Is it playing like a national champion? No, not yet. There are some signs of progress, but the Gophers still have a long way to go before they can allow themselves to even think about March.
I wouldn't say that they were flat against UMD. They came out OK, which seems odd to say when allowing a goal less than a minute into the game, but the first period was the only one where the Gophers had a shot advantage. Instead of flat, I'd use the adjective ragged. There were so many mistakes: turnovers, missed coverages, and bad changes. Give full credit to the Bulldogs for much of the havoc that they created, but unless they are masters of telekinesis, they shouldn't be able to influence all five Minnesota players to head off on a line change as UMD is transitioning through the neutral zone.
Goaltender Alex Gulstene has had far from a perfect season, but her record is a perfect 14-0-0. She had to come up with big saves time and again on Saturday to keep that mark intact. Sydney Scobee has actually posted better numbers in both save percentage and goals-against average than Gulstene, but it hasn't translated to the same success in the win column. Now Scobee is healthy, and if either she or Gulstene is in top form in the postseason, that will answer perhaps the biggest question surrounding this team.
At the other end of the ice, it is surprising to see Minnesota leading the country in scoring when Kelly Pannek and Sarah Potomak, its two most proven offensive weapons, have yet to get on a roll. Both were held pointless during the Minnesota Cup, but Taylor Heise, who was centering the fourth line, led the team with five points.
One of the things that stands out to me about this season is the quantity of teams who are vastly improved over last year. All of the top teams, for sure, but it is more than just Wisconsin, Minnesota, and Northeastern. The record may not show it, but UMD is a far more dangerous team. I got my first look at Minnesota State, and John Harrington definitely has the best team in his four seasons in Mankato. Look at Hockey East, where Providence and Merrimack have also made gains. Boston University has half the losses that it did on this date in 2018 because it has shaved almost a goal off of its per game average allowed. We've discussed Princeton. Mercyhurst looks better. Over the course of the year, we've talked positively about teams like Brown and Dartmouth. RIT has almost doubled its win total from last year.
Obviously, all of these teams can't enjoy success in the standings, but I think what stands out to me is the increase in quality of the sport as a whole. Holy Cross, in its first year competing full-time in D-I, has had its struggles, but even it has a high-quality win. I'd say that more than I can ever remember before, wins really have to be earned.
With that in mind, is there some team out there that we may not have talked about much this season, but has really caught your eye for a positive reason?
Candace: There are a couple, actually. Boston University is one. The Terriers have started slowly in the second half, but prior to that, they had been on a 7-1-1 streak that included sweeping Boston College, and the only loss was to Boston College. Jesse Compher currently averages 1.7 points per game, a point more than her first year, and is tied with Gabel for second in the national scoring race with 34 points, just three behind Giguère. Sophomore goalie Corinne Schroeder has been exceptional with a .936 save percentage and 1.75 goals-against. It would not surprise me to see the Terriers make a second-half run and take the Hockey East tournament and its concurrent autobid. BU has a huge series this weekend against No. 8 Providence that could shake things up in Hockey East.
In terms of teams that won't make the NCAA tournament, I have to give recognition to Minnesota State. The current Mavericks seniors did not win a game in the WCHA in their first year of college play. The Mavericks currently sit at .500 overall, and while their WCHA record isn't great at 3-7-2-1, they are only four points behind Minnesota Duluth for the last home ice spot in the conference. That is huge progress for a team that seemed destined to be a consistent cellar dwellar in the WCHA. That senior group has stuck with it, and it's nice to see success for players like Corbin Boyd, Rebekah Kolstad, and Jordan McLaughlin. The Mavericks also have a lot of young players, including freshman goalie Abigail Levy, who has an outstanding .948 save percentage and a 1.57 goals-against. She has played every game this season for Minnesota State and has been a huge part of the success they have had.
Are there any players or teams that are standing out to you? Also, what games this weekend do you wish you could attend?
Arlan: When you mentioned the impact players for Minnesota State, I'll add one. Freshman defenseman Anna Wilgren has nine points in her young career, including a goal and an assist this past weekend when she was named to the Minnesota Cup All-Tournament Team.
As for teams that have stood out, I'll name two as well, and I'll go with a pair starting with "P" for an initial. Princeton was a .500 team last year in Cara Morey's first year in charge; the Tigers are currently 10 games over that mark. That's a big jump in a short time, especially considering that they've been without Stephanie Neatby in goal. A big reason has to be that Princeton is one of a number of ranked teams with an excellent freshman class. In particular, Mariah Keopple and Chloe Harvey have stepped into regular roles on the blue line, and Fillier and Maggie Connors are leaders offensively.
Providence has also moved forward in Matt Kelly's first year as coach. The Friars are 12 games over .500, an eight-game improvement over how they finished up last season. Scoring is up by over half a goal, the defense has shown a similar improvement, and the net effect is that PC is outscoring teams by a two-to-one margin and winning hockey games. Goaltender Madison Myers' statistics have improved steadily from season to season in her career, and she's playing her best as a senior. Offensively, it is an understatement to say that sophomore Maureen Murphy has been a dynamic force. She leads the team with 33 points, and her 19 goals lead the country and are more than twice what any teammate has netted.
These look like teams that could become fixtures of the top four in their leagues if their new coaches can recruit at the same level that they have directed their squads thus far.
As for where I want to be this weekend, this looks like a good weekend to spend at least one day in front of a computer screen and catch a doubleheader at minimum. I'd get Friday started with Princeton at Cornell, which is also the one game I'd most like to see. This is the final scheduled meeting between these two ECAC front-running teams, so the importance is huge. The other key games are part of two-game series. Friday could be capped off with a split screen or even three games at once, as Wisconsin visits Ohio State, and 53 minutes later, the puck drops on both BC at Northeastern and BU at Providence in a matchup of teams that stand out to you and I respectively.
Saturday, Northeastern returns the visit to BC to get the day started, and an hour later, the Friars are at BU and the Badgers and Buckeyes conclude their series.
Every team from that list of games is ranked except BU, and I didn't even include Princeton at Colgate. What game would you pick, and when we look back in a couple of months, what game or games of these do you think will prove to be most telling?
Candace: It's hard to pick from that list. The games I want to see are Princeton against Cornell, Wisconsin against Ohio State, Boston College versus Northeastern, and Providence versus Boston University. All have the potential to be tight, edge-of-your-seat games.
In terms of which game(s) will have the biggest impact, I think it's Hockey East. If Northeastern sweeps BC this weekend, the Eagles are not going to recover. I don't see them regaining the confidence they'd need to win the Hockey East tournament and advance to the NCAA tournament. The second-most impactful will be Princeton at Cornell, as if the Tigers take that game, I think they will finish strong and win the ECAC regular season title and solidify a spot in the NCAA tournament.
Regardless, it should be an exceptional weekend of hockey!