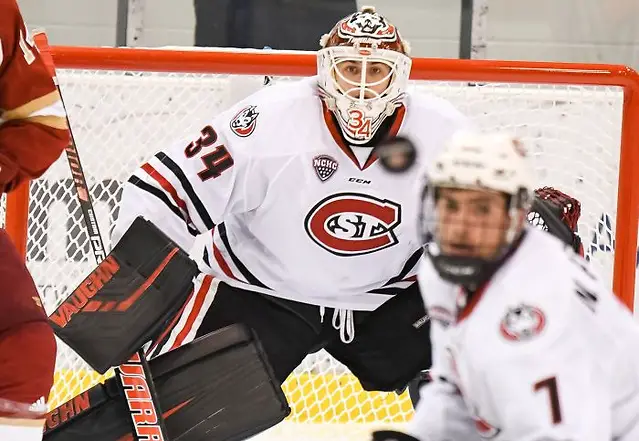 Pat Mikesch, coach and general manager of the USHL's Green Bay Gamblers, remembers the first question he got from then-St. Cloud State coach Bob Motzko after meeting with Gamblers goaltender Dávid Hrenák during the recruiting process.
"He said, 'Is this kid this happy all the time?'" Mikesch recalled. "I told him that he is. He's always in a good mood."
Part of the reason is the fact that Hrenák was — and is — in his comfort zone, even though he is some 5,000 miles away from home.
Being greeted in a foreign country with open arms can have that kind of effect on someone, and it took the then-18-year-old from Považská Bystrica, Slovakia, longer to learn the language than it did to understand that he made the right decision to continue his hockey career in the U.S.
Two years later the 6-foot-2, 190-pound Hrenák as emerged at St. Cloud State as one of the top college goalies in the country and a key reason why the Huskies take a No. 1 ranking into this weekend's series with Minnesota Duluth in Duluth.
First-year coach Brett Larson knew when he took the job that he inherited a lot of talent, and it starts in goal.
"He is super long, super agile and extremely calm, both in the locker room and on the ice," Larson said of Hrenák. "So in the big moments, he does a really nice job of just keeping everything calm and focused on what the task is. He is very technically sound, so when you combine that with the athletic ability he has, it really makes him a dynamic college goalie."
And one who appears on track to have a chance to play in the NHL. The Los Angeles Kings selected Hrenák in the fifth round (144th overall) of the 2018 NHL Draft.
"It was a dream come true," Hrenák said. "I have to thank my teammates and coaches from last year for making it happen."
Hrenák has done a lot of that since venturing to the U.S. from Slovakia. Hrenák's first trip to the U.S. came in 2016 when he played for Slovakia in the Under-18 World Championships in Grand Forks, N.D. That experience led him to pursuing the chance to play college hockey in the U.S.
His first stop, he knew, would be the USHL. As it turned out, a friend of his from Slovakia, Adam Huska, was a goalie for Green Bay for the 2015-16 season before moving on to Connecticut. The same contacts in Europe who alerted Mikesch to Huska's talents let him know about Hrenák.
When Hrenák got the seal of approval on Green Bay and the coaching staff from Huska, the deal was done. He looked at it as a chance to learn a new culture and go on a bit of an adventure while also advancing his hockey career.
It's been everything he could have asked for and more so far, which has given him little time to miss his family back home.
"My teammates have become like my family, so they make it much easier," Hrenák said.
Hrenák adapted very quickly to his new surroundings, according to Mikesch.
"He lived with Jared Spooner, who is playing at Minnesota State now," he said. "Jared was his wing man and took care of him."
There were adjustments to be made on the ice, too.
"Over there, they focus on flexibility," Mikesch said, "while here we are more about building strength. And he was able to add some leg strength."
Hrenák said he heard from Arizona State and Notre Dame, among others, during the college recruiting process but quickly settled on Str. Cloud State without taking any other visits.
"Once I learned about St. Cloud and how players feel like they become part of a family, and after I talked to the coaches, I knew St. Cloud was the right place," Hrenák said.
It didn't hurt that two of his new teammates would be Nick and Jack Poehling, who had played with him in Green Bay.
Hrenák made the All-NCHC Rookie Team last season, going 14-7-2, with a 2.11 GAA, a .919 save percentage and three shutouts. The Kings, among others, were impressed.
"We were actually surprised he wasn't drafted (in 2017)," Mikesch said. "Our other goalie that year, Maxim Zhukov, was drafted, and I thought David would be drafted, too."
Hrenák has a 10-1-1 record this season, with a 2.22 GAA, a .903 save percentage and two shutouts. He said his goal is the same as that of the team — to try to get better every day.
From an experience standpoint, things can't get any better.