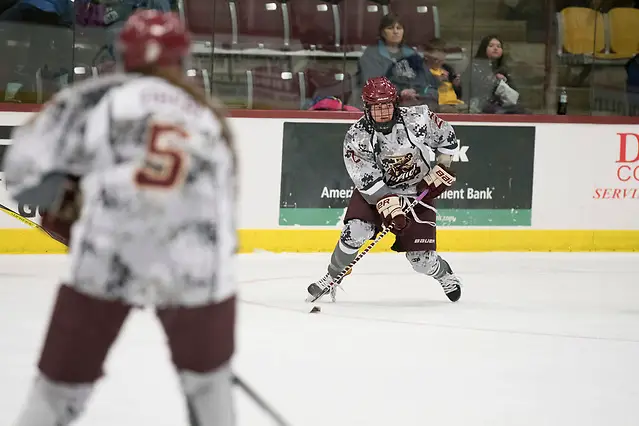 Norwich University is led by seven seniors and seven juniors, as well as coach Mark Bolding. Bolding is in the middle of his 12th season as the head coach of the Norwich women's hockey program. The program won the national championship only once prior to last year's victory. The program's first title was achieved in 2011. Winning a national championship always brings high expectations for the following year. Bolding admits the team is striving for another national championship.
"Well I am sure every player and coach that is still here or came into the program this season wants to try our best to win again. It's been done before, so why not us? Easier said than done though, as we all know. The reality with any team that makes it to the NCAA tournament is to simply get back to that stage and try our best to still be playing in mid-March in the big game. We've watched other teams win multiple times in a row, and each year they reload and just seem to find a way to be an elite team every year. Consistency in team success is what we strive for here."
Bolding says another goal is to continue getting better.
"I'd say our goal for the rest of the season is to try and improve each week and not take a step back with effort and intensity. Too many good and determined teams are left to play (for us) to be anything but sharp as we move through a busy January/February and playoffs. I think the leadership on our team will really be called on to keep the troops alert and focused. Our captain, Bryn Labbe, does an excellent job. It should be a fun second half for all."
Being the previous national champion brings many perks and great memories; however, it will bring a few challenges. Bolding discusses the advantages and disadvantages of being a national champion.
"I'd say the advantages are we have lots of returning players that have that experience and taste of winning — they know how hard it really is to make it through all those great teams. Experience matters I believe with great consistent teams. Disadvantages are simple — no one wants your team to do it again, and all opponents want a piece of you to show they beat you. We're over it now — too many great teams ahead of us to think about last year. So back to the underdog title for us is fine."
Norwich has been listed as a top program for many years now in D-III women's hockey. Bolding and his staff have done a tremendous job building the program to a high caliber level and maintaining the strength the program is known to have. Amanda Conway, one of Norwich's star players, is having a good junior year with 13 goals and seven assists in 13 games this season. The first team All-American gives insight on playing for Bolding and his program.
"Working under coach Bolding for the past three years has being a learning experience as a player. I think I have grown a lot in the past three years. Coach Bolding really helped me change my style of play to be more of a complete player that I wanted to be."
Conway admits, just like Bolding, the team would like to win a national championship. However, their team goals go beyond just a single moment in their season. Conway also discusses a personal goal.
"A personal goal that I have for myself is to just get better every day in any way possible. A team goal for us would be to win another national championship, but just working together, communicating, and improving each day."
The Cadets previously competed in a tournament with three other teams, Adrian, Plattsburgh, and Elmira, that are all ranked in the top five. Bolding shares what the opportunity means to be in such a high-level tournament and how it impacts their team.
"The East/West Classic tournament provided excellent competition again, and all four games were well played — tough, playoff type of games, very intense. It's a great gauge for where we are now and really exposed the good and the bad in our team and our current play. Lots of fun, but lots of work ahead for each team."
The Cadets had a thrilling overtime win over Adrian to capture the third-place hardware in the East/West Classic. Conway shares the experience through a player's perspective.
"Playing in this tournament against these teams is very exciting. A faster pace than some of our other games, but beating Adrian was a big step for our team. It was a really exciting game that came down to the last minute of overtime, which really showed our perseverance as a team."
Conway shares her two top programs to compete against and admits that they bring the best competition out of her and the team.
"I would say my favorite teams to play against are Elmira and Plattsburgh because they are so talented and always bring the top competition at our level."
Being a top player for a program can bring pressure and expectations that some may not be able to handle. Bolding shares his thoughts about Conway, and it's clear to see Conway's shoulders are fit to hold the responsibilities of a star player.
"Conway is an elite player, and she means so much to this team day in and day out. She blends in with the group and just finds a way to create scoring chances each game. It's crazy how she thinks about the game and just knows how to find seams, open space, and when to release the puck. We are fortunate to have her on our team."
As the conference and NCAA playoffs loom ahead soon, we should expect Norwich and other teams to start playing their best hockey yet. The Cadets will undoubtfully put on a great show as they look to capture another national title.