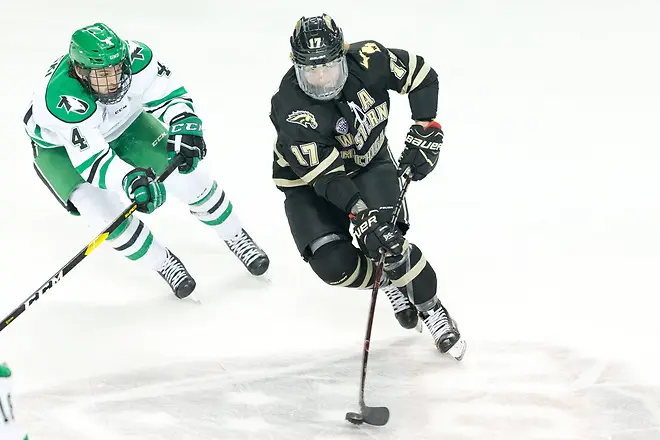 Western Michigan coach Andy Murray doesn't want to talk about the roll his Broncos have been on lately if it means piling pressure on his players.
What WMU has done in the last two months, however, is extraordinary. The Broncos are unbeaten in their last 10 games, including a shootout win Jan. 8 against fourth-ranked Minnesota Duluth. That and nine outright victories since Nov. 3 have Western on its longest positive streak since 2010-11 when the Broncos went 8-0-6 in a 14-game stretch.
The Broncos are as hot as any team in college hockey and are at a high-water mark in Murray's eighth year at WMU and sixth in the NCHC. Two one-goal home wins last weekend against No. 20 Miami saw Western jump four spots to No. 10 in the latest USCHO poll.
Four different Broncos scored in WMU's 4-3 win on Friday, with Josh Passolt netting the game-winner on a 4-on-3 power play. The sophomore forward then scored twice in Saturday's 3-2 victory before he was named the NCHC's offensive player of the week.
"I thought our two games against Miami were outstanding games," Murray said Monday at his weekly press conference. "We had great crowds here at Lawson and it was packed each night, and the building was alive.
"Our players came out (playing) hard, and Miami is a team that you can call an arch-rival. They came over from the CCHA with us, and the Broncos and the RedHawks have played a lot of hockey games against each other, and every one of them seems to come down to the end of the game.
"We were defending and blocking shots at the end of both games as they had their goaltender pulled. Exciting hockey, and the most important thing is we got the victories."
Another reason for Western's success this season is senior goaltender Trevor Gorsuch. After posting a .875 save percentage and a 3.55 GAA in four games last season, he took the mantle as WMU's starter in early November and is sitting on a .928 save percentage and 2.02 GAA through 11 games.
"I think Trevor's been trying to get this opportunity for a few years now," Murray said. "He's in his senior year, this is his last kick at it, and to Trevor's credit, he changed his game. Trevor needed to quiet his style down a little bit, and he's done that working with (WMU goaltending coach) Tom Askey and I think it's paid dividends for him.
"He's stopping a lot of pucks, the guys believe in him and I think with that, the overall unity on the team in terms of defensive play has been that much better. We're excited for Trevor, and he's always been one of our hardest-working guys on the team and he's continuing that, and we're all pulling for him."
Not everything has gone Western's way, as junior forwards Wade Allison and Dawson DiPietro have missed time. Murray said they are day-to-day having been evaluated Monday.
With or without that pair, Western has a tough run of games coming up. The Broncos visit second-ranked St. Cloud State this weekend before hosting No. 3 Denver on Jan. 25-26.
What will happen in that four games and beyond is uncertain, but one thing is for sure: WMU is approaching the season's home stretch with the right collective mindset on the ice.
"A lot of youth players should come out and watch our team practice and see how much emphasis we put on skills and pace and tempo, and our guys have been getting after it in practice," Murray said.
"We've got some good players and we're playing quality teams, and you have to be at your best every single night. We played some good hockey this weekend and are going to need to continue to do that, and we're just trying to feel good after every hockey game, and if you do that, you can a series of wins going."