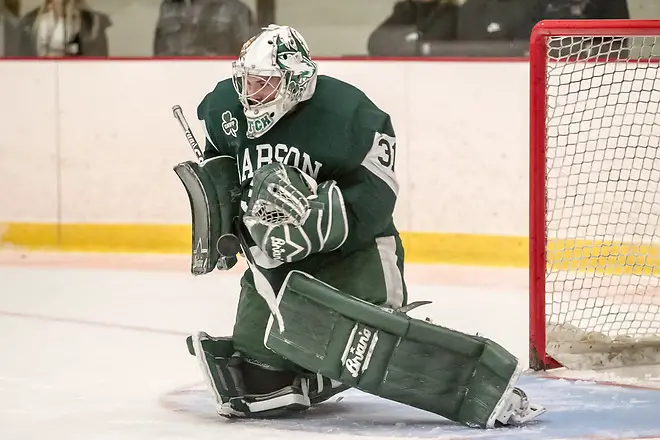 While a few nonconference games sprinkle the schedule, the league contests now start to dominate the schedule, as every coach is looking for his team to play their best game and make their move in the standings. My picks last weekend finished with a solid 6-1-2 (.778) record, which now brings the season totals to 64-24-8 (.708). Like coaches across the region, I would like to find consistency in my game right now when the games matter most. Here are this week's picks.
Thursday, Jan. 17Westfield State at Massachusetts-Dartmouth
The two teams just played each other on Tuesday night in a rescheduled contest that saw the Owls take a hard-fought 2-1 win. The location changes to home ice for the Corsairs, and that is a challenging place for all visitors to play, so look for the home team to get even and pick up two needed league points.
UMass-Dartmouth 3-2Friday, Jan. 18Curry at No. 10 Endicott
The Gulls have been rolling, but should not take Curry lightly. This could be a trap game for R.J. Tolan's team that likes to turn on the offense, but will need their defensive game to keep down the Colonels.
Endicott 3-1No. 13 Babson at Norwich
It is always fun to pick these rivalry games. Norwich picked up three of four points against Hobart and Skidmore on the road last week, but now faces a good Babson squad that has shown an ability to get better over the course of a 60-minute game. It is always close between these two squads, and an empty-net goal spells relief for the visitors.
Babson 4-2Connecticut College at Wesleyan
The Cardinals allowed their Plattsburgh namesakes to rally for a road win on Tuesday, so look for Wesleyan to be focused on keeping its conference record unblemished in the loss column. It is a tight one, but Wesleyan likes it that way.
Wesleyan 2-1No. 15 Fredonia at No. 2 Geneseo
Back to conference play with two ranked teams matched up, but the home ice is going to be big for the Knights, who will jump out to a fast start and make life difficult for the visiting Blue Devils the rest of the way.
Geneseo 6-3Saturday, Jan. 19Utica at Manhattanville
The Pioneers are sitting in the top spot of the UCHC and really want to stay there. They can take a lot of positives from last weekend's road tie with Oswego into this conference battle on the road against an always tough Valiants squad. The power play will make the difference for the visitors.
Utica 4-3Southern New Hampshire at Franklin Pierce
This league contest should feature some firepower from both sides. Expect a physical game, and with extra-man opportunities likely, some special teams goals will be in abundance. Look for a short-handed to be the difference-maker in this one.
Southern New Hampshire 6-5Plattsburgh at Canton
After dropping two straight at home to NESCAC foes, the Cardinals beat Wesleyan on Tuesday to get back to their winning ways. I don't think coach Bob Emery is going to let his team lose focus against another nonconference opponent, so look for the start to a win streak for the visiting team.
Plattsburgh 2-1Skidmore at No. 11 Hobart
The battle between travel partners will be close, and look for the goaltenders to shine on both ends of the ice. Brandon Kasel and Alexander Connal have been key performers for their respective teams all season, so regardless of the outcome of Friday's game, the Statesmen find a way to win at home.
Hobart 4-2
It is all about the points now as each of the conference races is close and scoreboard watching is for after taking care of your own business on the ice. "Drop the Puck!"