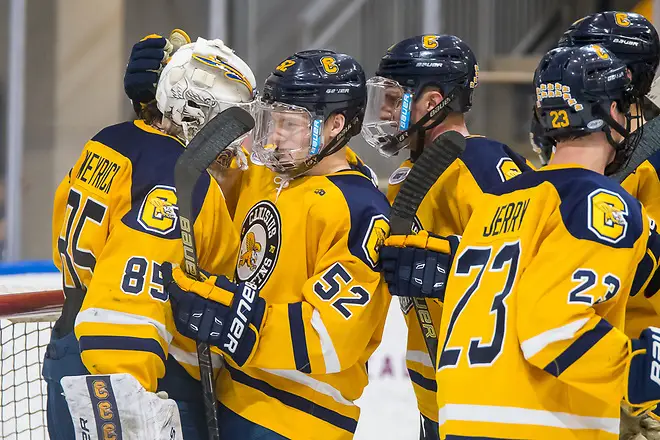 Each week, USCHO.com columnists will pick the winners of the upcoming games in their respective conferences.
Atlantic Hockey
Thursday-SaturdayHoly Cross vs. American InternationalAIC hosts on Thursday; Holy Cross on Saturday. This is a battle between first place (AIC) and last place (Holy Cross) in Atlantic Hockey, but it's still very much up for grabs. I like the home team to come out with a win each night. I think we'll see a split.Friday-SaturdayRochester Institute of Technology at BentleyBoth teams are coming off four-point weekends: RIT swept AIC and Bentley swept Robert Morris. These squads tend to play well in each other's buildings, but this is RIT's first trip to the new Bentley Arena, and I like the home team to come away with a pair of wins. Bentley sweeps.Robert Morris at CanisiusThe Colonials have lost four in a row, while Canisius, after a shocking sweep of North Dakota two weeks ago, came down to earth last weekend, getting swept by Mercyhurst. I think the Golden Griffins get back on track this weekend. Canisius sweeps.Mercyhurst at NiagaraThe Purple Eagles have just one win since late November and are looking to avoid a repeat of last season, when they started strong but then faded in the second half of the season. But the Lakers are starting to heat up, and I think they'll come away with four points. Mercyhurst sweeps.Saturday-SundayAir Force at Sacred HeartThe Pioneers won the season series 2-1-1 last year, but I like the Falcons to prevail in the only games between the teams this year. I'm going with an Air Force sweep.Tuesday, Jan. 22Holy Cross at QuinnipiacThe Crusaders are 0-4-1 this season out of conference and getting a win against the No. 7 Bobcats is a tall order. Quinnipiac wins.— Chris Lerch
Big Ten
Friday-SaturdayOhio State at Penn StatePenn State has split five of its six conference series so far this season, including the one at Ohio State at the end of November. Ohio State has looked good so far in the second half, but if the Buckeyes put forth a defensive-effort like they did during the 5-4 win against Mercyhurst or 7-7 tie with Michigan State that could be lethal against Penn State's top-ranked offense. I'll take a split.Notre Dame at WisconsinBoth of these teams could really use a sweep to vault them up the standings. Notre Dame has a decent position in the PairWise, but the Irish still don't look to be firing on all cylinders. The Badgers had a decent end to the first half, going 3-0-3 after getting swept at Ohio State, but they were unable to carry that momentum into 2019 and their series with Denver. I'll take Wisconsin to win and home and Notre Dame to get the win at United Center. Split.Minnesota at Michigan Statehttps://twitter.com/GopherHockey/status/1084293401472888833MINNESOTA SWEEPS!— Drew Claussen
ECAC Hockey
FridaySt. Lawrence at BrownThe Bears put together a modest three-game winning streak prior to losing to Providence Tuesday in the Mayor's Cup. St. Lawrence has scored 11 goals the last three games, a good sign for a team that has struggled to generate offense this season. The only problem is that the Saints have allowed 16 goals during that stretch. I think Brown should win, especially if it can avoid the mistakes that plagued them in Tuesday's loss. Brown wins.Dartmouth at ColgateColgate's penalty kill is hovering just below 70 percent in conference play, while Dartmouth has struggled on the power play for much of the season, although the Big Green converted both their chances last time out against Princeton. If that continues, it could tilt this matchup in the Big Green's favor. Dartmouth wins.Harvard at CornellFinally healthy, the Big Red are starting to look like the team that won ECAC Hockey's regular season title last season. Harvard is coming off an impressive 2-1 win at Quinnipiac and is 3-1-1 over its last five. While both teams are trending up, I think a healthy Cornell at home should be able to come away with a win. Cornell wins.Clarkson at YaleClarkson rolls into the weekend on a six-game winning streak, a stretch in which the Golden Knights have only allowed six goals. The Bulldogs are 1-2-1 since the start of the second half, but have been in all of their games. I think Yale will be a contender over the last two months of the season, but it's tough to pick against Clarkson with the way it's been playing. Clarkson wins.SaturdayRensselaer vs. Union (Mayor's Cup)RPI swept Union when the travel partners played in late October. The Engineers have been playing better lately, while the Dutchmen have been tough to get a read on. Union won last year's Mayor's Cup, marking the first time either team had won the game in back-to-back years. RPI has had several transfers suit up for them since the break, and I think that gives them enough of a boost to deny Union a third straight Mayor's Cup. Rensselaer wins.Clarkson at BrownThe Golden Knights play a heavy game with plenty of skill, similar to Providence, a team that gave Brown trouble on Tuesday. The Clarkson defense and goalie Jake Kielly have been playing well lately, which should make this a tough game for the Bears to win. Clarkson wins.Harvard at ColgateColgate erupted for a combined nine goals in a 2-0 weekend at the start of the month, but the Raiders only scored once last weekend when it when 0-2. Goalie Michael Lackey has been playing well lately, which gives the Crimson a nice complement to the skill it has in the lineup. Harvard wins.Dartmouth at CornellThe Big Green beat Cornell 3-2 when these teams played in Hanover earlier in the year. Dartmouth has played pretty well at even strength, but special teams have been an issue for the Big Green. Dartmouth showed some life on the power play last Saturday against Princeton, but Cornell has been much better defensively than the Tigers this season. The Big Red should be able to generate enough offense for the win. Cornell wins.St. Lawrence at YaleLike I said above, the Saints have struggled to score this year, and have now given up at least four goals in four straight games entering the weekend. That's not a good combination against a Bulldogs team that is 3-1 over its last four games at Ingalls Rink. Yale wins.Quinnipiac at Boston UniversityWith travel partner Princeton on its exam break, the Bobcats head to Boston for a non-conference game against the Terriers. BU struggled to begin the season, but enters the weekend on a five-game unbeaten streak, while Quinnipiac lost to Harvard last Saturday. The Bobcats haven't lost consecutive games all season and I think that streak continues. Quinnipiac wins.Tuesday, Jan 22Holy Cross at QuinnipiacThere's always the potential for a letdown during midweek games, but I don't think the Bobcats should have much trouble with a Holy Cross team that has really struggled this season. Quinnipiac wins.— Nate Owen
Think you can correctly pick more games than anyone else?
Enter USCHO's new College Hockey Pickem contest and select the winners of 10 randomly chosen games each week.
Register at https://social.uscho.com
Hockey East
FridayNew Hampshire at MerrimackHere's a classic four-point game in the battle for the last couple playoff berths. The Wildcats won this matchup at home a few weeks ago, 2-1 in overtime. In Merrimack's barn, that result may well be flipped. The key will be special teams, where Merrimack has struggled and UNH has at least been middle-of-the-pack. Merrimack wins.Friday-SaturdayNortheastern vs. MassachusettsHere's the marquee matchup of the weekend, and one that will go a long way to deciding the regular season Hockey East champion. UMass holds a slim one-point lead, but also holds a game in hand. If anyone sweeps, it's got to be UMass, fueled by a league-best power play (38.1 percent!!!) and penalty kill. But I think the Huskies squeak out a Saturday win at home for a split.Vermont at UMass LowellVermont could bury its playoff chances this weekend and next (against Merrimack), and it's hard to see the Catamounts avoiding that. Despite a four-game holiday-centered win streak against nonconference foes, they are dead last in Hockey East, while Lowell hasn't lost since the first of the year. With the Cats averaging only 1.30 goals per game and only 5.1 percent on the power play, the outcome looks obvious. Lowell sweeps.SaturdayProvidence at Boston CollegeThe Friars suffered a double dip last weekend against BC and BU while the Eagles followed their win over Providence with a disappointing loss to UNH. Although the Friars have been strong on the road (7-3-2), I'm going with home ice as the deciding factor. BC wins.Quinnipiac at Boston UniversityThe Terriers have gone 4-0-1 in their last five, but that still has gotten them only to .500. That isn't good enough to knock off a Quinnipiac team sitting atop the ECAC. Quinnipiac wins.Monday, Jan. 21New Hampshire at MaineHere's another pivotal, four-point game in the battle for the final couple playoff berths. UNH, in seventh, leads Maine by a point in the standings, but has played one extra game. Home ice (where Maine is 5-5-0) should prove decisive since UNH has only one win on the road this year. Maine wins.Merrimack at Boston UniversityMerrimack has won three straight while BU has gone 4-0-1. The Warriors shut out the Terriers 4-0 back in October, but that was in their barn. I expect a different result at Agganis. BU wins.— David H. Hendrickson
NCHC
Friday-SaturdayDenver vs. Colorado CollegeThe Gold Pan is on the line again in this renewal of a long-standing rivalry. CC lost its best player in Nick Halloran, but rivalry games usually mean you can toss out any prior records. The last time these two teams played, Alex Leclerc made 40 saves to give the Tigers their first win over the Pioneers since 2014. However, Denver coach David Carle seems to have the Pioneers, who are on a seven-game win streak, extra focused. Denver 4-2, 3-2.Minnesota Duluth at MiamiAfter a strong start, Miami has been struggling, winning only one of its last nine games. The RedHawks are much better at home, which might help, but the Bulldogs are one of the best teams in the country. Duluth hasn't swept a weekend since Nov. 9-10 against Colorado College, but the Bulldogs have been playing some of the best teams in the country during this stretch. I like UMD to take two games. Minnesota Duluth 3-2, 3-2.Western Michigan at St. Cloud StateThis series might be the highlight of the weekend in any conference. The Broncos have been red-hot, going 10-1-1 over their last 12 games, and even found a way to sweep Miami last weekend without Wade Allison in the lineup. Despite that, if Allison can't play, it's advantage St. Cloud State. The Huskies split last weekend with Minnesota Duluth, and prior to that had a disappointing loss to Union, so the 2-2 start to the second half may show the Huskies falling off the pace a bit. This series is going to be a split, though picking the correct nights for each team's win is a bear. Western Michigan 3-2, St. Cloud State 4-2.North Dakota at OmahaNorth Dakota got a very much needed sweep at home last weekend against Colorado College, winning both games in overtime. Omaha got swept on the road at Denver, losing two one-goal games, including one in overtime. The Fighting Hawks have been perhaps the most inconsistent team in the conference, looking like champions in one game and also-rans the next. Omaha meanwhile, has just struggled to gain any traction after a horrific start. I think this is a split, especially since Evan Weninger showed he can be super-tough to beat in goal. Omaha 3-2, North Dakota 2-1.— Candace Horgan
WCHA
Friday-SaturdayMichigan at Bemidji StateThe Huskies went from first place to fourth in just two weeks, so they need a weekend sweep to keep pace with Minnesota State, Northern Michigan and Bowling Green in the WCHA standings. BUT! Bemidji State is hosting MTU Friday night on Lake Bemidji, so you know the Beavers are going to be fired up for such a special occasion. Give me BSU to take Game 1 but the Huskies to win Game 2 going away.Lake Superior State at Minnesota StateThe Lakers haven't lost a game since Dec. 7, pulling out a win or tie in eight-straight games. Well, this is where their losing streak begins. They visit Mankato, which is a top-10 team poised to make an NCAA championship run this season. I like the Mavs to sweep the series.Alaska Anchorage at Alabama HuntsvilleUnfortunately, the Seawolves continue to struggle, while Huntsville impressed us by picking up an extra WCHA point with its shootout prowess against LSSU last weekend. Give me the Chargers to sweep the weekend.Bowling Green at AlaskaRaise your hand if you saw a rebuilding team with a first-year coach knocking of Bemidji State coming. I didn't see that coming, and what Alaska did in overtime was impressive. But Bowling Green is coming off a crushing shutout loss to Michigan Tech, so they'll be hungry to keep pace in the WCHA standings. I like the Falcons to win both games out west.— Brandon Folsom