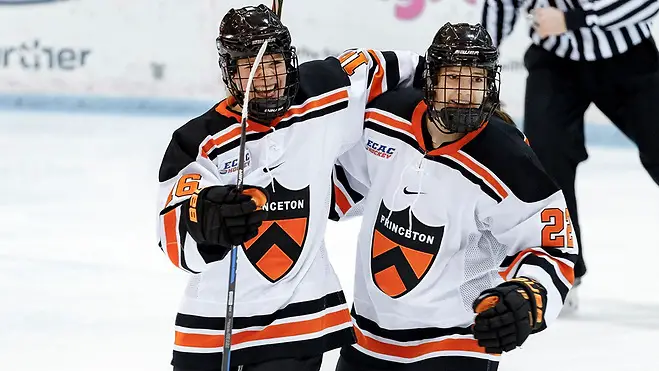 Way back in September, weeks before the Princeton Tigers had even stepped on the ice for their first game, second-year coach Cara Morey said, "We have pretty high goals and expectations for our program this season. We think we have pretty much all the pieces to the puzzle in place. We'd like to win the league, and I think that's a realistic goal we'll be shooting for this season."
As the full schedule resumes for the second part of the season, the goal seems more than just realistic, it seems inevitable.
The Tigers are in first place in the ECAC with a 15-point lead over second-place Cornell. They have just two losses this season, and those came in the first two games of their season against No. 1 Wisconsin. Princeton has not lost a game since, and on Saturday, they extended their unbeaten streak to 18 games with a tie against Colgate. It is the longest unbeaten streak in program history and the longest current streak in the nation.
The Tigers returned 90 percent of their scoring from the previous season, but the focus was on building a squad around the talented Carly Bullock, who led the team with 24 goals and eight assists last year. No team can be successful with just one star player, or even with just a single elite line. The signs of promise had been there for the Tigers, and the addition of a couple of stellar freshman who have handled the transition to the college game extremely well and stepped it up even more as the calendar turned has had a huge impact at Princeton.
Sarah Fillier was a highly touted recruit who came in after captaining the past two U-18 squads for Hockey Canada. She's flourished at Princeton, where she is the only player in the country averaging 2.00 points per game. She's the top-scoring freshman — and seventh leading scorer overall — with 12 goals and 20 assists. She was recently named the Hockey Commissioner's Association National Rookie of the Month for the month of December. In December, she scored more goals than any skater, of any year, with her six in five games.
Fillier is not the only rookie making an impact for Princeton. Freshman Maggie Connors was just named the ECAC Player of the Week after leading the nation in goals. She scored four times and had two assists over the weekend, including the game-winning goal at Cornell, as well as having a hand in six of Princeton's nine goals.
Connors is third in the nation in rookie scoring, averaging 1.20 points per game, and is 19th overall. She has 14 goals and 10 assists for 24 points in 20 games. Together, Fillier and Connors account for 30 percent of Princeton's points this season.
The two of them played together on Canada's U-18 Women's World Championship squad in 2018. That familiarity has helped both players step up their game quicker than many rookies do in the transition to the college game.
Sarah Fillier also has the bonus of having joined the Tigers with her twin sister, Kayla. Morey says she recruited them as individuals, and Kayla admits it took her longer than Sarah to fall in love with Princeton, but though the two are very different players and personalities, there is comfort in having family so close, especially when they are so far from home.
"It's nice to have that built-in friendship. You always have someone to go to and talk to," said Sarah. "It's special having a family member — someone you're so close to — because they can just tell you straight up."
Sarah Fillier may be the biggest revelation of the season. Few rookies are able to play such a wide-open and complete game as she does. Her speed has been a huge asset to the Tigers, and Morey has talked about the 200-foot game that she plays.
While there are other first-year players making an impact this season, both Sarah Fillier and Connors are true freshmen — 18 years old and leading their team on a season few predicted. The Tigers are currently fourth in the national polls and are outpacing not just their conference, but much of the country. They're scoring 3.70 goals per game and allowing just 1.75 goals per game, both good for fourth in the country. Their power play is second nationally, as is their combined special teams.
Though Princeton looks like they'll control its own destiny as the Tigers march toward the postseason, it won't be an easy path. They still has two games with two-time defending national champion Clarkson left on their schedule, as well as two against St. Lawrence, a team they lost to and tied last season.
The Tigers will take two weeks off on their schedule before returning to the ice Jan. 29. They'll have three games in five days, facing Penn State in a nonconference game before hosting St. Lawrence and Clarkson. That's followed by two weekends with teams in the bottom half of the standings before they finish the regular season with the tough task of traveling to upstate New York to finish with the other set of games with Clarkson and St. Lawrence.
In order to be successful and see this run continue, they will be looking to spread the wealth a bit. Fillier and Connors are no longer under the radar, and the defenses they face are only going to get more difficult. Bullock is the other high scorer on this team with 14 goals and 16 assists, but no one else has more than eight goals, and there are only four other players with double-digit scoring so far — and two of them are defenders. Matching up against the depth of other teams might be an issue once they reach the NCAA tournament, but you can bet the Tigers wouldn't mind another shot at Wisconsin now that they've got their skates under them a bit more.