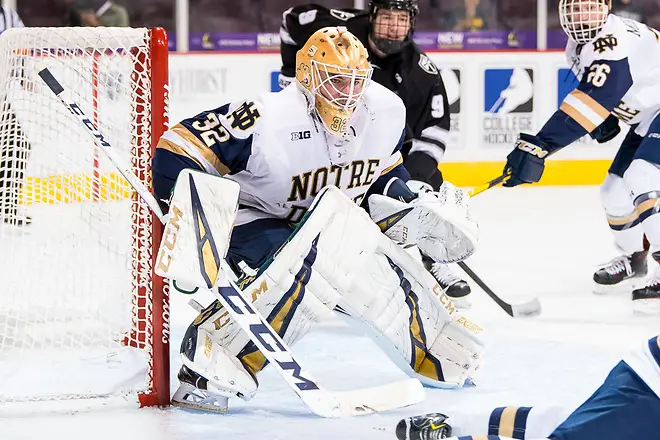 Notre Dame was riding a 16-game winning streak when the Fighting Irish met Wisconsin at Chicago's United Center last January.
No such luck for the Irish this year.
This time around, they are coming off of being swept at home by Minnesota. The Badgers and Irish will play in Madison on Friday before playing in Chicago on Sunday.
Last Saturday's loss was a heartbreaker for Notre Dame. Minnesota's Blake McLaughlin broke a 1-1 tie with eight seconds left in the third period to give the Gophers the win.
"That was a tough loss, obviously the way it happened with eight seconds left," Notre Dame coach Jeff Jackson said. "It was kind of reminiscent about the way we were winning a lot last year. The tables have kind of turned right now."
As things stand, the Irish have a 12-8-1 record. They're tied for 14th in the PairWise and are sixth in the Big Ten — one point behind the Badgers.
"I thought we played well Saturday night — we could have very easily won that game," Jackson said. "It's just a fluky situation late in the game. We had some bad changes in the game. I think some of that is the pressure of adversity. We've got a younger team, probably almost half of our team are freshmen, so it's a maturity thing, too."
Notre Dame lost multiple quality players from last year's Frozen Four team. Jackson said that fact, plus some nagging injuries, has made for tougher sledding this year.
"Just getting over the hump as far as dealing with the pressure of adversity, you know, like tightening up on the stick trying to score goals or making mistakes with line changes," he said. "Some of it is guys trying to do too much and that's sometimes what happens when you get into a bit of a tough stretch. We'll work our way out of it. We've got to get healthy first, that's got to be the first priority. You can't lose two or three of your top scorers and expect to be consistent."
There has been inconsistency in net, too, as crazy as that statement sounds after Cale Morris' stellar season last year. Morris went 27-8-1 with a 1.94 GAA as a sophomore. This year, he owns a 9-7-1 record and a 2.30 GAA. Jackson gave sophomore Dylan St. Cyr the net on Saturday against the Gophers.
"Every goalie has these moments," Jackson said of Morris. "He's a mature kid, and he'll get it back on track, hopefully sooner than later. He's still making the majority of the saves, but we got accustomed to him making a lot of great saves. He'll be back at it — it's just the matter of how long it takes him to get out of this.
"It's just like a pitcher in baseball. They all go through it, and our team's going through that as well right now. We can't feel sorry for ourselves, we've just got to get back on the horse and go right back at it."
Notre Dame's special-teams units are still looking to get on track with the new faces in new places, too. Last season, its power play converted 23.66 percent of the time and the penalty kill finished the season with an 89.43 percent success rate. This season, the Irish's power play has a 16.88 percent success rate and the penalty kill stands at 81.16 percent. Both rankings put the Irish near the middle of the pack nationally. The saving grace is that they average the second-fewest penalty minutes per contest.
"We still haven't gotten the results that we want, yet," Jackson said. "The big thing is you lose your top two penalty killers from last year up front and your top two penalty killers on the back end and the same thing applies to the power play. You lose your whole first unit, it's always a challenge.
"Every team goes through it. I'm not feeling sorry for ourselves, but we need some of our young guys to step up and be more productive players on the power play and also to step forward and be good penalty killers. It's a learning process for the young kids, and I'm sure in time some of the guys will fill those open vacancies and grab ahold of them."
The Badgers ended Notre Dame's winning streak with a resounding 5-0 win at United Center last season. This year, the Irish will be hoping for better fortunes. This is the second of a two-year agreement for the two teams to play at the Chicago arena, but Jackson said he wouldn't mind seeing it become a tradition.
"It's something that we've been wanting to do for several years with Wisconsin," he said. "It's halfway between both of our campuses, a little closer to us, but both teams recruit heavily in Illinois and the Chicago area and both teams have a tremendous alumni base in the area. We're going to try and continue to do it, or maybe take a year off and then do it again. It's good for our program and I'm sure (Wisconsin coach) Tony (Granato) feels the same way, to play in big venues and get prepared for the NCAA tournament and that type of atmosphere."