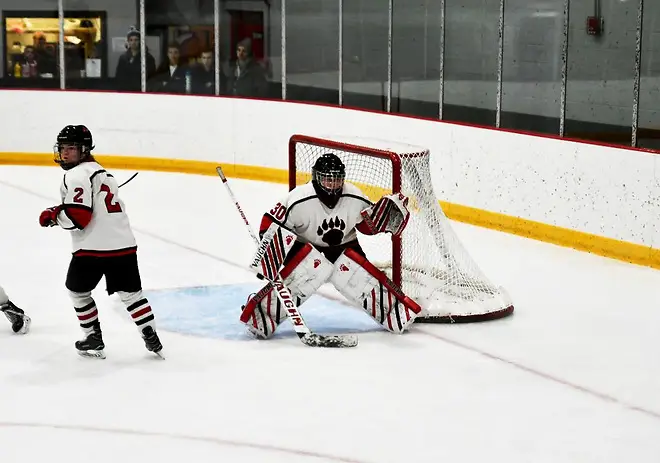 Lake Forest had a slow start to its season, tying and losing to two recent additions to the NCHA, tying Aurora twice in mid-November and losing to Trine Nov. 30. Since the loss, Lake Forest has gone 4-1-1. Their most recent win came against a top 10 team and a previous NCAA participant, Wisconsin-Eau Claire.
Lake Forest's junior goaltender, Jacque Rogers, faced 84 shots in two games against the Blugolds and only allowed three to get past her. Rogers describes what it was like from a goalie's perspective to face a high-caliber team.
"They were a very talented team that loved to drive the net. Wisconsin-Eau Claire liked to put bodies in front of me for screens and rebounds. Our defensemen did an amazing job of clearing their players out and protecting the net."
The Foresters defensemen not only played well defensively, but added offense too. Sophomore Jordan Trapp had the game-winning goal in the upset Friday night. Trapp expresses the importance and momentum that is gained from beating a top and well-known program.
"After a slow start to the season, beating a top 10 team brought back our confidence. We realized that our hard work has been paying off, and I think that will resonate into the rest of our season with playoffs coming soon. We are very proud of our performance."
Trapp said the team was aware that the start of their season was rocky. She notes that with a new coaching staff and a group of incoming freshmen, it takes time for everyone to gel together.
"I think it was important that we ended the first half of the season beating Aurora 7-0 after tying them twice. Our trip to Maine was just as beneficial, as we got to play two talented, fast-paced teams and bond together as a team. It is also important to realize that with a new coaching staff, it can take some time for players to get to know their coaches, and vice versa. I think we are starting to become one unit that works together, and it's starting to show on the ice."
Compared to last year, the Foresters' roster is young, but according to Rogers, the leadership from the captains and upperclassmen continues to set the bar high and be an excellent example.
"With a younger roster, it leaves us room to learn new tricks and adapt to changes every day. Both on and off the ice, we have strong leadership from our captains and upperclassmen who have experience and provide examples of how to work hard, be a team, and support each other."
In agreement with Rogers, Trapp also said that with a younger roster, the leadership on the team is stepping up and creating a fun atmosphere.
"One major change that I can point out from last year to this year is the offensive push. Overall, we lost a few key point leaders, and it has shown in our scoring. Our roster is very young this year, and we can already see girls starting to fill those roles. I think defensively our team has become very solid, and as they say, offense wins games, but defense wins championships. The new coaches and freshmen are fitting in very well with the team culture that was already here, as well as mixing in their own unique style."
Being named the starting goalie is not foreign to Rogers. The Michigan native played 18 games her freshman year and 20 games as a sophomore. Now in the middle of her junior year, Rogers has played in 10 games and has a career high .937 save percentage. Rogers insists that the role of being an upperclassman does not bring added pressure.
"Being an upperclassman hasn't changed anything in my eyes. The pressure has not changed for me throughout the years. From freshman year to now, my job has been and will continue to be to stop the puck; it's as simple as that. The pressure in games and the intense competition is a huge factor in why I love hockey."
The Foresters have now played teams in the MIAC, NESCAC, and WIAC. Rogers describes the difference in competition with the variety of conferences.
"It is very exciting to play teams outside of our conference, playing teams like St. Thomas that is made up of fast, skilled girls who play a team game, as well as teams like Colby and Bowdoin who are extremely fast but differ from teams like (Wis.) Eau Claire that is a strong and physical team. Although these teams have slightly different styles of play, from a goaltender's perspective they all have very good shots and have a large focus on getting lots of shots and following up for the rebounds, which keeps me plenty busy in net."
Lake Forest plays Adrian, which is ranked fifth, and St. Scholastica in the next few weeks. The series against these programs will have a huge deciding factor on where many teams will end up in the NCHA standings. Trapp said the exposure to playing against Wisconson-Eau Claire is a good building block to these tough opponents that await them.
"Like I said before, we now know what we are capable of. These next few series are going to be crucial, and I think winning the game against Wisconsin-Eau Claire gave us the drive for playoffs. I also think the Blugolds' physicality was good to see before playing these bigger teams like St. Scholastica and Adrian."
Rivalries are created when two teams are not only competitive with one another, but are also talented teams that are good and know how to win. Rogers noted that playing their rival Adrian College is like nothing else.
"Playing Adrian is always exciting for our whole team. They are competitive, physical, and fun to play. My favorite games are the tough, hard-fought battles which draw another level out of me. I do not like losing at all, so my competitive nature is exposed even more when we compete against them."
Lake Forest is currently tied for second in the NCHA standings with St. Scholastica. The Foresters have 10 games left in their regular season, all conference matchups. The race to take first in the NCHA is the tightest it's ever been.