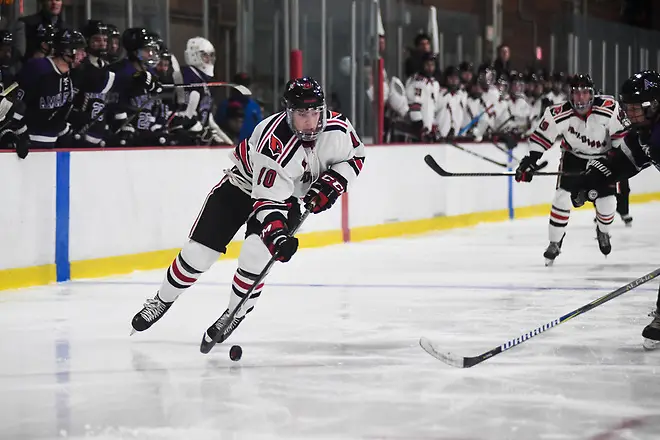 Despite Tuesday's 3-2 loss to Plattsburgh, Wesleyan remains one of only a handful of teams in the country that remains unbeaten in conference play. Led by a pair of dynamic juniors, the Cardinals are playing great hockey and are quickly learning the type of game needed to play to be successful and continue their winning ways in the second half.
"The guys have been great all season," stated coach Chris Potter. "We may have the best depth we have ever had in my time here with what I would call two top lines and two third lines that are all contributing. Some nights it is our top six that are on and scoring, other nights it is across all four lines like the Hamilton game, and other nights it is our third and fourth lines chipping in offensively. They all have talent and really follow the example of Walker Harris and our top guys relative to focus and work ethic on the ice.
Harris (8-8-16) currently leads the team in scoring as he approaches his third straight 20-point season for the Cardinals. The junior has been an important part of the offense, but an even greater contributor with his 200-foot game in all three zones.
"I really thought last year Walker would get some recognition for his overall game on one of the two all-conference teams for NESCAC," said Potter. "It didn't happen for him last season, but I think he is really underrated and is one of the best all-around forwards in the country. We use a computer stats program here that has all the usual categories and one called 'Actions.' That category represents an overall engagement and impact on the game with things like puck possession time and breaking up passes and other tangible actions on the ice. Our typical stat number on our team for that category is around the 50-60 range. Walker is virtually a 100 every single game, which shows his impact on the ice. I think this year it helps with the players around him, but he is a guy that makes us go, and it will be fun to see what he does down the stretch in our remaining conference games."
On the back end for the Cardinals, it all starts in the crease with junior Tim Sestak, who has taken over the crease with great results for Wesleyan. In his first five games in 2019, Sestak has surrendered just four goals and recorded three shutouts in a row for Wesleyan in wins over Williams and Bowdoin as well as an overtime tie with Colby on the road. He currently has a 1.48 goals-against average and .948 save percentage with four shutouts in his 10 games started this season.
"Tim has been great since he transferred here from Hobart after his freshman year," noted Potter. "It is hard for goaltenders since there is only one crease, and while I know he liked Hobart, he really wanted a chance to play. He is a big kid and works really hard on and off the ice. I know the guys love playing in front of him and feed off his confidence and coming up with the big save when we need it. On nights when the goals aren't coming easy, like the Amherst or Colby games, his presence back there really helps the team dial in mentally to playing in those low-scoring, one-goal kind of contests. It is a big help to know we have the ability to play in those kinds of games or open it up when the offense is really clicking."
With a 6-0-2 conference record, Wesleyan returns to conference play this weekend with aspirations for more than just a home playoff position.
"It is all in front of us," said Potter. "We may have looked at just getting as many points as we could in the past prior to the final weekend of the regular season and our series with Trinity. I think this team wants and expects more and wants to battle for that top spot. Besides the two guys we have talked about, we have eight seniors who really want to end their career with the best season possible. Chad Malinowski has been a great leader and calming force on the ice with the defensive group, so we are getting great play in all three areas of goaltending, defense, and offense. We know how tough this league is with teams like Trinity, Williams, and an Amherst team that is now scoring goals. Right now, we are a healthy squad and hoping that our best hockey is still in front of us in January, February, and March."
The Cardinals face Connecticut College and Tufts at home this weekend, with a nonconference game against Post next Tuesday to close out a four-game homestand. They then are on the road with key games against Amherst, Hamilton, Middlebury, and Williams to close out January and open the final month of the regular season.