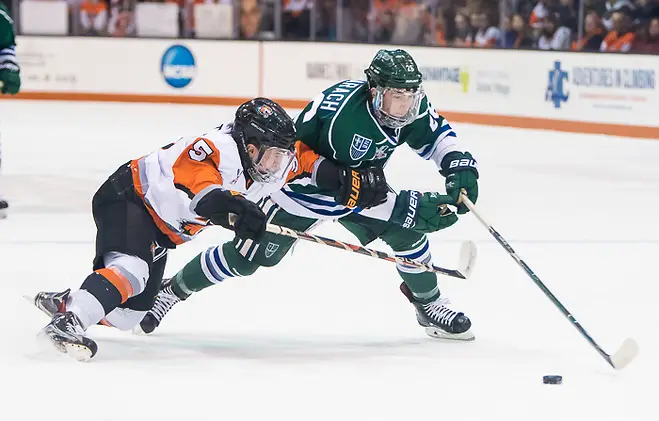 The 2017-18 season was a high point for Mercyhurst and coach Rick Gotkin.
The Lakers, a perennial contender in Atlantic Hockey, went 21-12-4, their best showing since the formation of the league in 2003. Mercyhurst won the regular-season title for the first time since 2014, and came up just short of a trip to the NCAA tournament, falling to Robert Morris in the semifinals of the conference tournament.
Mercyhurst lost a big senior class, which included goaltender Brandon Wildung (103 games) and forwards Jonathan Charbonneau and Jack Riley (102 career points each). In all, 45 percent of the Lakers goal production moved on.
"We're an interesting group this year," said Mercyhurst coach Rick Gotkin, in his 31st season at the helm."We graduated 13 guys who scored a lot of goals. We were young coming in (to this season), but we also had a lot coming back."
The Lakers got off to a slow start, opening the season with just one win in their first seven games. But since then, Mercyhurst has taken 19 of a possible 28 points in league play, including a sweep of Canisius last weekend. The Lakers (11-11-2, 9-6-1 in Atlantic Hockey) find themselves tied for second place, just a point behind first-place Air Force.
"We were a little inexperienced," said Gotkin. "Some of the (returning) guys who didn't get a lot of playing time last year are coming into their own. And we have returning guys like Joe Duszak and Derek Barach, two of the best players around."
Barach, a senior, continues to pile up the points, currently at 24 this season and 131 for his career.
Duszak, a junior defenseman, leads the team in both goals (11) and points (29).
Gotkin says that as good as Duszak was his first two seasons, he's taken things to another level this year.
"He's always been a good scorer," said Gotkin. "But he's become a very reliable defenseman. He's a super competitive kid who loves to play hockey. He's got a great instinct for the game. He sees the ice well. He's become a great 200-foot player."
In net, Mercyhurst returned junior Colin DeAugustine, who was in a backup role last season. The Lakers also have sophomore Stefano Cantali, who was ineligible last season, and junior Garrett Metcalf, a transfer from UMass Lowell who also sat out last year.
All three have had a chance to play so far this season, with the starting job currently belonging to Metcalf (2.64 GAA, .917 save percentage).
"We like all three of our goaltenders," said Gotkin. "Colin is the veteran of the three. Canteli sat out last year because he played some Major Junior. He's been really good for us. Garrett is a sixth-round draft pick by Anaheim. He's a big, athletic kid that has played well.
"All we can ask of a goaltender is to give us a chance to win night in and night out, and all three can do that."
Mercyhurst travels to Niagara for a pair of games this weekend, and then comes home for a series with American International. The game against AIC on Jan. 26 is "Fighting for Folgs Day" to support longtime trainer Mike Folga, who is battling cancer.
"We're hoping to raise a bunch of money for Mike and the American Cancer society," said Gotkin.
But next up is Niagara, which has just one win since Thanksgiving. Gotkin says he expects a battle at Dwyer Arena this Friday and Saturday.
"We have great respect for Niagara," he said. "We know how good they are and how good they can be, but that's our league. We had a real battle with Holy Cross (two weeks ago) and that was one of the best teams we've seen all season. And that's a quote-unquote last place team.
"Like a lot of teams in the AHA, they are, like us, maybe better than their record."