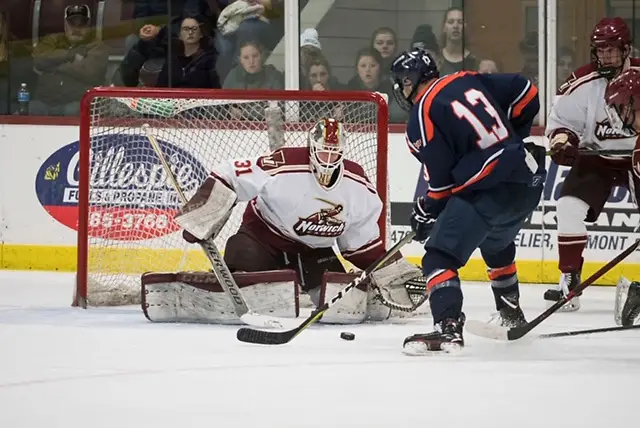 The races are getting tighter, as evidenced by still more upsets over ranked teams. While Geneseo and Oswego won handily, Salve Regina, Massachusetts-Boston, Endicott, Babson, and Hobart all had results in the loss column. The weather in the East surely didn't help teams focus, as several games were postponed, meaning a more condensed schedule for some entering the final month of the regular season. Here is a recap around the conferences in the East.
CCC
Nichols moved to the top of the CCC standings with a pair of wins over Western New England. On Friday, the Bison won 6-3, with six different players scoring. On Saturday, Justin Perron's four-point night and two goals from Nate Foster led the way in a 4-0 win.
Wentworth and Salve Regina split their weekend series. The Seahawks took Friday's game 5-2 on the strength of special-teams goals from Paul Boutoussov and Kyle Moore. At home on Saturday, the Seahawks fell to the Leopards, 4-3, as the visitors rallied from a 3-1 deficit with three power-play goals in the third period to steal the win. Jake McKennelly's goal with 29 seconds remaining in regulation was the game-winner.
Curry traveled to Endicott on Friday and skated away with a 6-3 road win behind two goals from Michael Curran and 40 saves from Justin Ketola. On Saturday, the Gulls turned the tables and earned a split of the series with a 3-1 win. Josh Bowes, Joseph Slovak, and Joseph Thielen provided the scoring, while Conor O'Brien made 41 saves.
Independents
Canton had an all-SUNYAC week in more ways than just games on the ice. After dropping a 3-0 decision to Brockport on Tuesday, the Kangaroos played host to Plattsburgh on Saturday and upset the Cardinals, 3-1. Adam Petric, Jake Mayette, and Tyson Bruce scored the goals, while Michael Cerasuolo improved to 7-2-2 on the season with 32 saves as Canton was outshot, 33-22, for the game.
In other related SUNYAC news, Canton has officially applied for entry into the conference and will await the formal process and decision beginning with the NCAA meetings in the spring.
"We think we are great fit to join our SUNYAC brethren," said Canton Athletic Director Randy Sieminski. "It is a great conference, and we would seem to be a good fit. We are an up and coming team that will be able to compete with the other teams in the conference, and a 10-team league will make scheduling easier while adding another home game to everyone's schedule."
Coach Alex Boak added, "I think we would be great members from both the competitiveness and scheduling perspective. We have had some great battles with SUNYAC teams already this season, and we play pretty much all of them. Why not have them worth two points?"
Here is hoping the Kangaroos get to "jump" into SUNYAC play as part of the conference as soon as the process will allow.
MASCAC
After downing Framingham State, 4-1, on Thursday, Fitchburg State made it a four-point week with a 6-3 win on Saturday over Salem State. Nick DiNicola and Sascha Figi were the offensive stars, as each scored a pair of goals and added a pair of assists for four-point games. Figi's pair of goals gives him 20 on the season.
NE-10
Franklin Pierce, behind 46 saves from Kyle Martin, took down Southern New Hampshire in overtime, 2-1. After a scoreless first period, the Ravens' Nate Indelicato scored in the second period and was answered by Ryan Spagnoli for the Penmen in the third period. Alex Lester gave the home team the win at the 3:33 mark of overtime with an unassisted goal to move Franklin Pierce to 8-9-1 on the season and 3-4-1 in the NE-10.
NEHC
Norwich enjoyed playing on home ice with a pair of big wins over teams above them in the standings. On Friday night, the Cadets were led by Joran Hall's two goals and Tom Aubrun's 19 saves for the shutout win. On Saturday, Norwich knocked off first-place Massachusetts-Boston, 2-0. Aubrun again earned the shutout making 28 saves. Maxime Borduas scored a first period, power-play goal, and Dave Robertson iced the contest with a late empty-net goal for the weekend sweep for the Cadets.
In a battle of travel partners on Friday, Skidmore downed Hobart despite being outshot, 42-18. The Thoroughbreds took a 3-2 win on goals from Callahan Johnson, Austin Rook, and Avery Steele. Brandon Kasel was outstanding in goal with 40 saves, including 19 in the final period.
NESCAC
Wesleyan continued its hot play in conference with a pair of wins over Connecticut College and Tufts. The Cardinals remain atop the conference standings with an 8-0-2 record.
Trinity ran into a hot goaltender on Friday night as Tufts Josh Sarlo made 59 saves in a 1-1 overtime tie. On Saturday, the Bantams downed Connecticut College, 4-2, to take three of four points on the weekend.
Williams picked up another weekend sweep with wins over Bowdoin and Colby. The Ephs needed late third-period goals from Mike Armstrong and Nick Altman to break a scoreless tie and earn their 10th win of the season.
SUNYAC
In a battle of ranked teams, Geneseo pulled out a 3-1 win over Fredonia. Chris Perna, Carson Kelley, and Brendan Miller scored the goals for the Knights, while Devin McDonald picked up his 15th win of the season, making 26 saves in the conference win.
Oswego had no trouble with Cortland in a 7-0 romp. The Lakers were led by Joseph Molinaro's two goals and three special-teams' scores including one short-handed tally from Jody Sullivan. David Richer picked up his eighth win with a 15-save shutout.
UCHC
Elmira broke out the offense in a big way in an 11-1 win over King's on Friday night. Connor Powell recorded a hat trick, and 15 players posted at least one point in the blowout win.
Nazareth and Manhattanville skated to a 3-3 overtime tie in a back-and-forth game that saw Eric Berglund's third-period goal level the score for the Valiants.
After racing to a 2-0 first period lead, Neumann surrendered a 3-1 lead to Utica in the third period, but was saved by Thomas Mansbridge's goal with just 15 seconds left in regulation to earn a 4-3 upset win over the Pioneers. Mike Cosentino made 36 saves in picking up his second win of the season.
Three Biscuits
Josh Sarlo, Tufts: Sarlo stymied a Trinity squad that poured 60 shots on the Tufts' netminder. Sarlo stopped 28 of 29 alone in the second period as the Jumbos earned a hard fought 1-1 tie.
Tom Aubrun, Norwich: Aubrun recorded back-to-back shutouts in key conference wins over Babson and Massachusetts-Boston. The Cadets goaltender stopped all 47 shots he faced over the weekend.
Kyle Martin, Franklin Pierce: Martin stopped 46 shots to backstop the Ravens to a 2-1 overtime win over Southern New Hampshire.
The three biscuits were all netminders this week, and there could have been more based on games won and, in some cases stolen by a "hot goalie." With the number of weeks dwindling in the regular season, everyone is hoping they have the hot goalie, or know how to score on one.