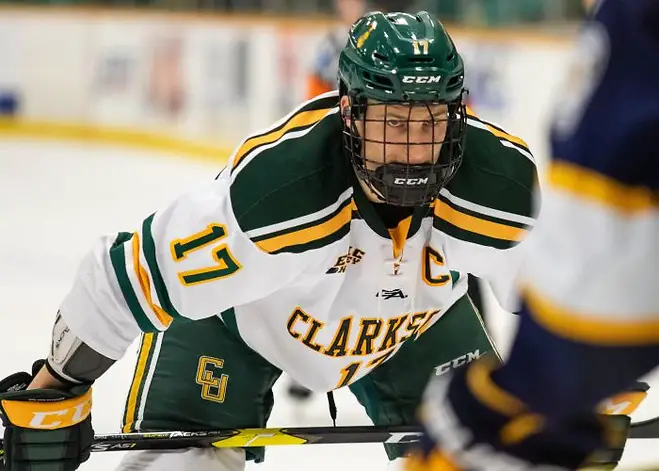 Clarkson burst on to the national scene last year thanks to a 14-game winning streak that stretched from early November to mid-January.
The Golden Knights faded down the stretch but were still able to make it to the league championship game, where they lost to Princeton, and the NCAA tournament, where they lost to Providence in the opening game of the East Regional.
It was an impressive season for a team that hadn't made an NCAA tournament appearance since 2008. But after an average start to this season, Clarkson is in the midst of a national best eight-game winning streak and looks to be getting hot at the right time of the year.
Road wins at Yale and Brown moved the Golden Knights to within one point of first place in ECAC Hockey, although all the teams in front of them have played more games.
Clarkson is also tenth in the PairWise rankings.
"It is all about when you start heating up and we were pretty much done after Christmas last season," Clarkson junior captain Nico Sturm said. "I think we may have been caught up in the streak that we had and we always wondered when it would come to an end. We are having fun right now playing hockey. I think we have realized it has to be game to game and practice to practice and not worrying about the other stuff."
Clarkson's current surge is impressive considering what the Golden Knights lost in the offseason. Top defensemen Kelly Summers and Terrance Amorosa each graduated. Clarkson also had two early departures, as last year's leading scorer Sheldon Rempal signed with Los Angeles, while freshman forward Josh Dickinson signed with Colorado.
That meant coach Casey Jones and his staff entered the season with a younger team than they anticipated, as a number of freshmen have had to take on important roles in the lineup, which resulted in some inconsistency early in the year.
"We just like our freshman class," Jones said. "They haven't gotten the goal production that they had in their junior careers. We told them, 'In the interim, you have to find a role and play Clarkson hockey.' That's what they've done and given us our depth."
Injuries also played a role in Clarkson's slow start. Freshman forward Josh Dunne, one of the team's top penalty killers, missed nearly six weeks with an injury. The Golden Knights were also hit hard on defense, as sophomore Jere Astrén is out for the year, while freshman Brian Hurley has also missed time.
As a result, Clarkson added defenseman Cam Ginnetti from the Cedar Rapids Roughriders of the USHL to bolster its depth for the second half of the season.
"With the way the first half went, we got a lot of guys minutes in key situations that should make us better down the stretch," Jones said.
Sturm leads the Golden Knights in scoring and has continued to play a strong two-way game. But Clarkson has gotten production from defenseman Aaron Thow and Greg Moro as well, which has helped replace the loss of Summers and Amorosa.
"They've taken advantage of their opportunity," Jones said of Thow and Moro. "I think our 'D' corps is a little bit simple, (compared to last year) but it might be a little bit more effective with the way we move pucks and defend. We defend hard back there."
That depth has been important to Clarkson's success.
The Golden Knights are able to spread scoring threats throughout the lineup and its defense is anchored by goalie Jake Kielly, who is having another solid season. Clarkson ranks in the top ten nationally in both team offense and defense, which should set it up well for the rest of the season.
"We really like where we are at right now," said Jones. "We have some nice pieces, but we still have some room to grow. Last year is pretty important for these guys because they chased a championship and came up short. We played well in some games we lost in the first half, but these guys know they just have to trust the process and stay the course."