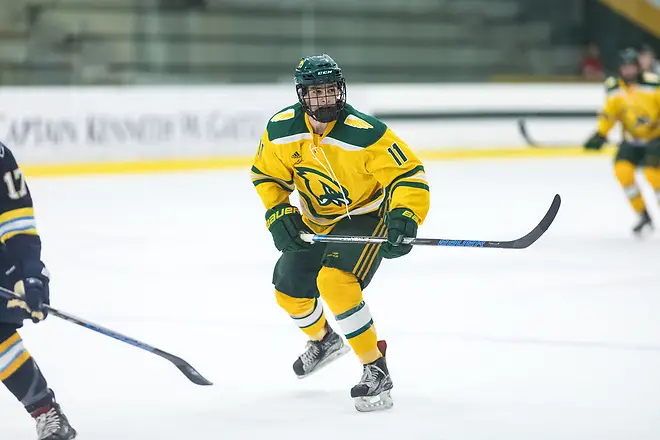 In just 17 games played this season, Fitchburg State's sophomore forward Sascha Figi leads the nation in goal scoring with an eye-popping 20. While Figi's prolific scoring abilities might surprise many around the D-III hockey universe, his coach Dean Fuller is not astounded by anything his talented young forward continues to accomplish on the ice.
"Sascha has some special talents as a goal scorer," said Fuller. "He has developed a great one-timer and can really shoot the puck. He also has some great skills around the net and can finish in the tough areas near the goal. He reminds me of a player we had here on a championship team in the late 90's — Jeff DuRoss, who still is the all-time leading scorer at Fitchburg. Sascha, like Jeff, could really shoot the puck extraordinarily well, especially on the power play, where they both played that high wing position and could get off those great one-timers for goals. We started slow on the power play this season, going something like 8 percent early in the season, but now are up near 23-24 percent, and Sascha is a big part of that with his nine goals with the man advantage."
"To be honest, I get great passes from my teammates in great places to score," said Figi. "Guys like Nicky [DiNicola] are 'pass first' players, and that means I need to get to a good spot to shoot and they find me. I have had some really good looks so far this season, and right now they seem to be going in."
While the Falcons got out of the gates slowly as the defending MASCAC champions, they have started to ramp up their game at the right time of the season behind Figi and senior DiNicola, who passed the century mark in scoring earlier this season and is tracking toward passing 100 assists in his FSU career.
"I thought we started slow and maybe were distracted a bit early in the season with many people in the area still living and voicing last spring's conference title and NCAA berth," stated Fuller. "We weren't as focused as we could have been, but I think as that has changed through the season, we really got going when our offense started to click. We struggled to score goals early, including a 1-1 tie with Framingham State, but we have it going now with the first line and are trying to get our other forwards scoring."
"We didn't have much 'puck luck' in the beginning," stated Figi. "We always worked hard, but weren't getting the bounces early in the season. I don't think we were clicking together early, especially on the power play with some new players and changing some roles on the ice. We went back to some things, and that is working for us. Sometimes I know the defenders are trying to take away the one-timer pass to me, but that just means some of our other players are getting good opportunities. We aren't forcing things, and we keep working hard to get better every day in practice. We need every point we can get right now and are focused on one game at a time."
The Falcons are currently tied with Plymouth State for the top spot in the MASCAC, but there are five teams within three points of the top spot. With just eight games remaining in the conference schedule, the battle for the top two positions and first-round playoff bye will be very contentious.
"Everyone is hanging in there this season in MASCAC," noted Fuller. "The league is just so competitive, and it should be tight right to the end. I really like that our schedule worked out that we finish with five of our last eight on home ice. So far, we have been really good on home ice in conference play, and we will need to continue that if we want to have a chance to repeat what happened last spring in front of a packed house in our rink."
"We practice to be better for the next game," noted Figi. "Tomorrow night it is Westfield State, and we need to keep working hard every day if we want to achieve the goals we have set for ourselves. I don't set goals in numbers of goals or points — I want to step up my role as a leader on this team and continuously improve my game and contribute to our success more than I did last year."
After Thursday night's road contest at Westfield State, the Falcons have four critical MASCAC matchups at home that include Worcester State, Massachusetts-Dartmouth, Plymouth State, and Framingham State, where they hope to create some separation in the standings and set themselves up for a playoff run.
"We have a great group of players, including Sascha and Nicky, but we are looking for more from everyone," said Fuller. "Brian [McGrath] has been one of the best goalies in the country. Our six defensemen are playing well, and we just changed players on lines two through four around to help give us more balance offensively. I do think our best hockey is ahead of us, but we can't take any team lightly."