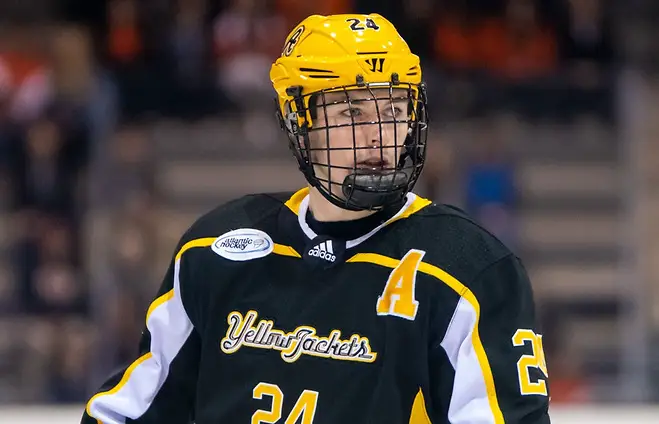 As a sports writer, there are plenty of times where the two halves of my brain split and argue with one another.
The analyst in me wants to take a statistical look at a particular area of the game with the hope that numbers can back things up. The journalist in me is constantly looking for a thought-provoking story that isn't steeped solely in statistics.
They are often at odds with one another because they have very distinct positives and negatives. Numbers can prove consistency but lack the flair or drama of that highlight-reel or spine-tingling shot, body check or save. But those big-time plays sure are fun to watch and read about, aren't they?
Then there are those rare times when the numbers prove exactly why something flashy happened, and the flash is the product of the numbers.
So for what feels like the umpteenth time this season, I give you American International. Playing three games in five days last week, the Yellow Jackets won every time they stepped on the ice. The six-point week vaulted AIC back into first place while creating a four-point divide to second.
"We've been down and come back (in games)," AIC coach Eric Lang said. "This team has been in the production business. Not every game is going to be a (masterpiece), but we have the right mentality. We want to score the last goal and keep playing until the buzzer. It's a mentality that we've embraced. We wanted to be the best third-period team in Atlantic Hockey."
AIC's 2018-19 season is now standing alone in its program record books. The three wins broke the single-season record for conference wins, set last year with 11. The Yellow Jackets became the first team with 10 conference wins, and they once again were reinserted as a team receiving votes in the USCHO.com national poll for the third time this season.
The recent win streak came despite a grueling stretch of hockey that involved games on Tuesday, Thursday and Saturday with two games on the road. On Tuesday and Saturday, the team rallied from deficits, falling behind to Sacred Heart 1-0 and Holy Cross 2-0. Each time, AIC rallied, using goals scored in the third period.
"I don't know if the data shows it, but we've had more 'better third periods' than most (teams)," Lang said. "That's something that our group embraced and (we) conditioned for it. We leverage it a lot in practice, and it creates belief that we can be better in the third than our opponent."
That data is where analytics melds with dramatics. AIC is tied with Niagara for most third=period goals with 26, but the Yellow Jackets are by far the best third period team in terms of goal differential. Their plus-9 rating is well above the rest of the league, and only Army West Point is within two goals of that mark. It's also more than double their differential in the other two periods – where AIC is a combined plus-4.
This past weekend was a perfect example. The Yellow Jackets traveled to Holy Cross for the second game of their home-and-home series. By itself, it's only an hour's worth of a bus ride over 50 miles or so, but Saturday was the team's seventh game in two weeks, sixth in 11 days and third of that calendar week. One day off separated a road game at Sacred Heart from the home game against Holy Cross until turning around on the road to go to the Hart Center.
Additionally, Holy Cross had fast become one of the league's hottest teams. Wins over Mercyhurst and Niagara bookended a tie, and the three-game unbeaten streak began the candidacy for second half sleeper team. Down 2-0, Janis Jaks scored, and Chris Theodore tied the game with a power-play goal before the second period ended. That set the stage for Kyle Stephan's third game-winning goal of the season and another third-period victory.
"I felt like, at times, Holy Cross outplayed us," Lang said. "We were still able to come out on the good side of it. We had some puck luck and converted some opportunities, but that's a good team. That's not a 'last-place team,' and just like everyone else in the conference, nobody will want to play them in the playoffs.
"(The win) was one of the proudest moments that I've had of my team. We had taken an NHL-type schedule that I felt could help us in March when we potentially have to play three days in a row. There was no mention of (the schedule) from the group, and we had every excuse why things could have gone poorly on Saturday. But (the players) refuse to accept anything other than a positive result. Being down, on the road, what we were physically up against, that was as proud a moment as I could have."
This has been a season-long storyline that I keep following. I feel like this year, especially, is forcing me to continue talking about AIC because the team consistently rises to answer another bell. It sets a new level of expectation, but the team keeps finding a way to meet or exceed that expectation. It's created some drama that the writer is drawn to, but the stats are backing up the production from analytics perspective.
Ironically enough, it might not mean much in the end. Statistics usually go out the window in the postseason, and Atlantic Hockey has been a certified demolition derby over the past few years. But that's where the flair for the moment, the drama takes over, and a team has to be ready for it.
"I think we're hard to play against, and that's something that we wanted to do since Day 1," Lang said. "When you combine that with good skill – I wouldn't say upper echelon talent but it's good skill – when you're willing to give second and third efforts, you see the results as a team."