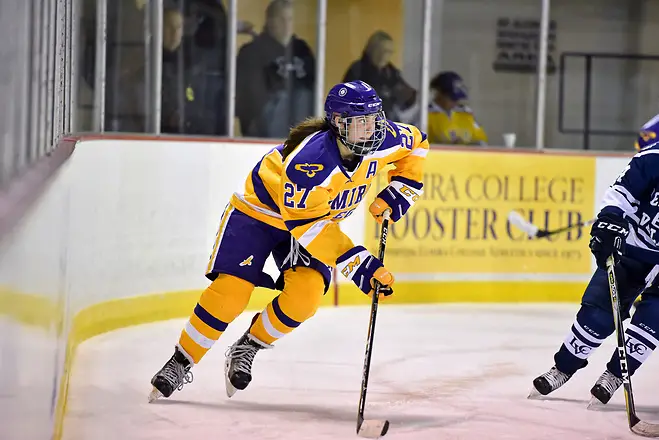 Elmira's hockey program is rich with a tradition of excellence. They have a reputation of winning matched by almost no other D-III program. The Soaring Eagles have competed in the national championship game seven times and have earned the championship trophy three times. Senior forward Katie Granato finds herself in the thick of all the success that surrounds this program and hopes to lead her team to another national title.
"From day one of being at Elmira College and playing on such a historic team, I was introduced to a culture of traditions and success," Granata said. "This legacy has been upheld each year by upperclassmen and stems from the alumni that passed the torch to them. We hold each other accountable on the ice to not only be the best hockey players we can, but also the best people we can be off the ice and in the community. The past four years with this team have taught me many life lessons regarding adversity and overcoming any situation."
Elmira's program came close to another championship last year when the team lost to Norwich, 2-1, in the championship game of the NCAA tournament. Granato said the bitter loss still lingers with most of the players, and it's used as motivation.
"Losing the national championship last year has only made us hungrier to go back after it this year. The returning players know what it feels like to be so close, but the freshmen have not quite had that experience. I think that after they saw our team's preparation going into the Norwich games at the beginning of the year, it has motivated them. We are all on the same page now about what we want out of this season and the work we need to put in to get there."
Coincidentally, Elmira's opening game of the 2018-19 season was against the same team that the Soaring Eagles lost to in the national championship game, Norwich. This time, Granato did not let the victory slip from the teams grasp. She scored a hat trick, including scoring the game-winning-goal, to push past the Cadets, 4-2. Granato explained the importance of winning that game.
"We were really excited to start our year off against Norwich and we wanted to prove to everyone that the outcome last year could have been a different and that we are an elite team. Beating Norwich gave us confidence and proved how good of a team we can be when we play together with structure and made us excited for the rest of the season."
Scoring goals is never easy, nor does it come frequently for many players. However, Granato has seemed to find herself being an offensive powerhouse for the Soaring Eagles since her freshman year. Currently, she has scored 68 goals and assisted on 52 for a career total of 120 points. The Illinois native is in the middle of one of her better years. She discusses why this year differs from past seasons.
"This year, I have been connecting well with my linemates, and we are able to put each other in goal-scoring situations and I have been lucky to be on the scoring end of these plays. We also have two strong power plays this year that I have been able to contribute to as well. My game has matured over the past four years, and I have been able to create more rushes to the net and put myself in better scoring situations."
Elmira went through a coaching change three years ago when coach Tim Crowley took over. For a player, such an adjustment can be difficult, but Granato said the change was nothing but positive for herself and the team.
"The coaching change impacted my growth as a player. I think from the start Crowley saw the level I could play at and has pushed me to be the best player I can on the ice. He has given me the opportunity to fulfill a role of being a versatile forward for our team and a leader as one of the assistant captains. He aids in my improvement each year, as well as the team's improvement. He does everything he can to help our team win, from detailed scouting reports and film to practice preparation to recruiting for next year. He continues the tradition of success for the Elmira program."
In 2016, Elmira joined the newly established UCHC (United Collegiate Hockey Conference). Granato explained how the conference has been developing with the latest additions.
"I think the competitiveness in the league has expanded this year, especially with the addition of Nazareth in the conference. They are a new program with skilled and hardworking girls, and both games were a battle. Hosting playoffs last year was a lot of fun and meant a lot to our team. There were a lot of fans in the rink, making it a competitive and exciting environment and giving me hope that the league will continue to strengthen over the next few years."
As the number of regular season games left to play is dwindling, Elmira and William Smith both sit on top of the UCHC standings. These two teams will face each other Jan. 26-27 in a battle for the conference lead. Granato said that is all the motivation they need to beat William Smith.
"It would be huge for us to win both games, and we have been looking forward to playing them since the beginning of the year. We want to have a better weekend than we did against them last year, as both games went into overtime and we ended with a win and a tie. It would be great to come away with two wins this weekend without having to do it in overtime fashion. We are currently the top two teams in UCHC rankings, so the winner will claim that number one spot. That is our motivation and goal for the weekend."
When asked what team Granato would like to compete against, her answer was fearless and generated from the type of a hockey player that likes the taste of victory.
"I have a lot of teammates that I grew up with who are playing at schools in the Minnesota area. I would have a blast if we were able to play these teams and get to compete against them. It would be great to be exposed to more teams from the Midwest region. St. Thomas is also having a standout year so far as they are still undefeated, and it would be fun if we were matched up against them as well."
Given the season that St. Thomas has had and where they stand in the MIAC, this matchup is not beyond the realm of possibilities.