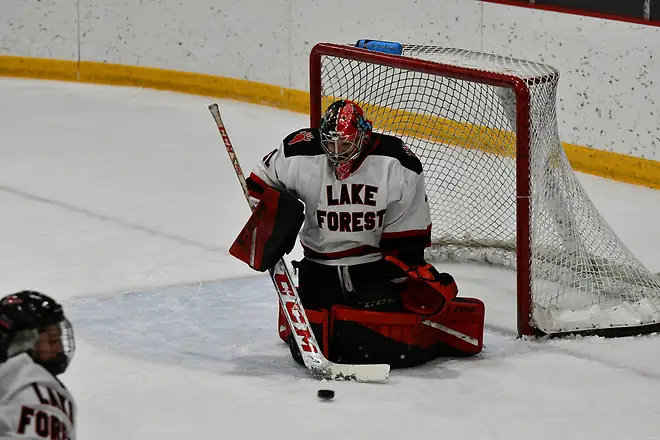 What if someone told you that one of the best goaltenders in the country didn't play for Adrian or St. Norbert, both nationally ranked and traditional powers in NCAA Division III hockey.
Instead, he plays for Lake Forest.
His name is George Argiropoulos, who has helped the Foresters rattle off five consecutive wins and maintain their hold on first place in the South Division of the NCHA.
Argiropoulos has won six games. He ranks among the best in the country in save percentage (.947) and goals-against average (1.42). The senior from Toronto is a win away from tying his career-best total, and he's on pace to have a GAA under two in a season for the first time in his career.
It's not that he put in extra work in the off season either. Then again, that's been beneficial.
"I had an internship over the summer so I didn't get to focus on hockey as much," Argiropoulos said. "I realized there isn't as much pressure on me that I usually put on myself. Last year, I felt it. This year, I'm having fun. I'm enjoying my last year, and whatever happens, happens."
It's working well, and the Foresters are certainly having fun as a team. They are 10-5-4 and have won their last five games.
"Everyone is buying in this year," Argiropoulos said. "No matter who we are playing, we bring the same mentality every night. We're doing the little things right. It's become a habit for us."
This is a Lake Forest team that believes it can win any game. It played St. Norbert to a 1-1 tie. It waxed Adrian 6-0.
"Everyone in this conference has a chance on any given night, and that's something we've proven," Argiropoulos said. "We feel we aren't just trying to keep things close. We believe we can win."
It's an approach that has generated a ton of confidence.
"The guys are feeling good and have gained a lot of confidence from the success," Argiropoulos said. "We just have to keep building off it and not take a day off."
Argiropoulos said he has benefited from playing alongside fellow netminders Louis-Philippe De Courcy and Boyd DiClemente. He said they push each other every day to be the best they can be, and it has paid off.
The fact that his teammates in front of him are doing their jobs as well makes a difference, too.
"My teammates make it easy for me to play and to just do my job," Argiropoulos said. "I don't have to do really anything extra because everyone else is doing their job."
Lake Forest still has six games to play before the conference tournament begins. A year ago, the Foresters reached the semifinal round and were blanked 9-0 by Adrian. Argiropoulos gave up four goals in a backup role.
It's something he hasn't forgotten, and yet, it's not something he dwells on.
"It happened, but we are a different team this year," Argiropoulos said. "As a goalie, you have to have a short memory, and I've been able to forget it and reboot. It's in the back of our minds, and we're still hungry and motivated. We're doing the things that we have to in order to make sure something like that doesn't happen again."
Five things to know about the West Region
Lake Forest has six players with 10 or more points. The top two scorers are only sophomores. Joe Sardina leads the Foresters with seven goals and nine assists. Mark DerManulian has come through with four goals and 11 assists.
Finlandia is 7-10-2 overall and 5-5-2 in the NCHA. The Lions already have matched their win total from the previous four seasons combined.
Wisconsin-Stevens Point leads the WIAC in goals scored (84) and goals allowed (31). Tanner Karty leads the offensive attack with six goals and 12 assists. Connor Ryckman has 18 wins and a 1.41 GAA.
St. Thomas goalie Cam Buggrabe leads the MIAC in GAA (1.87) and save percentage (.932). He has given up only 18 goals and has helped the Tommies put together an eight-game unbeaten streak.
Luke Dietsch of Augsburg is among the MIAC leaders in points, tallying 22 on the year, good enough to tie him for fifth with teammate Chandler Madry. Dietsch has tallied 10 goals and 12 assists. Madry has come through with nine goals and 13 assists.
In the Poll
Wis.-Stevens Point is still the No. 1 team in the nation and received all 20 first-place votes. Wisconsin-Eau Claire and Augsburg are fourth and fifth, respectively. St. Norbert is sixth, and Adrian is seventh as every team ranked from the West Region is in the top 10.