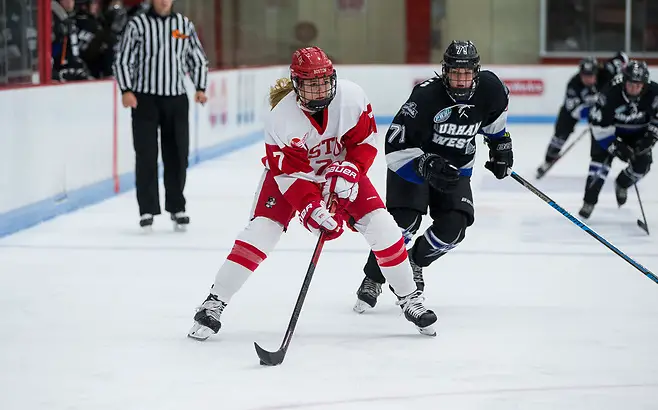 Boston University entered the national rankings this week in the No. 10 position. It's an achievement that seemed all but impossible at the start of the season, as the Terriers won just one of their first seven games. It's been more than two years since Boston University has been nationally ranked, and that it comes during the stretch of a season that felt like it might be over before it ever began makes it even more special.
Things did not improve much after that slow start. BU was 4-4-4 through their first 12 games when they were scheduled for a set of home-and-home games against rival Boston College. That series was the turning point, said sophomore Jesse Compher.
The Terriers took both games of the weekend series. In addition to talking away with their first winning record of the season, they also gained a massive amount of confidence that has powered the rest of their play. They are 7-2-1 since that pair of wins, putting them at 13-6-5 overall and 10-5-4 in Hockey East.
They are just two points back of BC in the conference standings with a game in hand. While it's unlikely anyone in Hockey East will catch Northeastern, the Terriers are in prime position for the postseason and are eyeing the narrow margin between them and an at-large bid for the NCAA tournament.
"After we did lose a couple of games at the start of the year, I think we did have to prove ourselves,," said Compher. "Once we beat BC a couple of times, all of us decided as a team that we know we can play with anyone out there. Ever since then, we have been able to build off that and really bring it in every game and make sure we played like we played that weekend so other people know we're here and we're staying. We want to keep playing for the whole year."
Sometimes, it takes confidence to build confidence, and after a start that was not what the players had hoped for, trust, belief, and faith were difficult to come by. Those negative emotions feed on each other and multiply until heading to the rink is a slog and nothing positive is happening in any part of the game. After spending the first month or so of the season too inside their own heads and second-guessing every move, the sweep of their crosstown rival was the exact boost of adrenaline the Terriers needed.
"During practice, we were a really great team, but when we weren't winning games, we started to get nervous, and at the rink we didn't have a good attitude," said Compher. "But once we started to win games, everyone was able to see that we can play with other teams, and I think that we are showing that right now."
The Terriers graduated two of the top players in program history in Victoria Bach and Rebecca Leslie, so Compher said she knew heading into the off season that Boston University would need to replace not only their production, but their leadership as well.
"You always go home over the summer and you want to get stronger, you want to get faster; I think I did that a little bit, which helped me come into the year a little bit more confidence," she said. "We did lose a couple big names last year, so I went into the off season knowing that I need to pick it up, I need to help our team. I think just having that mindset over the summer really helped. (Wanting to help) us in that pushed me to be the best I could every single day. Once I got to the beginning of the year, I just feel like things kind of fell into place. … It's a little bit of a leadership role. And I'm playing pretty good hockey, so it all built into it."
Calling Compher's season "pretty good hockey" is kind of a massive understatement. With 13 goals and 27 assists, her 40 points are good for third in the nation. Her 27 assists lead all players, and her 1.667 points per game are fourth in the country. She's transformed into a major force to reckon with in just her second year after being named to the Hockey East All-Rookie Team last season.
The sophomore has found herself not just atop the BU scoring leaderboard, but as one of the top scorers in the country. She was the third-highest scoring Terrier last season and already has 14 more points than she amassed last season.
It may be rare to find such leadership from an underclassmen, but Compher said her teammates have been nothing but receptive. The locker room is incredibly close this year, she said, and that's helped not only her, but the team as a whole. Their support builds her confidence and makes her feel comfortable as a young leader. The adversity of the early season that gave way to confidence has left an interesting feeling of calm with the team now. They've come through and are having a lot of fun, which makes it easy to go to the rink and put in the effort.
"If you're enjoying yourself with your teammates, obviously you're going to have fun out there on the ice," said Compher. "I think that's a big part of it this year. … It creates a really good environment for everyone around the rink. We can build off that. … Now we're starting to win a bunch of games that are important, and it's pretty exciting feeling for all of us, I think."
The early struggles mean there's little-to-no room for error for the Terriers, but they're relishing the challenge of closing out the season strong and seeing what they can accomplish. They've won five in a row, and other than the Beanpot, have a slate of games that look very winnable. They found the confidence they lost through the early losses and are finding that they barely remember the beginning of the season as they're now focused on building off their wins. They aren't nervous or in their own heads, they're playing as a team, and it's been rather successful.
They'll likely need some help from other teams, but the final few weeks also look like they could play out in BU's favor. They have an outside chance at an at-large bid, and if they can keep up their streak and make it to the Hockey East championship game, they have as good a chance as anyone at winning that one-game playoff for an NCAA tournament berth. That seemed an unfathomable thought just more than two months ago, and the Terriers are focused on the prize.
"As a team, we know that we have to go into every single game thinking we need a win out of it. During the week, we try everyone having positive (attitudes), really making it a fun place to be, because that's what really helps the team," said Compher. "When you're enjoying each other and enjoy being at the rink, that's when you build as a team, and hopefully that helps us win."