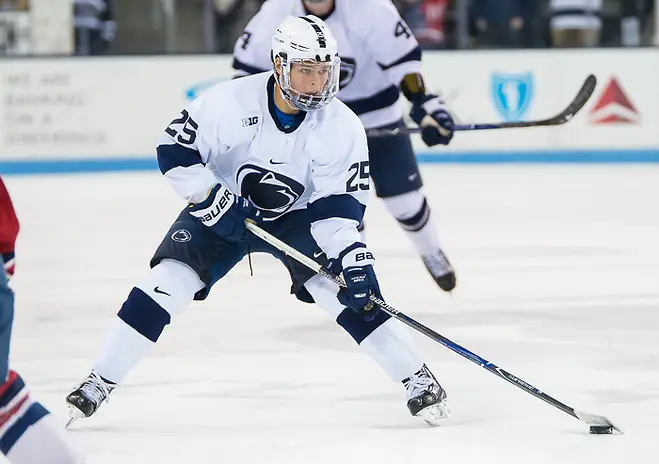 When Penn State and Michigan face off Saturday for their final meeting of the regular season, they'll do so at Madison Square Garden, the nightcap for the fourth annual Super Saturday, which features an Illinois-Maryland basketball game at noon before turning its attention to hockey at 7 p.m.
This is the second time that the Nittany Lions and Wolverines will meet in the event, having played in the inaugural Super Saturday hockey game Jan. 30, 2016, a 6-3 Michigan win in front of over 13,000 fans. It may be fitting that the squads are participating this year, as the event is in its final contract year and both the Big Ten and Madison Square Garden are weighing options for the future of Super Saturday.
"I can tell you we have a great relationship with the Big Ten, with the commissioner, Jim Delany," said Joel Fisher, executive vice president of MSG Marquee Events. "We're obviously talking to them about what we do in the future, but nothing to announce yet. We have a great relationship with them and have enjoyed having the events in the past."
In its first season, Super Saturday included a basketball game between the Wolverines and Nittany Lions as well, but in 2017, Wisconsin and Ohio State met for the hockey game and the Badgers played Rutgers in basketball. Last year, Minnesota and Michigan State faced off after the Spartans and Buckeyes met earlier in the day on the court.
"It kind of started when we expanded from 12 to 14 full members, and with that, we really wanted to make a Big Ten presence out east with Maryland and Rutgers and Penn State," said Brad Traviolia, deputy commissioner of the Big Ten. "We're trying to activate and have a presence out there. We've learned what works and what doesn't work so well for some of these events, and so we're studying it and we may some tweaks going forward."
Traviolia said that some of the conference's western schools like Minnesota and Wisconsin don't draw as well in New York because their alumni bases aren't as big further east.
"I'm not sure if the Super Saturday with basketball and hockey will continue as is in the Garden," said Traviolia. "We're looking at some options that may change that, but we kind of got out of the gates really fast with the Michigan and Penn State doubleheader. It worked in Year 1."
Fisher mentioned other popular Big Ten sports, like wrestling and lacrosse, but he stressed that Madison Square Garden remains committed to college hockey.
"College hockey overall has found a home here at MSG," said Fisher.
The arena hosts the biennial Red Hot Hockey, begun in 2007 and played between Cornell and Boston University. Cornell has also played in all four Frozen Apple games at Madison Square Garden, once against each of the Big Ten teams playing at MSG this weekend.
"College hockey is definitely something we enjoy having and exposing to fans in New York," said Fisher. "It's just a great atmosphere."
Michigan coach Mel Pearson and Penn State's Guy Gadowsky both called Madison Square Garden "iconic" and each said that his team is looking forward to the experience.
"It's nice to be able to go and showcase your team and your product and the game and the Big Ten," said Pearson. "I think it's great for our players that they go to play in a building as iconic as Madison Square Garden. I think it's important that you experience some things with your team. We go from the outdoor game at Notre Dame Stadium to going to Madison Square Garden – things like that are pretty cool."
"The last time we played in Super Saturday we had some tremendous support from both Michigan and Penn State alumni," added Gadowsky. "There was blue and white on the street and in the local establishments well before and it was a really great event. Any time you play Madison Square Garden, it's special. It's a privilege and a great opportunity."
Pearson said that the trip to New York gives players the chance to take in some of what the city has to offer.
"We'll try to do a couple things on Friday as well as on Sunday," he said. "I'm a firm believer that if you have the opportunity to experience some things, I think it's good to do so. We're in the education business. We have to take advantage of these opportunities. Hockey is very important, but I think that if there's a way to put these cultural things in the mix, it's a big bonus."
Of course, the teams meet first Thursday night in Ann Arbor at 7:30 p.m. Neither coach thinks that his team will be looking beyond that game to Saturday, given all that's at stake.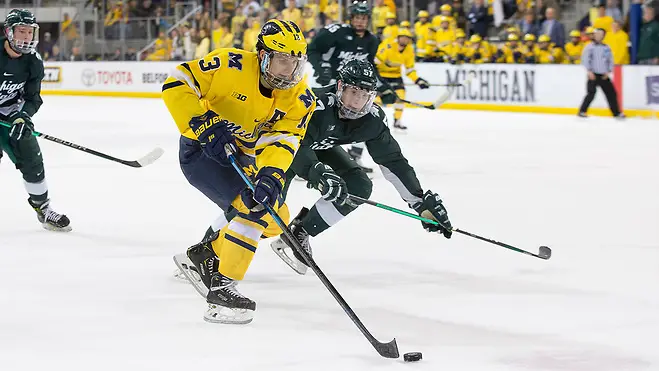 Michigan is a point ahead of Penn State in the Big Ten standings, although the Nittany Lions have one more win than the Wolverines do. Neither team is above .500 in the conference standings, but just last weekend, Michigan State pulled itself up from last place to fourth with its home sweep of Minnesota. It's a tight conference race and with six points on the line this weekend, both teams are focused.
"I think we're pretty dialed in, being at home," said Pearson. "And because you have the day between. I could be wrong, but because we had the weekend off and Thursday's our next game, we're putting a lot into it."
The Wolverines last played Jan. 11-12, a road split with Ohio State. Michigan began the second half of the season with six games in a dozen days, and Pearson said that last weekend's bye helped his team to catch its collective breath, especially with the news of the loss of Josh Norris, who will miss the remainder of the season because of an injury he sustained while playing with the U.S. team during the IIHF World Junior Championship.
"It was good for us to refocus," said Pearson. "We've changed up the lines a little bit. We hadn't really practiced since before Christmas, hadn't really had any quality practice because of our schedule, so it allowed us to throw a couple of wrinkles in there that we hadn't been doing. I think that was really good for our team."
The Nittany Lions head into this weekend trying to snap a three-game losing streak after having been swept at home by Ohio State last weekend following a home split against Michigan State the weekend before.
"We're struggling right now to find our balance," said Gadowsky. "We've been pretty successful offensively, and then we've had a few very good performances as well, but some that have taken away from our offense. Our challenge is going to be to find the correct balance between both."
These teams met at Pegula Ice Arena in mid-November, with the Wolverines taking the first game 6-4 and Penn State rebounding for a 7-6 win the next night. Michigan is 14-10-1 all-time against Penn State, and the Wolverines have won the last seven games the teams have played at Yost Ice Arena.
"We've had some great games against Michigan," said Gadowsky. "I think it's as the years pass, all these Big Ten rivalries are going to get more intense. You can see it now with how the game is played and how tight the league is."
"I like the rivalry," added Pearson. "Our games have been fierce. They've been competitive, they've been low-scoring, they've been high-scoring, they've been contested. It seems like every year, the games mean a lot."
Whether or not this rivalry – or any B1G hockey rivalry – finds its way back to Madison Square Garden after this weekend's Super Saturday is yet to be determined. In addition to attendance and interest, there are other things to be considered, said Traviolia.
"The one thing that we've also heard from our schools is that these are their home games, and I would argue that at a home hockey game, one of the best things they have going for them is their home crowd and environment," said Traviolia. "So to take these games off campus and put them in a neutral site, it really needs to be well worth it and the schools need to feel like it's even a better experience and that what they get out of it is a lot, given that they're giving up home game to do so."
There's no doubt that both Pearson and Gadowsky think that the trip to New York is worth it for a game at Madison Square Garden.
"With the way it is in the Big Ten, every point is massive, both in the league and nationally," said Gadowsky. "This has all the makings of a great game and a great event in a great atmosphere for some very important points."