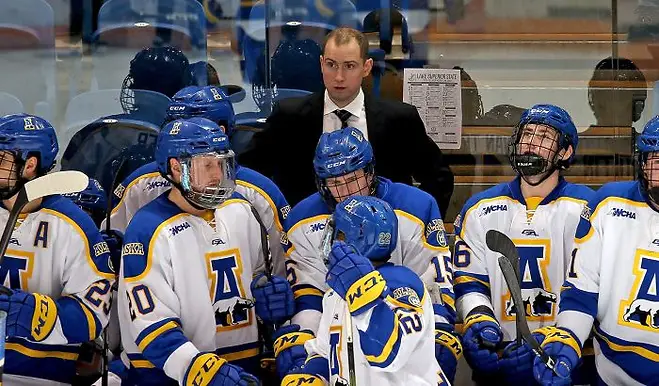 Two weeks ago, Alaska got a pair of monkeys off its back en route to upsetting Bemidji State with Justin Young's overtime goal.
The Nanooks were hoping that win would be the shot in the arm they needed as the WCHA playoffs race tightens down the stretch. As it turns out, that's exactly what that win did.
They stole a game against No. 9 Bowling Green last weekend, winning 4-1, and now find themselves tied for seventh place in the conference standings. Their ultimate goal is to get into the playoffs, but they'd also like to get home ice the opening weekend of the postseason.
With them currently 12 points away from achieving that, they'll need to knock off a few more WCHA teams. Outside of another matchup with BGSU and a big series against Minnesota State, Alaska's schedule looks navigable, especially with four games against rival Alaska Anchorage and two this weekend at Alabama Huntsville.
If the Nanooks can make some noise in the playoffs, they'll look back at that win over Bemidji with glee.
"That was a really huge win for us," said coach Erik Largen, whose Nanooks are 6-16-2 and 6-11-1 in WCHA play. "Bemidji is a really good, strong team, and I'm just proud of my guys because it's hard to get points on the road in this league. The just kept finding a way to get it done.
"The guys found the will to win, and we were excited about getting three points. The guys were just enthusiastic and are excited about getting right back to work."
Two things needed to happen for Alaska to turn the tide on its season.
First, sophomore Justin Young had to break his scoreless streak. The forward entered the game against Bemidji without a goal through 21 games. That changed once he threw in the winning goal just 52 seconds into overtime, helping the Nanooks end a five-game losing streak.
"It was definitely exhilarating," said Young, who said he scored four OT winners in juniors. "It's definitely given everyone a shot in the arm.
"You can tell because everyone has been enthusiastic and has been a little different at practice and has looked a bit happier. Everyone has a jump in their step right now."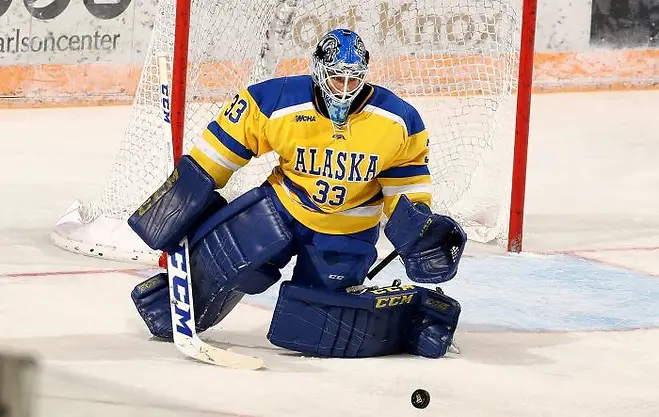 Second, goalie Anton Martinsson needed to step up and play good enough to get his first win of the season.
"We really needed that win to stay in the playoff race," the Swedish netminder said. "It feels great to get that monkey off my back, for sure. It feels like a big relief. Not having a win wasn't bothering me, but it was definitely something sitting in the back of my mind all the time."
Martinsson, who was in goal when Alaska knocked of BGSU, too, wasn't surprised his team pulled out that overtime win. He knew it was just a matter of time before the Nanooks put it all together. Looking back at their schedule, they've had close calls with Michigan Tech, St. Cloud State, Denver and Lake Superior State. They just needed to start playing a complete game for 60 minutes, he said.
"We've lost to a lot of great teams with some unlucky bounces," Martinsson said. "Getting that win proved we can play with the well-respected teams. We've played with good teams and hung with them or beat them – like LSSU and St. Cloud State.
"We can play with these big teams. We've just got to prove we can do it for 60 minutes and get these three points."
Martinsson is a self-proclaimed student of the game. He does his research. He reads game stories online and studies stats. He even looks up how his fellow Swedes are doing around the NCAA.
But he also likes to learn about hockey lore. One story that stuck out to him was Ferris State's run to the Frozen Four after finishing just fourth in the WCHA regular season three years ago.
"I think we can win no matter what seed we are," Martinsson said. "I remember when Ferris was a low seed and they won the whole playoffs. I remember reading about that story a couple of years ago.
"I don't know how far away we are from getting home ice, but there is plenty of hockey left to play, so we want to get rolling. Our main goal is to get into the playoffs.
Added Young: "We just want to get some sweeps. If we could get home ice in the playoffs, that would be huge because traveling is tough in college hockey, especially in our conference."
The Nanooks quest to make a playoff run continues this weekend in Huntsville.