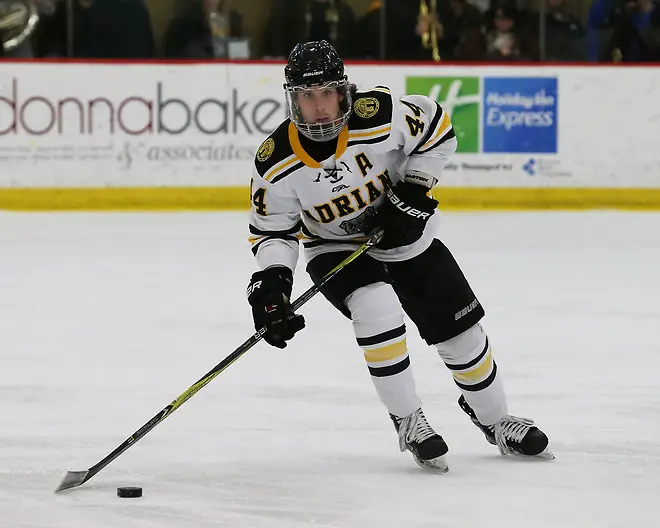 Adrian and St. Norbert highlight the weekend in the West Region. The two national powers square off in a game worthy of the NCAA tournament.
The Bulldogs enter this game on a three-game winning streak, but are a point behind Lake Forest in the NCHA South Division standings. St. Norbert has won three in a row as well and is in first place in the North Division.
The Bulldogs have plenty of options on offense, including league points leader Cory Dunn (20) and league-leading goal scorer Bryan Yim (12).
Riley Christensen has been a key player for the Green Knights, tied for third in points with 19. Brendon Gysbers has come through with 13 assists for St. Norbert.
Adrian has come through with 69 goals off 122 assists. St. Norbert has tallied an NCHA-best 73 goals off 129 assists.
Something has to give. Adrian won the first meeting, 4-3. Expect a close game this time around as well. Adrian 5-4
Friday, Jan. 25
Wisconsin-Superior at Wisconsin-Stout
The Yellowjackets have won their last two games and played the Blue Devils to a 1-1 tie the last time the two teams met. Troy York leads Wis.-Superior with nine goals and four assists. Andrew Durham has come through with eight goals and five assists. Wis.-Stout has rattled off seven wins in its last eight games. Logan Nelson leads the team with nine goals and six assists. Mathias Ahman has tallied seven goals and eight assists. The Blue Devils are looking to stay in contention for a league title. Wis.-Stout 3-2
St. Scholastica at Finlandia
The Saints are in dire need of a win. It won't be easy to get one against one of the surprise teams of the season. Cole Golka leads St. Scholastica with 12 goals and eight assists. Nick Trenciansky has eight wins in goal this season. Finlandia is in the midst of its best season in program history. The Lions have won their last two. Cale Markham has scored eight goals and dished out an assist. Finlandia 4-3
Friday-Saturday, Jan. 25-26
Gustavus Adolphus versus Saint Mary's
Gustavus is in fifth place, and Saint Mary's is tied with St. Olaf for sixth, making this matchup one of the more interesting ones of the weekend. A chance to improve the odds of making the conference tournament hinges on this series. The Gusties just ended a six-game losing streak by stunning Augsburg at home. They now look to build off that big win. Evan Erickson has played a key role offensively with seven goals and six assists. The Cardinals have been up and down during the second half of the year. Tommy Stang has been one of the more consistent players on the team with seven goals and seven assists. Look for this series to be tight throughout. Saint Mary's 7-5, Gustavus Adolphus 5-3
Concordia at St. Thomas
Concordia and St. Thomas are two of the best teams in the MIAC. This weekend, the two will square off in a pivotal series. The Cobbers are in second place. The Tommies are fourth. Tyler Bossert and Mario Bianchi have 34 and 26 points, respectively, to lead one of the best offenses in the conference, with Bossert dishing out 25 assists and Bianchi scoring 13 goals. The Tommies have a great playmaker of their own in Johnny Panvica, who has dished out 17 assists. Brett Gravelle has come through with 12 goals. Concordia 5-4, St. Thomas 4-3
Augsburg versus St. Olaf
Augsburg wants to maintain its hold on first place. St. Olaf aims to move up in the standings. The Auggies have two of the top goal scorers in the MIAC in Alex Rodriguez (13) and Luke Dietsch (12). They also have one of the top goalies in Nick Schmit, who owns a 2.23 GAA. The Oles have just won win in their last six outings and could really use a shot of momentum. Mitch Dolter leads the team in goals (4), and Roshen Jaswal is the points leader (10) with two goals and eight assists. Augsburg 5-1, 4-1
Saturday, Jan. 26
Concordia at Lake Forest
The Falcons have had a tough start to 2019, but can get a boost of confidence this weekend. Nick Guerra and Nick Guiney have to be on top of their games for the Falcons to have a chance. Guerra has scored 12 goals, and Guiney leads the team in assists with 14. The Foresters are contending for a division title and have a shot to win the conference crown. They enter the weekend on a five-game winning streak. Lake Forest features one of the best goaltenders in the nation in George Argiropoulos, who has won six games and owns a 1.41 goals-against average. Lake Forest 4-2
Adrian at Finlandia
The Bulldogs come in looking to continue their winning ways. The Lions hope to make a statement. Finlandia has scored 44 goals and allowed 59. Adrian has punched in 69 goals this season and given up only 47. The Lions have to find a way to keep this game close and perhaps grind out a tie or put themselves in a position to steal a win late. Adrian 3-1