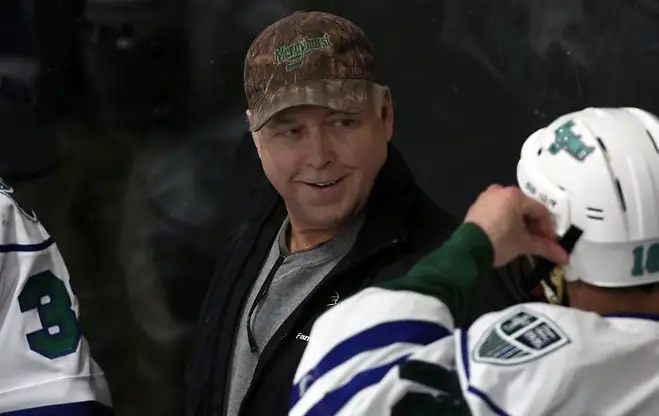 Mercyhurst coach Rick Gotkin remembers the scenario under which he was brought together with Mike Folga.
The Lakers team had just come off of its greatest season in NCAA history, capturing its first Division I league title, the MAAC championship, with a win over Quinnipiac, but then followed up that performance by pushing Michigan to the brink in the NCAA tournament, finally losing 5-4, but putting both Mercyhurst and the Metro Atlantic Athletic Conference (now Atlantic Hockey) onto the map.
It was on that trip to the West Regional in Grand Rapids, Mich., that the Mercyhurst administration realized not just that hockey could create some wonderful attention for the small Catholic college, but it also was severely understaff.
"Everyone was intrigued by this little Mercyhurst," said Gotkin of the others in the region. "But people saw me walking around picking up pucks and handing out jerseys and getting the wash done. We didn't have an equipment manager.
"Our college president saw this and said, 'This has got to change. We need to get you somebody to help you with equipment."
With a search for an equipment manager underway, the rest was a kismet moment. Mike Folga, who was a veteran equipment manager in the NHL having spent years with both the St. Louis Blues and the New York Rangers, part of the Rangers' Stanley Cup-winning staff in 1994, had been marginalized when the Rangers changed ownership.
Folga, who grew up in Erie and attended Mercyhurst, receiving a degree and leaving a certified athletic trainer, got word of the job opening and got in touch with the right people.
Gotkin was put in touch with Folga but didn't really believe that someone who had just worked at the highest level in hockey would be interested in taking on a position on the staff of a bottom-tier Division I school.
"I met Mike Folga in person for the first time," said Gotkin. "He was hired and I was pinching myself that I have an equipment manager that came from the NHL. This doesn't happen to me."
Gotkin says hiring Folga was one of the best decisions of his life and often couldn't believe his program had on its staff such a great veteran of the hockey world.
But that hire also began one of the greatest friendships in Gotkin's life, a friendship that has grown stronger in recent months as Folga is battling stage IV leiomyosarcoma, a soft tissue cancer that began in Folga's groin area but has spread to his lungs.
This weekend, the Mercyhurst men's and women's teams will host "Fighting for Folgs," a fundraiser aimed at raising money for both the Folga family to offset the costly treatments necessary as well as the American Cancer Society.
The men host American International, while the women host Lindenwood.
A man who makes everyone his friend
To know Mike Folga is to immediately add a friend to your life.
"Mike Folga's the kind of guy you sit down and talk to him for five minutes and you feel like he's your best friend," said Gotkin. "That's his gift."
His demeanor is calm and quiet on the outside, but is mixed with an off-beat sense of humor, one that Gotkin found out about on the first day he met Folga.
"Right of the bat he says, 'I don't want you to get worried, but the last three coaches who I worked for all got fired.' That was my introduction to Mike Folga and we've been together ever since.
"The years run together, but I can tell you that Mike Folga has been the best thing to ever happen to Mercyhurst hockey."
Gotkin recalls some early days when Folga's nice side was a bit too nice. Early in his first season, as the team was approaching its first road trip, Gotkin walked into the locker room to find Folga packing each individual player's bags for the trip. Gotkin was befuddled, not understanding this was the way things worked in the NHL. He also didn't want to make his players prima donnas; Gotkin immediately quashed that practice.
He also recalls a point at which he was doing an inventory of sticks and items in the equipment room, and came to find that a dozen sticks and a case of stick tape were missing. Folga, said Gotkin, gave both away to visiting teams that were in need.
"That's Mike Folga, though, he'll give you the shirt off his back," said Gotkin.
"He's such a generous guy. He had no idea some of the limitations we had in the early days in terms of our budget," Gotkin added with a laugh.
Until two seasons ago Folga served as both equipment manager and athletic trainer, but with a full-time trainer's salary separately funded, he can focus on equipment. Gotkin, though, said having him around is like having an extra assistant coach.
"He has a great sense of the game and a great feel for people," said Gotkin. "He's really close with the guys on the team in the locker.
"He doesn't tell me anything bad about anybody. But he'll tell me give so-and-so a kick in the rear end, or so-and-so might need an arm around him this week.
"That's stuff that we [as coaches] don't see but he picks up on being in the locker room so much. He's really been so much more."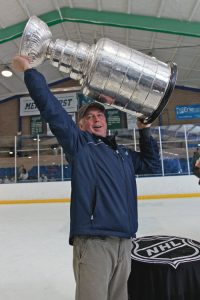 Pitching in to help
Folga's absence around the team is significant.
But Gotkin says that because Folga had developed so many relationships with people in the hockey world, almost everywhere the team goes, there is someone – an equipment guy from another college or from a American Hockey League team – who will volunteer to come and help Mercyhurst when they come to town.
Internally, the same can be said for his own staff. Assistant coaches are helping in the day-to-day operations. Athletic trainer Tricia DiMatteo was the first to step forward as Gotkin scrambled after Folga's initial diagnosis.
"I had no idea what to do with Folgs gone, but here's Tricia who says, 'I've been watching Folgs do this for two years. I know exactly what we need.'"
DiMatteo also has quickly learned how to sharpen skates to further pitch in.
The network of friends that Mike Folga built has been active in reaching out and trying to provide encouragement but also has provided memorabilia and valuable items that will be auctioned off during "Fighting for Folgs" night on Saturday.
At this point, items from the likes of Wayne Gretzky and Mark Messier, personally signed and shipped to Erie, have arrived as have donations from NHL clubs and players alike.
Gotkin, who drives Folga from Erie to Cleveland every week for chemotherapy treatment, has been in the car when Folga's phone will ring, every time with another NHL legend.
"Athletics is an interesting thing," says Gotkin. "And pro athletics is even more interesting. You have all these friends and people get traded, people get cut, people take different jobs. You always say, 'Hey man, let's keep in touch, but you never do.'
"He's now hearing from people he hasn't heard from in 20 years. That's our game. That's our group.
"I was in the car coming back from Cleveland a couple of weeks ago and [Columbus Blue Jackets president] John Davidson called. I couldn't hear John on the other end, only what Mike was saying. And it felt like they were picking up a conversation from 20 years ago.
"I'm not sure Folgs and John Davidson have talked since the both left New York (Davidson was a TV broadcaster for the Rangers). But the word got to John Davidson that Folgs was battling and he reached out.
"He has heard from so many people, which is great."
'An unbelievably positive man by nature'
Gotkin says that one of the biggest positives in Folga cancer fight is the positive attitude he has. More concerned that others shouldn't worry about him, you won't find a day where he feels sorry for himself.
"He's more concerned about how everybody else is doing and he's more concerned about keeping everybody else's spirits up," Gotkin said. "People tell me, 'I want to reach out. I don't know what to say. And I tell people all the time, he's in great spirits, he'd love to hear from you.' He's been overwhelmed."
Saturday night's "Fighting for Folgs" event is one that Mike Folga will participate in, but one of which he would hardly approve. Folgs is in no way a person who enjoys being the center of attention. He wants the limelight pointed on every coach, every player, every other person he's ever worked around.
But this is a night that the spotlight needs to be on Mike Folga and the topic of the day needs to be cancer and what can be done to find a cure.
"Mike is a humble, unassuming behind-the-scenes guy," Gotkin said. "This whole thing is uncomfortable because he doesn't like the attention."
Remembering back, though, to the guy who would give you the shirt of his back (or even the "watch off his wrist," Gotkin insists) Saturday is the night for many to repay all those times where Mike Folga was the generous one.
This night, Folgs, is for you.
_____
To make a donation to the Mike Folga and his family as well as the American Cancer Society, the official charity of the NHL's Hockey Fight's Cancer campaign, go to: https://www.mercyhurst.edu/alumni/fighting-folgs