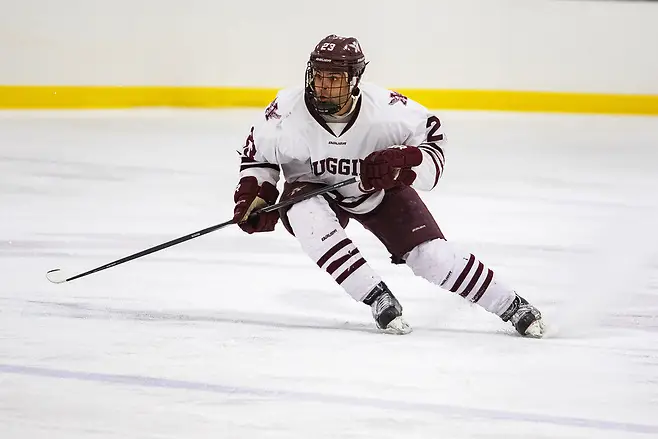 The final month of the regular season has arrived, and the pressure is on for teams to be at their best as they jockey for position in their conference tournaments.
The game of the weekend might be Lake Forest's trip to Adrian Friday to take on the 10th-ranked Bulldogs. The two teams are tied for first in the South Division with 19 points apiece.
Bryan Yim and Trevor Boyd lead the Adrian offense with 13 and 11 goals, respectively. This is a team that has cranked out 74 goals in all and is looking for revenge after losing 6-0 to Lake Forest early last month.
Lake Forest can make another big statement if it can duplicate the success it had against Adrian the last time. Bron Loiselle should play a key role as a playmaker who has come through with four goals and 10 assists on the season. Expect a close one. Adrian 4-3
One of the bigger games in the MIAC pits Saint John's against Augsburg. The Johnnies and Auggies tied 2-2 on Thursday night and wrap up their pivotal series tonight.
Saint John's has scored 55 goals on the year and has Andrew Lindgren in goal. He has started 14 times this season and sports a 1.97 goals-against average.
Augsburg is firmly in first place and looking to strengthen that hold in this home game against Saint John's. The Auggies have one of the best offenses in the nation, having scored 82 goals on the year, but this game could be decided by defense. Nick Schmit has started 17 games and has 2.11 GAA. He has 11 wins on the season. Augsburg 3-2
Friday, Feb .1
Wisconsin-River Falls at Wisconsin-Superior
The Falcons are in dire need of a win in conference play. The good news is they have the league points leader in Eddie Matsushima, who has come through with 13 goals and 13 assists. The Yellow Jackets have won three of their last four are led by Troy York, who has come through with 11 goals and five assists. Wis.-River Falls 4-3
Friday-Saturday, Feb. 1-2
Bethel versus Saint Mary's
The Cardinals have a big weekend in front of them. They currently hold down the sixth spot in the standings, but are just one point up on Hamline. They need both wins against the Royals. Bethel has scored only 36 goals on the year and is just looking to finish the final few weeks of the year on a positive note. Curtis Hansen and Nick Ketola have been two of the team's bright spots, tallying five goals apiece. Saint Mary's has managed 48 goals this season. Alex Dibacco could play a key role in the team's success. The defenseman has scored five goals and dished out four assists. Tommy Stang has seven goals and is poised for a big weekend. Saint Mary's 7-3, 5-2
St. Olaf versus St. Thomas
The Oles are winless in their last three and are hoping for an upset. St. Olaf will need to be on top of its game defensively. Noah Parker has started 13 games in goal and owns a 3.25 GAA on the season. The Tommies have an opportunity to pick up two wins against the last-place team in the conference. St. Thomas is just four points out of second. St. Thomas is unbeaten in its last nine games. Johnny Panvica remains one of the top playmakers in the game, dishing out 17 assists. He also has four goals. St. Thomas 5-2, 4-0
Saturday, Feb. 2
Wis.-Superior at Wisconsin-Stevens Point
The Yellow Jackets face a big test against the unbeaten Pointers on the road. Wis.-Superior has to be able to get its offense going. The last time it played Wis.-Stevens Point, it lost 4-0. The Yellow Jackets have scored 58 goals this season while allowing 67. The Pointers are closing in on a perfect regular season. They have 84 goals on the year and have given up just 31. Nine players have five or more goals, including Carter Roo and Colin Raver. Both have nine goals apiece on the season. Wis.-Stevens Point 5-2
St. Norbert at Northland
The Green Knights are already assured of a spot in the conference tournament and are on a roll at the moment, having won their last five. They face a Northland team that is in third place in the North Division and in the midst of one of its best seasons in program history. St. Norbert has cranked out 83 goals, while Northland has come through with 63. The Green Knights already blanked the Lumberjacks once this year, winning 7-0. Roman Uchyn leads the offense with nine goals and 10 assists. Northland is led by a sensational freshman in Zackary Fisher, who has come through with seven goals and 10 assists on the season. Lucas DeBenedet has tallied nine goals and seven assists. St. Norbert 5-2