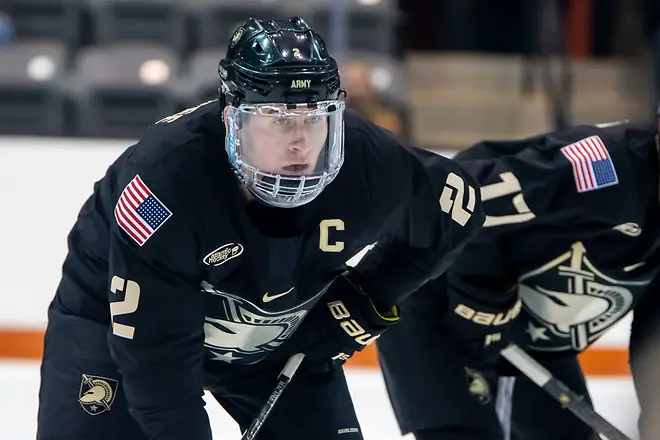 Each week, USCHO.com columnists will pick the winners of the upcoming games in their respective conferences.
Atlantic Hockey
Friday-Saturday
Niagara at American International
American International is enjoying its best season in decades, and a sweep in this series would put the Yellow Jackets in the driver's seat for their first ever AHA regular season title. Niagara has the best offense in the conference and is coming off an impressive sweep of Mercyhurst. I'm going with a split.
Air Force at Bentley
The battle of the Falcons resumes with Bentley looking to extend its seven-game unbeaten streak, currently tied for the longest in the nation. Air Force swept Bentley on home ice earlier in the season, and I'm picking Bentley to return the favor. Bentley sweeps.
Army West Point at Holy Cross
The Crusaders, looking to get out of the AHA basement, open a six-game homestand with this series against the Black Knights, who have just one win in their last nine games. I'm picking a split.
Canisius vs. Mercyhurst
Friday's game is at the Mercyhurst Ice Center, with the action moving to HarborCenter on Saturday. Canisius is better than its record indicates, but I like the Lakers to take both games. Mercyhurst sweeps.
Sacred Heart at Robert Morris
The teams sit a point apart in seventh (RMU) and ninth (SHU) place. They split their series earlier in the season, and I think the same thing will happen here. I'm going with a split.
Arizona State at Rochester Institute of Technology
These games are crucial for the Sun Devils, who are on the bubble in the Pairwise. Since there's no Atlantic Hockey team within spitting distance of an at-large bid, this weekend's games are not as important to the Tigers, who will need to win their way into the NCAAs via their conference tournament. I'm tempted to pick a split, but I think Arizona State finds a way to come away with more than that. ASU sweeps.
— Chris Lerch
Big Ten
Michigan at Minnesota
If Michigan is still planning on going on a second-half run like the Wolverines did last season they might want to start that soon. Both the Wolverines and Gophers are coming off of splits last weekend and both dropped the second game after winning the first. With Minnesota being 23rd in the PairWise and Michigan sitting at 26th, each weekend split means that the opportunity to nab an at-large bid into the postseason tournament gets smaller. That being said, split.
Wisconsin at Michigan State
These two are tied with Penn State in the Big Ten's cellar. Wisconsin does have two games in hand, but those are only useful if you win them. The Badgers have a 2-6-2 record on the road this season, so this is a great opportunity for the Spartans to replicate their performances against Minnesota and defense home ice. I think the key to the series will be Michigan State's top line. If they Badgers are able to contain that trio the could find success. Split.
Notre Dame at Ohio State
This is the marquee matchup in the conference this weekend. The Buckeyes should be refreshed coming off of a bye week and Notre Dame knows that two wins would vastly improve its PairWise ranking. These two split their series earlier this season in South Bend with Ohio State winning the first game 1-0 and Notre Dame rebounding with a 2-1 victory. I think there will be two more close games this weekend, but Ohio State will pad its Big Ten lead. Ohio State sweeps.
— Drew Claussen
ECAC Hockey
Friday
Quinnipiac at Clarkson
Both these teams have a lot of freshman and a lot of depth throughout the lineup. This should be a pretty even matchup, but I'm going to give the edge to the Golden Knights, who are 9-1 at home. Clarkson wins.
Colgate at Rensselaer
Colgate snapped a five-game losing streak with an overtime win against Cornell Saturday, while RPI is 3-3-1 over its last seven games. Engineers goalie Owen Savory made 43 saves in a shootout loss against Union in Tuesday's Mayor's Cup, which counted as a 0-0 tie for NCAA purposes. I think he'll be the difference in what should be a low-scoring game. Rensselaer wins.
Princeton at St. Lawrence
Princeton is back from its exam break and in action for the first time since Jan. 12, while the Saints are in the midst of a nine-game losing streak. I'll take the Tigers in this one, even if they might need some time to get back up to game speed. Princeton wins.
Cornell at Union
Cornell lost its first game since November last Saturday. That hot stretch has propelled the Big Red into a tie for Yale for first place in ECAC Hockey. Union desperately needs points if it is going to get a first-round bye in the playoffs, but even with the loss last weekend, it's tough to pick against the Big Red. Cornell wins.
Dartmouth at Harvard
These teams opened the season with a wild 7-6 Dartmouth overtime win on Oct. 27. Since then, Harvard has played better defensively, thanks to the development of some of its younger players as well as Michael Lackey in goal. I think the Crimson pick up a win heading into Monday's Beanpot opener. Harvard wins.
Saturday
Princeton at Clarkson
Like I said above, the Tigers simply don't have the depth they did last year, while the Golden Knights have production spread through the lineup. Clarkson wins.
Cornell at Rensselaer
It's been a better second half for RPI, but I think Cornell is the deeper team. Cornell wins.
Colgate at Union
Neither team has been great on special teams this year, although Union's penalty kill has picked it up in league play. However, I think the Dutchmen are the better team at even strength and that should be the difference. Union wins.
Brown at Yale
It's been an even tighter race than usual in ECAC Hockey this season, as seventh-place Brown is only four points behind first place Yale and Cornell. The Bears have been playing well lately and I think that momentum will carry over Saturday against Yale. Brown wins.
Monday, Feb. 4
Harvard vs. Boston College (Beanpot)
Boston College has not won a nonconference game since Oct. 22, 2016, an amazing stretch for an Eagles team that was routinely one of the best in the country. That streak will come to an end, but I'm not sure it will be against Harvard, as the Crimson have started to put it together and are playing well of late. Harvard wins.
— Nate Owen
Hockey East
Friday
Massachusetts at Boston University
Though I feel that BU is playing much better hockey of late, I think UMass is simply the better team. UMass wins.
UMass Lowell at Northeastern
On the road, this is a pretty big upset, but I like the way Lowell is playing of late and will find a way against Northeastern. UML wins.
Boston College at Connecticut
UConn is typically a decent home team and has given BC problems in the past, but the Eagles are simply the better team. BC wins.
Friday-Saturday
Vermont at Providence
The Friars got back on track last weekend and should be able to handle Vermont at home. PC sweeps.
Maine at New Hampshire
This series has split written all over it, so who am I to disagree? UNH and Maine split.
Monday, Feb. 4 (Beanpot)
Boston College vs. Harvard
Right now, I'll call this a toss-up, but will take Harvard because, well, it's a non-league game for BC. Harvard wins.
Northeastern vs. Boston University
Am I really going to pick a NU-Harvard final for the first time in the 67 years of this tournament? Why yes, yes I am. NU wins.
— Jim Connelly
NCHC
Friday-Saturday
Minnesota Duluth at Colorado College
The Tigers had a big sweep of Miami last weekend, and they are at home on the big ice, but the Bulldogs are one of the best teams in the country, especially defensively, which will make life even tougher for a Tigers squad that sometimes has difficulty scoring. This should be a sweep by the road team. Minnesota Duluth 4-2, 4-2.
North Dakota at Denver
For as long as I have been covering hockey for USCHO, this has been one of the fiercest and most bitter rivalries in the sport. NoDak fans also travel well, and there will be a big contingent in Magness Arena. These two teams split back in December. Denver is going through a rough patch, going 0-2-1 in their last three. North Dakota has been a splitsville team of late and probably will be again this weekend. Denver takes the first game, NoDak the second. Denver 4-2, North Dakota 3-2.
Miami at St. Cloud State
Miami hasn't won a game since Nov. 17. St. Cloud State is one of the best teams in the country, and has a lot of ways to hurt an opponent. I think the RedHawks may make one game close, but this is as close to a sure thing as we have. St. Cloud State 4-1, 4-1.
Western Michigan at Omaha
The Broncos are coming off a big sweep of Denver, but that was in the friendly confines of Lawson Arena, where Western is one of the most dominant teams in the country. Away from Lawson, the Broncos are 3-6. However, on the plus side, they are playing Omaha, which has struggled to gain any traction. Given that Omaha's one road win all year was actually at Lawson, I'm not feeling too confident in my pick of a Broncos sweep, but that's what I'm going with. Western Michigan 4-2, 4-2.
— Candace Horgan
WCHA
Friday-Saturday
Lake Superior State at Ferris State
Third, fourth and fifth place in the WCHA is separated by only two points. LSSU needs the sweep here to try and secure home-ice advantage in the postseason. Give me the Lakers to sweep the Bulldogs on the road.
Bowling Green at Northern Michigan
The Falcons just need to keep collecting points and they'll likely enter the postseason as the No. 2 seed (Minnesota State is going to be tough to catch given the Mavs' somewhat easy schedule down the stretch). NMU is a part of that third-, fourth- and fifth-place logjam with Michigan Tech, LSSU and Bemidji State, so the Wildcats, too, need a win this weekend. So I like BG and NMU to split the series.
Alabama Huntsville at Minnesota State
A sweep this weekend could give Mankato a likely 14-point lead in the WCHA standings. If the Mavs can get past MTU and Alaska to wrap up the season, they'll easily walk into the postseason as a No. 1 seed and with home-ice advantage. I like MSU to sweep the series against the Chargers.
— Brandon Folsom