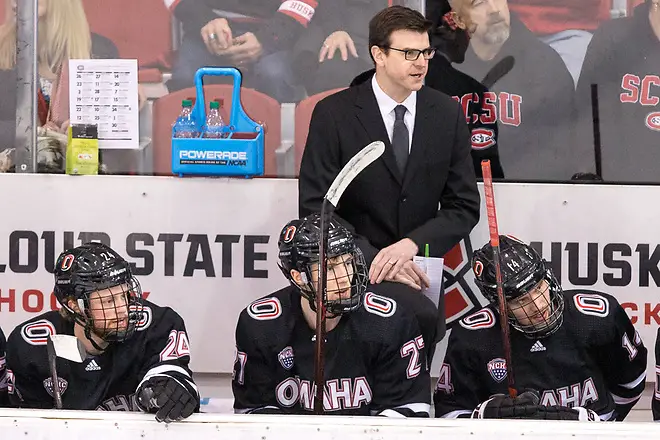 Omaha coach Mike Gabinet believes his Mavericks can peak at the right time, but doing so will require increased efficiency.
The Mavericks haven't been pushovers lately, but they sit in seventh place in the NCHC standings. Just in 2019, Gabinet's group has been in five games each decided by a single goal, and the Mavericks accomplished much last weekend in a road split with last-place Miami.
In Friday's 3-0 Mavericks victory, senior goaltender Evan Weninger made 38 saves in his fourth shutout of the season. His eighth career shutout broke a school record set by Dan Ellis, who went on to have a 13-year pro career.
UNO wasn't as fortunate on Saturday, when Miami beat the Mavericks 4-2.
Miami led 3-0 midway through the second period, and while UNO pulled goals back through Chayse Primeau and Jalen Schulz, Miami goalie Ryan Larkin finished with 33 saves and Josh Melnick scored with 3:44 left to help ensure that the RedHawks would snap their nine-game losing streak.
The sledding gets tougher now for UNO. The Mavericks welcome top-ranked St. Cloud State next weekend and will host No. 7 Denver on March 1-2. UNO finishes the regular season March 8-9 on the road against a North Dakota team that could miss the NCAA tournament for a second consecutive season.
It's vital that UNO handles its business, and not just in game situations. Gabinet stressed on Tuesday at his weekly press conference that his team needs to make the most of its first stretch of relative down time since a holiday period that included a home series Dec. 29 and Dec. 31 against Alaska Anchorage.
"I think sometimes the tendency in a bye week is to relax and catch your breath a little bit, which is part of the purpose, but it can't be a wasted week," Gabinet said.
"I think we have to look at our game, and we had a good captains' meeting (Monday) and even asking the players' input on what they feel we need to continue to improve at to be successful, and making sure we're shoring up some of those concepts and systems here, and obviously with St. Cloud coming into town, we need to use it to our advantage."
If the NCHC playoffs began this weekend, UNO would hit the road to face a Minnesota Duluth team that wasn't hospitable to the visiting Mavericks recently. UMD won 7-2 on Jan. 25 at Amsoil Arena and claimed a 3-1 decision the following night.
Getting a more favorable first-round draw remains doable, as UNO only sits a point behind sixth-place Colorado College. The Tigers, however, are also off this week and get five of their last six regular-season games at home against Western Michigan, North Dakota and Denver.
As for UNO, this week is about recharging batteries but also staying focused on the task at hand. The Mavericks may have received a wake-up call in that regard on Saturday when they didn't climb out of their 3-0 hole at Miami.
"It's just recognizing the importance that we have to skate, we have to compete, we have to be ready from puck-drop to puck-drop, from shift to shift, and our guys are learning those lessons," Gabinet said.
"It's hard lessons in this league because when you do make those mistakes, usually they cost you and then you can't catch up, but our guys are learning and they should have a lot of confidence in what they've accomplished in the last few weeks here, but we've got to not be satisfied and continue to build."