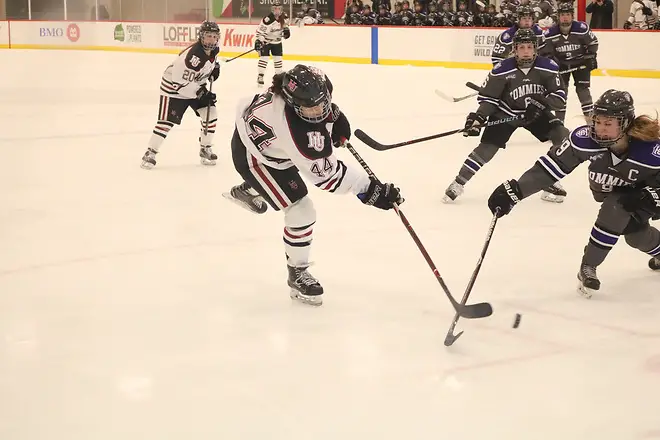 No. 1 St.Thomas versus No.4 Hamline: St. Thomas 3-2, Hamline 3-2 (OT)
Hamline delivered the Tommies their first loss of the year, and it came in their last regular season game. St. Thomas won the regular season title in the MIAC, but now that they are capable of losing, the playoff tournament should be exciting. I don't see the Tommies dropping from first place in the rankings, but I do see Hamline possibly moving up. As a result of the PairWise being used to pick the teams that receive the pool B and C bids, I don't think it will matter which team wins the MIAC playoff tournament. Both teams should be expected to be in the NCAA tournament.
No. 8 Middlebury versus No. 10 Williams: Williams 2-1, 2-1 (OT)
Middlebury got swept by a strong conference opponent, Williams, and lost the regular season title. The Panthers have not been as strong this season as they've been in past years, and this sweep by Williams confirms it. Middlebury will have to dig deep during playoffs if they seek another bid into the NCAA tournament. However, I believe the NESCAC will see a new conference tournament winner going to the NCAA tournament other than Middlebury. The NESCAC has been extremely volatile this year, and look for anything to happen in their playoff tournament.
St. Scholastica versus Lake Forest: St. Scholastics 1-0, 2-0
The Saints swept the Foresters to claim the second seed in the NCHA. It wasn't surprising to see St. Scholastics win; however, it was shocking to see the Foresters not score a goal. The Foresters scored many goals against ranked opponents this year, and that is why this outcome was unexpected. The NCHA playoffs will hopefully bring out the best play in both teams, and it should be interesting to see who claims the playoff crown.
No. 4 Wisconsin-River Falls versus No. 7 Wisconsin-Eau Claire: Wisconsin-River Falls 4-1
The Falcons wanted revenge from their loss to the Blugolds earlier, and that is exactly what happened. The interesting part about the last two times these programs met was that home ice did not provide an advantage. The team that played at home got smoked by the visitor. Although the WIAC doesn't offer a pool A bid, this conference tournament should be exciting with both teams being somewhat equal. Just like the MIAC, there is great potential that we could see both of these teams in the NCAA tournament, although for both teams to get a bid, they would need the expected teams to win their conference tournament. If there was an upset in one of the other conferences' playoff tournaments, it could jeopardize most likely Wisconsin-Eau Claire's pool C bid.