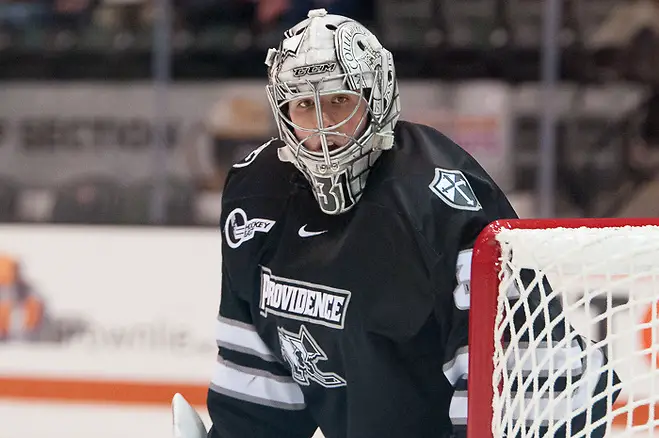 Last Friday night, with a 6-1 victory over UMass Lowell, Providence goaltender Hayden Hawkey earned a vaunted position in Friars hockey history.
With a history of goaltenders that includes names like Chris Terreri and Jon Gillies, Hawkey's victory on Friday was the 65th of his career, placing him tops on the all-time wins list at Providence.
Hawkey's accomplishment is significant particularly given that in his freshman season he made just five appearances, posting a 2-0-0 record. In Year 2, he wasn't expected to be the starter until Nick Ellis, who owned the starting job for the Friars during Hawkey's rookie campaign, left early to sign with Edmonton.
Being virtually forced into the starting role wasn't an easy adjustment for Hawkey, but since that time, he's established a comfort level that has led to continued improvement.
"Hayden was kind of forced into the starting position a little bit early with the departure of Nick Ellis," said PC coach Nate Leaman. "That first half of the sophomore year took a little while to transition, but ever since then, he's been a pretty solid goaltender."
In essence, becoming a starting goaltender for a premier Division I men's team was certainly a big deal, but might have seemed easy compared to the battle Hawkey faced before arriving at Providence.
In the fall of his final season of juniors, while playing for the USHL's Omaha Lancers, Hawkey was involved in a collision and suffered significant knee damage, tearing his meniscus as well as his ACL and MCL. Surgery repaired the injury, but the days and weeks after the surgery proved dire for the goaltending prospect.
"He had a lot of complications after the surgery, including, at one point, a really adverse reaction to some of the medication he was taking," said Leaman. "They ended up having to remove part of his intestines, all from a knee injury.
"So he spent a good chunk of time in the hospital. I know there was a time there after the injury where it was scary. It was really scary as far as if Hayden's going to be alive."
Able to recover from the injury and subsequent reaction of his body, Hawkey's diet would never be the same. Losing part of his intestine led to Hawkey needing to make significant adjustments to his diet, something he will live with for the remainder of his life. He also needed to rehab physically in order to be ready to matriculate at Providence less than a year after the surgery.
"To his credit, he had to come back from a very serious injury," Leaman said. "He was adjusting to a lot his first couple of years in college."
While most players would go home for part of their summer and then return to campus early to begin skating and conditioning again with teammates, Hawkey was different. He simply never left. Since arriving, he's spent every single summer on campus working on his game.
"He's the only player I've ever had that's done that," said Leaman of Hawkey's summer conditioning. "That's why it's fun as a coach to see him have the success he's had this year."
This year has included seven shutouts, including going back-to-back against Boston University and Holy Cross back in the late fall. Last Saturday, a night after becoming the all-time wins leader for the Friars, Hawkey made 21 saves in a shutout of Lowell to earn the weekend sweep.
This coming weekend, the Friars play just a single game, hosting Massachusetts on Saturday night.
It hasn't been all unicorns and show ponies this season, though. For one, he needed to improve on his footwork and rebound control, something Leaman feels has been his biggest improvements throughout this year.
He also went through a lull, as Leaman described it, when he posted just one win in five starts during the month of January. But he's since bounced back with a sweep of Northeastern and then last weekend's two wins over Lowell.
"As he goes, our team goes," said Leaman. "When he's going, everything falls into place. He started out great, went through a lull and now he's playing outstanding again."
Hawkey's numbers should grab some national attention. His 1.81 GAA ranks fourth nationally and his 18 wins are tied for third. He is already a semifinalist for the Walter Brown Award and could gain some attention as a Hobey Baker and Richter Award candidate in the coming weeks.
All for someone who many didn't have on their radar when he began at Providence.
That, though, is nothing new to his head coach.
"I think a lot of Friars slide under the radar," quipped Leaman.