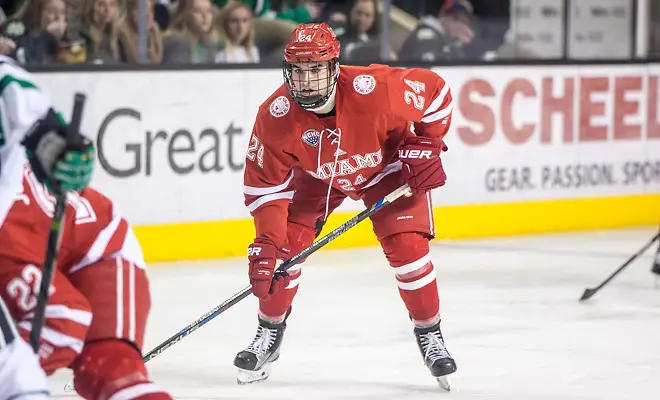 Miami is in an unenviable spot entering the final two weekends of the regular season, sitting in seventh place in the NCHC standings and knowing the RedHawks won't play at home in the postseason.
To a certain degree, it's a matter of what-ifs.
Coach Enrico Blasi's team faces the same meat grinder of a schedule that the rest of the conference gets, and it's not as though the RedHawks (11-17-4 overall, 5-13-2-1 NCHC) haven't been competitive. They have pulled out some solid results, including a road split last weekend against seventh-ranked Denver, but consistency hasn't always been there.
The RedHawks were 3-1 victors Friday at Magness Arena when goaltender Ryan Larkin made 48 saves and MU scored on three of its first eight shots. Ryan Siroky had two goals and finished with a plus-three rating.
It was the RedHawks' second consecutive win, marking their first winning streak since MU won four straight in October, sweeping Colgate at home and getting splits with UMass Lowell and Omaha. Miami beat Omaha again Feb. 9 at home in Oxford, Ohio.
The latest win streak quickly ended, though, as Denver scored four third-period goals on Saturday to win 5-2. Josh Melnick's shorthanded goal in the second period led to the game being tied at 1-1 after 40 minutes, but Denver's Jack Doremus scored two goals 17 seconds apart early in the third period. Jarid Lukosevicius then scored a power-play goal, and Colin Staub gave the Pioneers added insurance with 2:32 left.
Speaking to reporters earlier this week at a press conference, Blasi keyed on aspects of Miami's performances in Denver that worked out and those that didn't.
"I think it's all about executing and being consistent in your execution," Blasi said. "I thought we had some good looks on special teams, especially power play, and they're just not going in right now, and our PK did a pretty good job on Friday and we were pretty disciplined Saturday.
"We did a pretty good job, and then obviously they scored that fourth goal on an undisciplined penalty. Discipline and making sure that we know our assignments the details are things that are really important that are going into this weekend and beyond."
For the season, Miami has the country's 50th-best power play success rate (15 percent). The RedHawks' penalty-killing has also been problematic at 76.6 percent. MU gave up one power play goal in each game at Denver, and the RedHawks went a combined 0 for 4 on power plays.
MU will also be without defenseman River Rymsha this Friday when the RedHawks open a weekend series at third-ranked Minnesota Duluth. The fifth-year senior transfer from Dartmouth earned a one-game suspension Saturday in Denver for an illegal hit to the head.
The RedHawks haven't had any luck this season against UMD (19-9-2, 12-7-1-0). Duluth goalie Hunter Shepard made a combined 40 saves when the Bulldogs won 4-0 and 3-0, respectively, at Miami on Jan. 18-19.
Blasi is hoping that, when his Miami team visits the Amsoil Arena, the RedHawks can build upon their split with Denver as well as positive signs shown in other recent games.
"We're just going to prepare like we always do, and obviously they're a good hockey team from their goalie out," Blasi said of UMD. "We've got to make sure that we're doing the things that we're working on during the week and things that we've been doing in games the last few weeks."