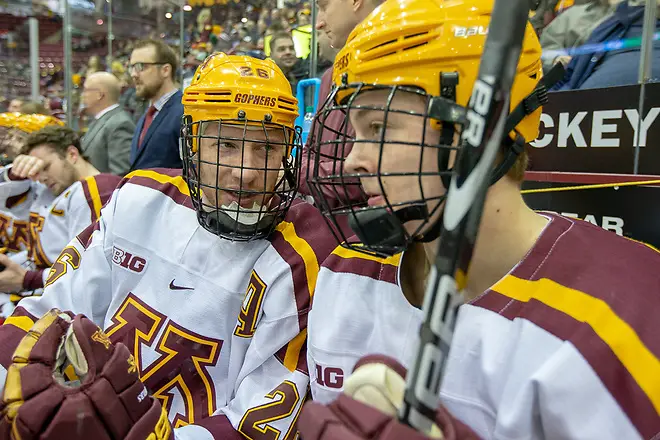 Each week, USCHO.com columnists will pick the winners of the upcoming games in their respective conferences.
Atlantic Hockey
Wednesday
Rochester Institute of Technology at Niagara
RIT has two wins and a tie so far this season against the Purple Eagles. That tie was the 14th in 44 all-time meetings, a testament as to how evenly matched these teams have been over the years. I can't pick ties, so I'm going with a Niagara win on home ice.
Thursday-Saturday
Sacred Heart at American International
The Yellow Jackets have earned a share of the regular season title, the first in program history, and can have it all to themselves with a single point in this series. Meanwhile, the Pioneers have a decent chance at a first round bye, but that starts with grabbing points in this series. I'm picking a split.
Friday-Saturday
Bentley at Army West Point
The Falcons can earn a share of the regular season title if they sweep and AIC fails to earn a point. I think they'll hold up their end with a road sweep of the Black Knights.
Robert Morris vs. Mercyhurst
Both teams have something to play for – RMU has an outside shot at hosting a first-round series, while Mercyhurst is looking to lock up a bye.
The Lakers host on Friday, and the Colonials will be on home ice on Saturday. I'm going with the home team each night and picking a split.
Holy Cross at Air Force
This is another all-time series that's had a lot of ties – 11 in 32 meetings. The Falcons are winless in their last four games against the Crusaders, but I think that ends here. Air Force sweeps.
Saturday
Canisius at Rochester Institute of Technology
The Tigers have had a lot of success in the quarterfinals of the Atlantic Hockey tournament. The first round? No so much. RIT looks to avoid that and lock up a bye and a spot in the quarterfinals. I think the Tigers will be successful. RIT wins.
— Chris Lerch
Big Ten
Friday-Saturday
Penn State at Notre Dame
Both of these teams, with similar conference and overall records, have really struggled to get anything going since conference play kicked off. Penn State's previous weekend against Wisconsin was a tale of two nights, with a 8-2 win and 7-3 loss. Notre Dame played more consistent at Minnesota, with a 3-2 victory and 2-1 loss. When these two met at Pegula Ice Arena in early December, Penn State avenged a 5-4 loss on Friday with a huge 9-1 victory on Saturday. Penn State always has the ability to put up a crooked number, but it seems like Notre Dame is back to playing more consistent stingy defense like it was last season, so I think there will be two close low-to-mid scoring games. Split.
Michigan at Wisconsin
Michigan needs a win to cement home ice at Wisconsin this weekend and Wisconsin is a pretty good opponent to be playing if you need at least a split. That's not meant to be a dig at the Badgers. Aside from Ohio State, they've shown they're capable of beating anybody else in the conference this season, but they've struggled to put back-to-back games together. Both of these teams have a young and talented lineup, so regardless of result we should get two entertaining games this weekend. Split.
Michigan State at Ohio State
Now that the monkey of locking up the conference is off they're back it'll be interesting to watch the Buckeyes this weekend and in the Big Ten tournament. They're the one team in the conference that has a PairWise position that means that they don't need a conference tournament championship to get into the NCAA Tournament. That could either allow them to play care-free and roll through the tournament, in which they would only need two wins and are guaranteed to play at home, or they could coast and get tripped up. I'll take OSU at home this weekend. Ohio State sweeps.
Arizona State at Minnesota
Kudos to whoever predicted in October that the team that would be on the verge of an at-large bid when these two met would be Arizona State. The Sun Devils have had a great season, but seven of their 10 losses have been away from home. This is the final opportunity for Minnesota to defend home ice in nonconference play. Earlier losses to St. Lawrence and Ferris State are part of the reason the Gophers are in their current position, but two good results here could give the Gophers some momentum heading into the postseason. Minnesota sweeps.
— Drew Claussen
ECAC Hockey
Friday
Quinnipiac at Brown
Brown beat Quinnipiac 4-1 when these teams played several weeks ago in Hamden. The Bobcats lost to Clarkson last Saturday but have not lost back-to-back games all season and enter the weekend as one of five teams with a chance to win at least a share of the regular season title. Quinnipiac wins.
Colgate at Clarkson
The Raiders scored seven goals in a four-point weekend last time out, but scoring has been inconsistent this season for Colgate. That might be a problem against a Clarkson team that has played well defensively this season and will be motivated to solidify its spot in the top four of the league standings. Clarkson wins.
Harvard at Rensselaer
Harvard's Cameron Gornet has been solid in net in place of the injured Michael Lackey, giving the Crimson a chance at the Cleary Cup and a first-round bye entering the final weekend. Harvard enters the weekend one point behind first place Cornell, but also has the chance to fall out of a top-four spot. RPI's Owen Savory has been impressive in goal as well, but I think the Crimson have the edge offensively. Harvard wins.
Cornell at St. Lawrence
Injuries have struck Cornell again, and the Big Red are no longer the shoo-in for the regular season title, as its lead on first place is one point entering the weekend. Cornell hasn't clinched a first-round bye either, although it only needs one point this weekend to do so. With that being said, I don't think the Big Red should have much of a problem against St. Lawrence, who has really struggled this year. Cornell wins.
Dartmouth at Union
Both these teams are in the mix to host a series in the opening round of the league playoffs. Union is coming off a tough weekend that has left it clinging to the final home ice spot for the opening round of the playoffs, while Dartmouth needs one point this weekend to clinch a home playoff series. The Big Green have been involved in some low scoring games lately, and if that trend continues it should be able to eke out a win over a Union team that has struggled with its consistency in league play. Dartmouth wins.
Princeton at Yale
I'm not sure what to make of either one of these teams. The Tigers have struggled mightily after winning the conference playoffs last year, while the Bulldogs haven't been able to string together a hot streak in the second half. Princeton is 1-7-1 on the road in league play, so I'm going with Yale in this game. Yale wins.
Saturday
Princeton at Brown
Like I said above, the Tigers have struggled on the road, while Brown has been playing very well the last few months. Brown wins.
Cornell at Clarkson
Depending on how things play out Friday, this game could decide who wins the regular season title. Cornell enters the weekend in first place with 27 points, while Clarkson is fourth with 25. Both teams play a similar style, but I'm going to with the Golden Knights because they are at home and the Big Red have been dealing with several injuries over the last few games. Clarkson wins.
Dartmouth at Rensselaer
Dartmouth's Adrian Clark and RPI's Owen Savory have both played well in goal lately. The Big Green are just above .500 in conference play but have outshot their opponents by nearly four shots a game and should be able to generate enough offense in what should be a low-scoring game. Dartmouth wins.
Colgate at St. Lawrence
The Raiders have struggled much of this season, but have at least shown some bursts of playing well, while it's been an abysmal season all around for the Saints. Colgate wins.
Harvard at Union
Harvard has only one loss in conference play during the month of February, but I have a hard time seeing the Dutchmen getting swept at home. Union wins.
Quinnipiac at Yale
It's possible this game could have some implications in the standings, as Quinnipiac enters the weekend tied for second place and Yale is two points out of the final top-four spot. Yale's top line has played well, but the Bobcats have a lot of depth and have gotten outstanding goaltending from Andrew Shortridge. Quinnipiac wins.
— Nate Owen
Hockey East
Thursday
Massachusetts at Merrimack
The Warriors are obviously enjoying the spoiler role after their tie with Lowell, but UMass is simply a much better team. UMass wins.
Boston University at Providence
The last time I looked at Providence I loved their team (after the Miami series) everything went wrong. Honestly, this is a really good hockey team. PC wins.
Friday-Saturday
Boston College vs. Northeastern (home-and-home)
There is nothing I don't like about NU and very few things I like about BC. That said, no way that NC sweeps. BC, NU split.
New Hampshire vs. UMass Lowell
I think UNH has been a tough team to play against of late, but their defense was suspect at times last weekend, a major concern. UMass Lowell sweeps.
Friday
Vermont at Connecticut
Two teams playing for pride. I feel like Vermont has a slight edge in goal, so I am picking them. UVM wins.
Saturday
Merrimack at Boston University
I liked the heart of Merrimack last Saturday but it's not enough to bet against a hungry BU team. BU wins.
Maine at Massachusetts
For some reason, I think Maine could win this one, but any gambler would say that would be a stupid bet. UMass wins.
— Jim Connelly
NCHC
Friday-Saturday
North Dakota at Colorado College
Both teams have struggled with consistency over the last month, looking like NCAA tournament contenders one night and falling off the next. CC is coming off a split with Western Michigan at home, including an 8-2 thrashing of the Broncos. North Dakota split with Minnesota Duluth last weekend, winning the first game 5-1 before losing 3-2 the next night. The 'X' factor is that North Dakota struggled on the road, going 4-8-1, and they are playing in the Olympic-size World Arena, which won't do them any favors. I think this is a split. North Dakota 4-2, Colorado College 5-2
Miami at Minnesota Duluth
There is something about playing in Denver that Miami netminder Ryan Larkin really likes. He has a history of bedeviling the Pioneers, and did last Friday, making 46 saves in a 3-1 win, which was only Miami's second win of the second half. Miami has more confidence now, but Minnesota Duluth is one of the best defensive teams in the country, and Miami struggles offensively, with an offense only ranked 50. To have any success, the RedHawks need to avoid the penalty box; their PK is 54, barely above 75 percent success rate, and the Bulldogs have a strong power play. Minnesota Duluth 4-1, 4-1
Denver at Omaha
Denver's offense has been struggling in the second half, but they are winning with a stingy defense, one that only gives up 2.2 goals per game. The Pioneers are coming off a rare Tuesday game, a makeup game against arch-rival Colorado College that they won 1-0. Omaha has been playing better but is on a three-game losing streak after getting swept by St. Cloud State last weekend. Omaha is much better at home, going 7-8-1, while Denver is only 8-6 on the road, so that may help the Mavericks, but I'm going with Denver's better defense. Denver 3-2, 3-1
St. Cloud State at Western Michigan
This is the marquee matchup of the weekend. Western Michigan is one of the best teams in the country at home, going 11-3-1. St. Cloud is good no matter where they play. Western struggled last weekend on the road against Colorado College, rallying for a win in OT on Friday and then getting crushed Saturday. Western is still playing for home ice for the first round of the NCHC playoffs. St. Cloud has already clinched the Penrose Cup, so on the surface they are primed for a letdown, but I think the Huskies still want the top seed for the NCHC tournament. This is a split, for sure, though I'm really, really guessing on who wins which night. Western Michigan 3-2, St. Cloud State 4-2
— Candace Horgan
WCHA
Friday
Ferris State at Lake Superior State
The hottest team in the WCHA, LSSU, had a pretty tough go last weekend at NMU, losing twice to the Wildcats. Ferris State is battling Alabama Huntsville for a playoff berth, but I like the Lakers to get back on the right track and back in the winning column. Give me the Lakers to take both home games.
Northern Michigan at Michigan Tech
Coach Joe Shawhan says Michigan Tech is a middle-of-the-road team, but I don't believe it. I think the Huskies have the firepower to beat good teams, so I like them to take Game 1 of the weekend with rival NMU, this one, of course, being played in Houghton.
Alabama Huntsville at Bowling Green
With just a two-point lead over NMU in the WCHA standings, Bowling Green still needs to go full throttle to ensure the No. 2 seed in the playoffs, which is a lot better than being the third seed. I like the Falcons to sweep the visiting Chargers without much trouble.
Bemidji State at Minnesota State
There's nothing left for Minnesota State to do. The Mavs have already won the MacNaughton Cup and secured both the No. 1 seed and home ice in the WCHA playoffs. So I like them to take the old Indianapolis Colts route during this final weekend of the regular season. They'll take it easy, limit the minutes of their key players and escape the series without any injuries. That approach is what always worked for Peyton Manning. Give me the Beavers to get the sweep on the road.
Alaska at Alaska Anchorage
I prayed the Governor's Cup wasn't the WCHA toilet bowl this season. Phew, I got my wish. Fairbanks has been improving, while Anchorage looks like one of the worst teams in college hockey. I like Fairbanks to sweep the series – not that it matters. Wins or losses, it'll be the No. 7 seed in the playoffs.
Saturday
Michigan Tech at Northern Michigan
On the flip side, I don't think Michigan Tech has the firepower to sweep a rival like the Wildcats. NMU, still battling for the No. 2 seed with Bowling Green, wins the weekend finale, this time in Marquette.
— Brandon Folsom