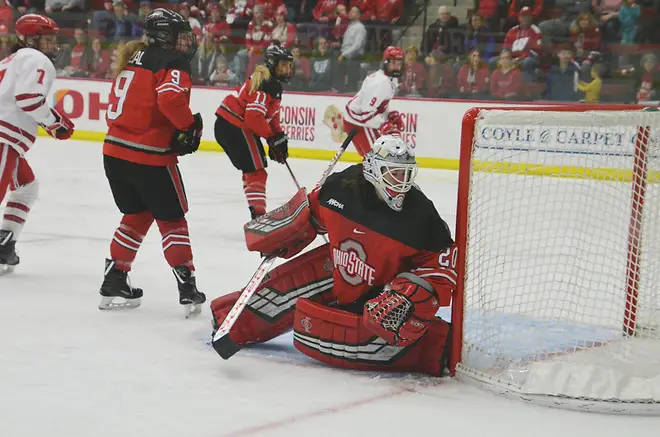 The Ohio State Buckeyes made their program's first-ever Frozen Four last season and are looking make that more of an annual accomplishment then a one-off. They've got their work cut out for themselves as they head into the postseason, but coming off a weekend where they kept Wisconsin from winning the WCHA regular-season title, their confidence is understandably high.
In a lot of ways, OSU feels like their postseason started two weeks ago with their own senior weekend. Emotions were high, and they lost a close game to Bemidji State on Friday, but they responded with an emphatic 5-1 win on Saturday. Then they traveled to Madison for the final regular-season series of the year at a sold out LaBahn Arena for the Badgers' own senior weekend.
They played two tense, loud games and came home with two ties and two shootout wins. Heading into the weekend, coach Nadine Muzerall talked to her team about keeping focus, keeping emotions in check, and not getting caught up in the atmosphere. There were a number of goals, big and small, for last weekend's games, but one was primary.
"The conference trophy is in the house. Let's make sure they don't get it," Muzerall told her team.
Mission accomplished.
The biggest reason the Buckeyes were so successful against Wisconsin was the play of freshman goalie Andrea Brändli. A native of Zurich, Switzerland, Brändli is not your typical freshman. The 21-year-old accomplished what she figured would be a life-long dream by making Team Switzerland's roster for the Pyeongchang Olympics.
Once the Olympics were over, she realized she wanted and needed to set new goals for herself. With more than 60 women on Pyeongchang women's ice hockey rosters that were current or former NCAA Division I players, Brändli told Ohio State student paper The Lantern that she saw playing for the Buckeyes as her new goal.
She brought a wealth of international experience to an Ohio State team that was without a starting goaltender after the graduation and transfer of Kassidy Sauvè. According to SwissHockeyNews.ch, Brändli "won two Swiss Championships with the ZSC Lions in 2011 and 2013, while still playing for junior teams in Bülach and Winterthur at the same time."
It took a bit of the season for the Buckeyes and Brändli to settle in with her in net, but she seems to have gotten comfortable and is peaking at the right time. She was named WCHA Goaltender of the Week, as well as NCAA No. 1 Star of the Week after posting a career high 52-saves on Friday, and added 40 more saves on Saturday for an astonishing 92-save weekend where she gave up just three goals.
Muzerall noted how set and composed Brändli was as the Badgers put dozens of shots on net each period. She made a number of spectacular toe saves and never seemed to get rattled in the face of the Wisconsin onslaught.
"Andrea is phenomenal, and that's what you need to get to that next level in the postseason," Muzerall said. "We need a goalie that's going to be strong, someone we can rely on. She's our foundation, and we have to build around her."
Returning to the NCAA tournament will not be easy for the Buckeyes, who are currently ranked 10th. The most assured route is by winning the WCHA tournament and earning the conference autobid, but they would also likely get an at-large bid if they sweep Minnesota State this weekend and then beat Wisconsin (assuming they also advance out of the first round) in the conference semifinal next weekend. They'd need it to be the Badgers in order to earn quality win bonus points. Regardless of the outcome of the WCHA title game, they should move into seventh place in the PairWise and get the at-large nod.
They beat the Badgers last season and were less than five minutes from taking them down on Saturday. It wouldn't be an easy path, but it definitely wouldn't be impossible, especially with the confidence the Buckeyes gained by foiling Wisconsin's title hopes this past weekend.
"We had to believe," Muzerall said, calling the weekend's outcomes a morale boost for her team that is going to give them momentum. "Sometimes when you're the underdog team and you're down 1-0, it's hard to keep focus and keep positive. We've talked about that all through the last week or two that that could happen. How do we punch back and continue to rally? It's more of the mindset."
In a preview on Ohio State's website heading into last weekend's showdown, sophomore Emma Maltais said the Buckeyes wanted to send a message. Thanks to Brändli, that message was loud and clear. The Buckeyes are not planning to go quietly this off season, and they just proved to themselves as much as anyone else that they're a team to be reckoned with.