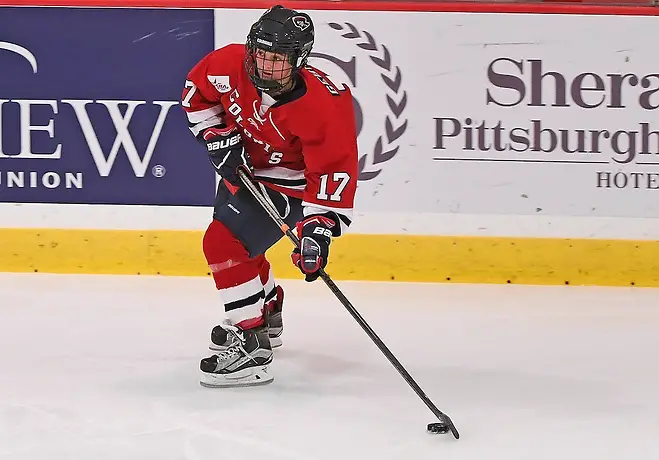 Nicole: After all the turmoil of the past few weeks, most everything this past weekend went as planned. Perhaps the biggest surprise outcome was Minnesota Duluth sweeping Bemidji State at home, since the visiting team had won that series quite often. Cornell got a scare courtesy of Lovisa Selander, and Harvard showed that they're not far from being a team to reckon with on a game-to-game basis, especially with Lindsay Reed in net. Both the series that went to three games had a lot to do with really great goaltenders, something we've seen play out quite a bit this season.
So now we're down to 18 teams. The six CHA teams are all in play, though the only one that will make the NCAA tournament will be their conference tournament champ. That leaves seven spots for the 12 other teams left. We've got the top 10 ranked teams plus Minnesota Duluth and Providence.
Let's start with looking back for a minute. What did you see out of these teams this past weekend that tells you something about how you think they'll perform going forward?
Interestingly, Princeton was the only ECAC team with a clear and dominant sweep. Cornell and Colgate needed a third game, and Clarkson needed overtime to take down Quinnipiac. Before the final weekend, it seemed like the Tigers were in control and in front of the conference. Do you think they reasserted themselves this week?
Candace: Perhaps a little, but of all the teams that were playing, I thought St. Lawrence was the weakest and that Princeton really matched up well with the Saints, despite losing to them the previous weekend. St. Lawrence was never really able to get a lot of consistency going, and of all the lower-seeded teams the Saints were the ones that struggled most defensively. They had the worst team defense of the eight teams in the ECAC tournament. I have always believed defense-first wins in the postseason, because teams become a lot less freer in their propensity to open things up offensively. I think St. Lawrence's defensive struggles were revealed in the postseason.
Looking at some of the other teams, I think Cornell is the most interesting. The Big Red have been the team that has had offensive struggles more than any of the other four teams in the ECAC tournament, and I think Selander and RPI showed that. Cornell won't give up a lot of goals, but they don't score a lot either, so their margin for error is very, very low.
Before we get back to playoff tournament results, let's look at the CHA. Robert Morris had an impressive sweep of Syracuse to claim the CHA crown again. Do you think the Colonials have positioned themselves as the favorite in the CHA tournament for the conference's autobid?
Nicole: It would certainly seem like Robert Morris has set themselves apart and put themselves in the best position to take the title. I lamented most of the year that no one in the CHA really was willing to step up and take control. That's why it was so nice to see the Colonials get that definitive sweep. On paper, there was every chance Syracuse could take one or both of those games. RMU controlled their destiny, and they did so by winning big. That's the kind of momentum and confidence you want going into the playoffs. The regular season title was there to be seized for a while, and it was nice to feel like one of the teams finally decided they really wanted it and made it happen.
The unique setup of the CHA tournament doesn't really seem to lend itself to any upset wins, so my guess is we'll see Mercyhurst play Robert Morris for the autobid, and while I'm going to lean toward the Colonials, at this point in this season I'm pretty much not going to make any definitive statements. There's a decent chance the Lakers find their chutzpah this week and make that run. It's two games to glory for either RMU or Mercyhurst, and in that situation, I think anything can happen.
Do you have any insight on who you think will win that conference tournament?
It was a big weekend for two of the three Patty Kazmaier top-three finalists, as Wisconsin's Annie Pankowski had six points and became the third player in program history to record at least 20 goals in each of her four seasons, and Clarkson's Loren Gabel tallied five points, including the game-tying goal with 1.1 seconds left on Saturday. They say big-time players show up in big situations, and both teams needed their stars to lead them in different ways this weekend.
Does the fact that Boston College's Megan Keller had a single goal this weekend affect your thoughts on her candidacy for the trophy? The votes have already been tallied, but did this weekend do anything to change your opinion on this top three?
Candace: I didn't see any of the games, so I can't say definitively. On paper, Pankowski had the type of dominant weekend you want your best player to have. However, you could just as easily argue that neither Pankowski nor Gabel was the best player on her team this weekend. Britta Curl scored four goals for Wisconsin, while Elizabeth Giguère had five points on the weekend against Quinnipiac, including scoring the game-winner in OT Saturday, something she seems to have a knack for.
As for Keller, she's put together one of the best offensive seasons by a defender in recent memory. I don't quite agree with Arlan's assessment of her defending skills from last week; I think she plays both ends of the ice well.
To me, this race is wide open by dint of the fact that none of the three has had the type of dominating seasons we've seen from players in recent years. Gabel is not even the top scorer on her team, nor is she top scorer in terms of points per game. Pankowski was outside the top 20 in scoring when the list was announced, and Keller hasn't been able to lead Boston College to consistency. If I was a voter this year, I'd have probably picked Gabel by default, especially since she finished in the top three last year, but I don't think she's had the type of year we usually see from Kazmaier finalists.
Getting back to the weekend, I think one surprise for me was that Providence swept Merrimack, a team that has been dangerous all year. Do you think the Friars have the potential to beat Northeastern in the semis this weekend?
Nicole: I was also surprised by that sweep. I definitely thought Merrimack could be one of those teams that caused some chaos this postseason. I'm on the fence on how I think Northeastern will fare this postseason, and I feel like I could make pretty convincing arguments to sway myself in either direction.
For all we focused on freshmen Alina Mueller and Chole Aurard, they probably aren't the players that are going to lead Northeastern deep into the playoffs. Sophomore Veronika Pettey and senior Kasidy Anderson have stepped up, along with quite a few much less talked about players on the Huskies roster, over the closing weeks. Mueller and Aurard started the season quite strong, but have seen their numbers taper off her toward the end of the season. Neither scored in their series against Vermont, though Mueller scored her first goals in four games against Merrimack the weekend before. Mueller's scoring goes in spurts. She has six goals over the last 15 games, but she scored in five games and didn't find the back of the net in 10 of those. She has been tallying assists, so it may just be that her role has shifted, but Northeastern probably needs her to be that goal scorer long-term to be successful. Aurard has two goals over her last 15 games. Pettey, on the other hand, has 10 goals over the last 15 games. Anderson has half her season assists over the final 15 games.
The Huskies made Hockey East history in last year's tournament, and that experience is going to help them push through this postseason. They won their first-ever tournament title and did it as the four seed. They were scrappy and had nothing to lose, which isn't the case this year. They probably won't be playing with that same kind of loose abandon and will feel the pressure differently. How they handle standing atop the mountain instead of climbing up it is probably going to be the difference-maker.
That's why Providence has more than a decent shot of beating them. The Friars were inconsistent this season, though their only loss dating back to Feb. 1 is to Northeastern. They did seem to get stronger as the schedule wound down, taking games from both Northeastern and BU late in February. Their dominant showing against Merrimack and having personal knowledge of what it's like to be the four seed and playing with nothing to lose is probably keeping Dave Flynt on his toes.
There's a lot of talent in Hockey East that hasn't really played up to its potential all season, which is what makes this tournament the most volatile, in my opinion. Any of the four teams left, playing to their maximum ability, can beat any of the other three. It just depends on what iteration of each team shows up this weekend.
My bet is that any upsets come in this tournament, though Ohio State certainly has a chance to take down Wisconsin — they showed it just two weeks ago. The Buckeyes didn't have as dominant a showing in their opening round games as Providence did over Merrimack, but otherwise the situations are pretty similar. Do you think Ohio State can beat the Badgers in the WCHA semifinal?
Candace: I hope the Buckeyes will forgive me, but I think their chances of defeating Wisconsin are much more about how Wisconsin plays than about how Ohio State plays. Wisconsin's offense exploded last weekend against St. Cloud State. Yes, the Huskies are not OSU in terms of their team defense, but Wisconsin putting up eight goals in a game is impressive and something they seem to have struggled with in recent years, especially in the postseason, where their scoring has dried up. I don't know if they feel the pressure and grip their sticks too tightly, or if they focus too much on defense to the detriment of offense, but the Badgers have not been able to find that balance.
I liked Pankowski's quote in your recap of Saturday's game, where she said that she could feel that the team is taking motivation from the season-ending series, and "We're just going to be all over them, I can feel it." It says that Wisconsin feels it has momentum, but momentum is a funny thing. If Wisconsin comes out in the first period and Andrea Brändli is on fire and makes big saves and keeps it scoreless, Wisconsin could go right back to feeling like its scoring struggles are back, and then perhaps Ohio State will be able to beat them. Wisconsin has to find just that amount of balance between playing freely and still taking care of things in their own end.
Of course, that's not the only potential upset in the WCHA. Minnesota faces its nemesis, Minnesota Duluth, in the other semifinal. The Bulldogs have given the Gophers fits, and a tie between the two almost cost Minnesota the WCHA regular season crown. Duluth looked very good against the Beavers last weekend; do you think they might take down another small furry mammal?
Nicole: There does seem to be something about the way Minnesota and Minnesota Duluth match up that makes the Gophers particularly primed to be taken down by their upstate rivals. UMD has been somewhat inconsistent this season, though they did have the toughest schedule in the country. They struggled as they ended their regular season with a loss to St. Cloud State, a sweep by the Badgers, and two ties against Mankato. I definitely expected their series with Bemidji to be closer and to go to a game three, so it does say something about the Bulldogs that they've pulled it together as the postseason hit.
There is always a chance for UMD to beat Minnesota. Maddie Rooney had her coming out party at the Final Faceoff two years ago, and until the gold medal game in Pyeongchang, played the game of her life against Minnesota in the semifinal. She made 62 saves in a double-overtime win over Minnesota before making 50 saves in a championship loss to Wisconsin. That semifinal win snapped a 16-game winless streak against the Gophers, and it's been much easier for the Bulldogs to take points from Minnesota since then.
However, Rooney can only do so much, and the difference for Minnesota Duluth will be to be strong on defense. They've got enough offensive threats of their own that they should be able to get a few goals, but they have to find a way to neutralize the deep Gophers bench, and that can't mean playing defense to the detriment of offense.
We talked briefly about the ECAC to start the column, and with all the remaining teams being ranked, it's not really fair to call anything that happens in that tournament an upset, but do you see any of the lower seeds getting the win in the semifinal?
Candace: Oh sure. Colgate, for instance, has had Clarkson's number since losing to the Golden Knights in the national championship game last March. Colgate swept the Golden Knights this year, and has seemed to be able to shut down that Gabel line that accounts for most of Clarkson's scoring. The other game is the same scenario, as Princeton won and tied with Cornell, and the last time they played the Tigers won, 5-0, so why not happen again? The Clarkson-Colgate game especially is interesting, as the last time those two played it went to OT.
I'm not sure why Princeton had success against the Big Red, but were I to hazard a guess, it's probably that lack of scoring again. Cornell is very, very good defensively, ranked second nationally, but its offense is the lowest ranked of the four ECAC teams, and is just above two other NCAA tournament possible teams, Boston University and Providence. Cornell wins much like Wisconsin: by shutting down the opponent, playing a tight game in the defensive zone, and not yielding a lot of shots.
Speaking of BU, the Terriers face arch-rival Boston College in the Hockey East semifinals, and while BC could still possibly get in if they lose, it is almost impossible for BU to get in if they lose. When a season is on the line, the intensity gets all the more real. How do you see that shaking out? Do you think BC avenges its two losses from earlier in the year?
Nicole: I'm pretty much not willing to bet anything on BC this season. I can't imagine being an Eagles fan this season with all the expectations leading in and all the ups and downs. They've definitely been better in the second half, but that tie against New Hampshire in the final game of the regular season makes me think it's not all going to be smooth sailing for BC. They haven't played the Terriers since Dec. 1, and both teams are very different now than they were then, but I actually think BU is probably stronger than they were when they took two from BC back then. That sweep was a season-changer for the Terriers.
It feels like Jesse Compher and Sammy Davis have the ability to find another level and carry their team. I've not gotten that feeling from anyone on the BC roster. Keller is their leading scorer, and we talked about her above. Watts has regressed to the mean after her stellar rookie season. While there are a number of very good players on that roster, there hasn't been anyone that's really showed that they can be the star to help take the Eagles to the next level. My gut says Boston University wins this one, as their backs are against the wall and they've had their biggest season in years. They don't want to see it end so unceremoniously and at the hands of their cross-town rival. If BU had the advantage to start December and those wins basically propelled the rest of their season, I feel like they are probably ahead of the Eagles right now.
Of course, my success at picking games has been abysmal, so that probably shouldn't count for too much.
There's nothing left but to play the games, I suppose. Are you willing to give us who your eight NCAA teams will be?
Since it's rude to ask that in my final entry when you can't turn it back on me, I'll put it out there. In order, I think it's Wisconsin, Minnesota, Northeastern, Cornell, Clarkson, BU, BC, and Robert Morris.
Candace: My final eight varies slightly from yours. I'm going to replace BU with Princeton, and Robert Morris with Mercyhurst, though I have not had a good handle on the CHA. My success in our picks contest comes from picking the other three conferences better.