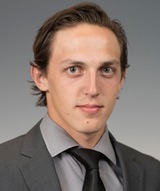 Ferris State freshman defenseman Cooper Zech has signed an AHL contract with the Providence Bruins, giving up his final three seasons of NCAA eligibility.
According to the Providence Journal, Zech signed a two-year deal and will play the rest of this season on a professional tryout.
The Journal's Mark Divver tweeted that Zech "wanted out at Ferris State."
Or maybe not. Now hearing word was out Zech willing to jump for AHL two-way deal. Wanted out at Ferris https://t.co/hOdL0L4et0

— Mark Divver (@MarkDivver) March 12, 2019
Zech became the first Bulldog freshman to lead Ferris State in scoring (eight goals, 20 assists, 28 points) since 1987-88 when John DePourcq finished with 53 points in 40 games. In addition, Zech led all WCHA freshmen in scoring.
He was tabbed the WCHA Preseason Rookie of the Year and is in the running for WCHA Rookie of the Year.
Zech's 0.78 points per game were the most by a freshman blueliner in Division I hockey in 2018-19.