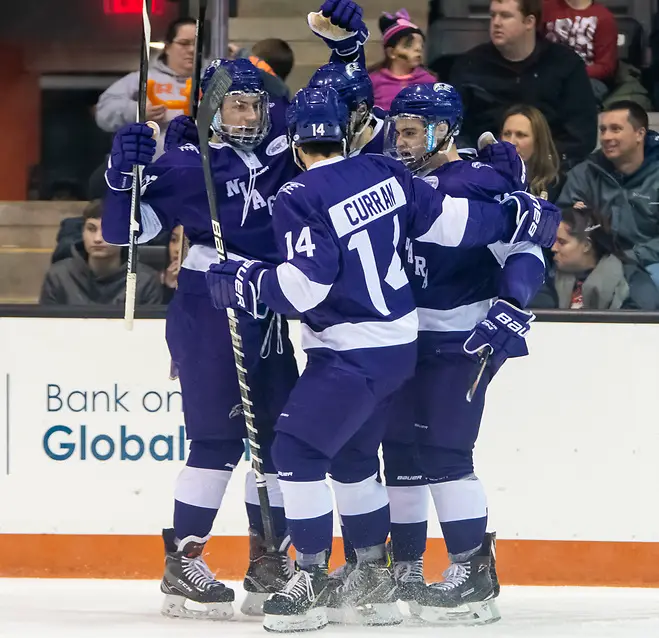 Each week during the season, we look at the big events and big games around Division I men's college hockey in Tuesday Morning Quarterback.
Jim: First off, thanks to my good friend Dan Rubin for filling in for me last week.
But I'm glad to be back and what a time to be back – playoffs!
We have one weekend of postseason play in the books in Atlantic Hockey, the Big Ten, the ECAC and the WCHA. And the thing that stood out for me was how many higher seeds advanced. Of the 14 best-of-three series across the four conferences, the only upset was Army sweeping Mercyhurst. Just three series needed all three games and those Game 3s were all won by the home team.
We talk about parity and any team being able to beat any other. That didn't seem to be the case this week, now, did it?
Paula: No, the old adage did not prove true this past week and given the way the season has gone for nearly every league, I'm a little surprised. I thought that all three Big Ten series would go to three games and that one road team would upset and advance. As it turned out, two home teams swept and only two games went into overtime. The one series I thought that would result in an upset, Wisconsin at Penn State, was the only one that went to three games and the third game needed OT to decide it.
Which brings us to our talking point about parity and another favorite of ours, that good teams – maybe the better teams – find ways to win games, especially big games when it counts.
Take Minnesota, for example.
That team came into the B1G tournament as the hottest team in the field and anyone familiar with the Golden Gophers saw the way they picked up momentum as the second half of the season progressed. They played a Michigan team that has a ton of talent and was following up its 2018 Frozen Four appearance. Yet the Wolverines could not secure a playoff home-ice advantage when they needed to, losing two OT games to Wisconsin at the end of the regular season before losing the first quarterfinal game to Minnesota in OT. Then the Gophers absolutely nailed it down Saturday night, giving Michigan no chance to win and – more importantly – giving themselves no chance to squander their own opportunity.
Parity? Yes, in many ways. Equality? No.
This weekend may have given us an object lesson in that, and the differences between teams playing to their best of their abilities while relying on specific strengths versus teams that do that as well but also play an overall solid team game.
Jim: In my years of covering Boston College, in the early rounds of the tournament, coach Jerry York always talked about how difficult it was to win the game of the series that allowed your team to advance.
In York's words, he said the hardest thing to do in hockey was take the sticks out of a team's hands, to take the jerseys of a team's back.
Of course, he was referring to ending a team's season which in every single playoff series this weekend, that was the case for the teams that lost.
You mentioned Wisconsin losing in OT in Game 3. We also had a Princeton team that probably had a disappointing season versus expectations, claw back with three extra-attacker goals on Saturday to force overtime needing to win to stay alive. Brown eventually found the game winner in the third overtime making it the 18th longest Division I men's game in history. But moments like that really show how true York's words are.
Paula: It is one of the most profound things about covering college hockey, from my experience, knowing that when the playoffs begin, seasons end for many teams and college careers end for many players. Of course, York is one of college hockey's most brilliant coaches, and part of what makes him that is his understanding of human nature. Taking the jerseys off of a team's backs – how many times, Jimmy, have you and I walked into locker rooms at the ends of seasons to witness that or its aftermath?
For many of these young guys, that last loss – of the season or of their playing careers – is heartbreaking on fundamental levels, and for some of the luckiest among them, it may be the hardest thing they've ever experienced. Even for seniors whose teams have won a national championship, putting aside their college gear for the last time is painful.
I have to say that one of the things I like the least in postgame interviews after a team has seen its season ended and players are dealing with disappointment and pain they can't even begin to articulate yet is the inevitable urging from the press to put everything in perspective. We've heard the question countless times, acknowledging that this is a tough time for players but asking them all the same to somehow summarize an entire season or career after the worst loss they've experienced. I understand why it's asked. I see the value for young people to reflect on their experiences in order to process them and gain an understanding.
Still, I find this a bit problematic. I may be alone in that, though.
Jim: Though often those questions about reflection are awkward because it's sometimes difficult to properly express one's self after a season (or a collegiate career) ends, but I think tough questions prepare players for what they will face later in life. In pro hockey, those questions often relate to whether or not you will be employed the following season or whether there is an underlying problem with the team. Facing tough questions in college should prepare players for the future – in hockey or not.
On a totally different note, I figured that I would bring up the disappoint attendance that some buildings saw this weekend. Minnesota was the poster child and I've been reading comments from many fans – both on Twitter and on our site – stating that the creation of the Big Ten and the lack of rivalries is an issue. But then we can look at some other horrid numbers around college hockey.
Brown's thrilling triple-OT game against Princeton had a paid attendance of 585. Niagara's deciding game against Canisius drew 505. I understand the competition for the entertainment dollar and the fact that, unlike season tickets, most schools have to sell playoff tickets as one-off items. But why do you think it's so difficult to draw people and create solid atmospheres in some arenas in the postseason?
Paula: That is an excellent question, Jimmy, and I'm not sure how to answer it.
It's flippant to say that it changes market to market, that in some areas college hockey is the absolute priority for some people while in others, there is a lot of competition for expendable income, as you say. The absence of college students because of spring break also doesn't account for the abysmal attendance in some places.
I am not among those who think that the Big Ten killed college hockey, even though I remain unhappy with some of the realignment issues. I do remember, though, when the CCHA tournament packed people into Joe Louis Arena with an excellent fanfest and great local support – and in harder economic times. In Minnesota, I think there was a lot more going on there than just the competition from the high school hockey tournament, but defining it is tricky.
What I fear is that it is confirmation that the collegiate sport we love is still a niche, even though we've all seen real growth over the past decade and a significant uptick in interest.
Also, I'd wager that some of what we're seeing is tied to declining local coverage of college hockey. The smaller the market, the more the effects are felt as newspapers cut back on covering everything local, from politics and business to sports and entertainment. Most schools do an excellent job of promoting their programs. It's frustrating to shout and not be heard.
It's disheartening to play in front of a near-empty arena. And when the gate suffers, nobody's happy.