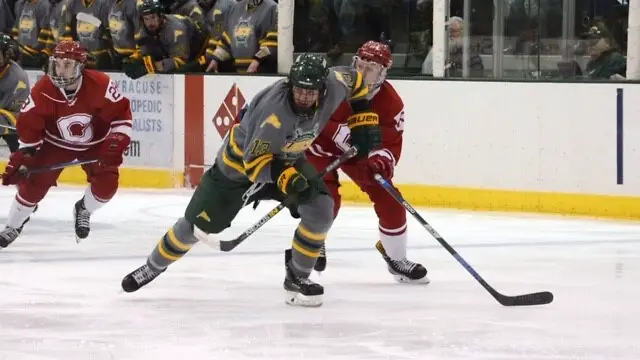 Just a couple of days removed from a tough loss at Geneseo for the SUNYAC title, Oswego landed not only an at-large berth to the NCAA tournament, but also a bye to the quarterfinal round on March 16. The Lakers' overall strength of schedule contributed mightily to their advancing to their eighth tournament appearance in the past 10 seasons but to advance to the Frozen Four and play for a national title, coach Ed Gosek knows his team needs to get back to some fundamentals in their game.
"We are thrilled to be playing in the national tournament," noted Gosek. "We play a very difficult schedule, the toughest in the country. The benefit is when you can't take care of your own business, you have a chance of qualifying and that is how it should work. Things have worked out after our loss at Geneseo but now no matter who you play, you are facing a very good team who has earned the right to be here. You can't win by making mistakes. Against Geneseo, the mistakes we made ended up in the back of our net. That is what happens when you play against teams with skilled players. For us this bye week gives us the chance to go back to the fundamentals and focus on the little things in our game that could help us eliminate mistakes and hopefully win a couple of more hockey games in the 'bonus season.'"
The Lakers will rely on a core group of players who have made significant contributions to their success during the regular season. One of the key offensive players is freshman Travis Boughman (12 goals, 10 assists), who has flourished in his first season and is tied for second in points with fellow forward Joseph Molinaro (14 goals, eight assists), just a couple of points behind Josh Zizek (13 goals, 11 assists). Boughman has been a key contributor in several Lakers' wins and will be expected to step up in the tournament as a key performer.
"We tell the kids that after going through the regular season, they aren't freshmen anymore," said Gosek. "At least in the hockey sense, they have played a lot of games, have become comfortable in the college game and the way we play, so it is an expectation that a young guy like Travis would continue to be an important player in our lineup based on his accomplishments so far."
You don't win playoff hockey games without solid goaltending, and Oswego has come to rely on the capable netminding of David Richer. Richer has started 21 games for the Lakers and has been a consistent anchor in the crease this season, posting three shutouts.
"David is very self-critical," noted Gosek. "He is so fundamentally sound and solid positionally with his angles and being square to pucks that he expects to stop the puck if he can see it. The game-winning goal in the Geneseo game just happened to be the perfect timing of two guys creating a flash screen on him, and he never saw the puck come off the stick. I know he stops it if he saw it. He will use that in getting ready for our next opponent."
During the week off, Oswego did two important things to prepare for their quarterfinal matchup with Hobart. They rested and cut down on the practice ice time, and they focused on the fundamentals and details in their game.
"It is nice at this time of the season to let some guys that are banged up get some time to heal up," said Gosek. "Of course, it is playoffs and the national tournament, so everyone is on deck playing through something, but to have a week to let some guys get some rest and recover is a really good thing and should help us be at the top of our game on Saturday night. Our practices are shorter with high intensity, so we don't burn the guys out. It is nice to get a chance to work on some things in our game like our forecheck, defensive zone coverage, and special teams so we can get focused and hopefully eliminate any mistakes. At this point of the season it is on us to be focused and execute, and that is the thing we can control on the ice in playing our game."
The Lakers faced Hobart early in the season and took home a 4-2 win that needed and empty-net goal for insurance. Gosek and his team both know that the Statesmen are a quality team that will give them a difficult game with everything on the line.
"I thought we got some very favorable and lucky bounces when we played them earlier in the year," said Gosek. "They are a good team, and we don't want to rely on luck to win. We are familiar with their style of play and what they like to do pressuring the puck and in their defensive coverage. We will share some of those things in some film sessions with the team, but mostly for awareness for our kids not to be surprised on the ice. Our success is going to come down to our doing the little things well, playing our brand of hockey, and eliminating those costly mistakes that can cost you a game."
Despite the students being on spring break starting this weekend, the Lakers expect a good crowd from their 1,200 standing season ticket holders for what should be a terrific quarterfinal matchup with the winner advancing to the Frozen Four.