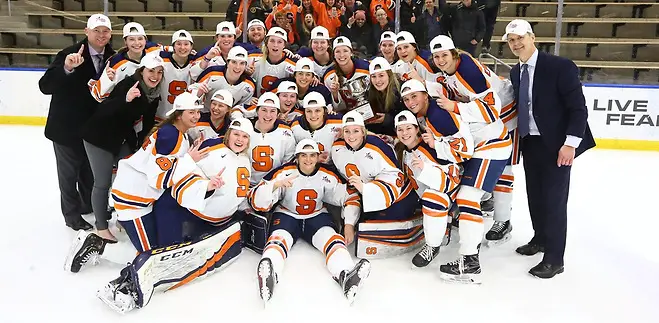 It turned out to be lucky number seven for the Syracuse Orange when they won the CHA tournament championship after six previous tries had been unsuccessful. The road to the program's first-ever NCAA tournament berth was an interesting one. The Orange won three games in three days to play their way to the top of the CHA tournament, but the path to that achievement started sometime in mid-January.
The beginning of the season was not kind to Syracuse, which lost 14 of 19 games in the first half, including eight losses in a row to send them into the holiday break. When games resumed in January, the Orange lost three of the first four games, and it looked like maybe things would continue in that manner.
Instead, they went 8-4-2 over the 14 games since that time. It was a disappointing end to the regular season as they were swept by a Robert Morris team that was in a must-win situation, but Syracuse responded with the three straight wins to take the CHA tournament crown. In that final regular season weekend, they were realistically playing for a chance at the regular season title.
The turnaround has been big for a team that returned 13 upperclassmen this season. The addition of Anonda Hoppner, who transferred from Colgate after the Raiders made program postseason history of their own last season, definitely didn't hurt as the Orange looked to set a new standard for Syracuse women's hockey.
This week, the players have been talking about how "it's not how you start, it's how you finish," and coach Paul Flanagan is hoping his team can carry that attitude with them all the way to Madison and the team's first-ever NCAA tournament game, where they play Wisconsin.
"This past week, we had three wins in three days. We played really well. We just have to ride that momentum — put it on the plane and take it out there with us," he said after the selection show on Sunday.
The Orange played in Madison once already this season, though they'll be looking for much different results than the 6-1 and 9-1 losses they suffered the first weekend of December. Flanagan knows confidence is one of the most important things his players have for this game that they didn't have back in December.
"We have to do a good job with the things we can control. When we went out there, they outworked us. We can control our effort and our attitude. So for starters, those are very important. We need to try to just try to neutralize their strengths and really play our game. The thing we got caught up in last time out there was admiring how good they were. You have to recognize we're a different team (now)," said Flanagan.
The Orange are going to embrace their underdog role in this game and not try to get too caught up in who they're playing or where the game is being played. This is where having already traveled to Madison and experienced both the Badgers and their home arena becomes a big advantage for Syracuse.
"Wisconsin and Minnesota are just a notch above everyone," he said. "They're really deep. But they have a goalie and five skaters, just like we do. That's all you can have out there at one time. I think that's the mentality that we have to have. We'll relish being underdogs, the fact that I'm sure they're looking past us."
The team seems to be holding on to the things they learned from their visit to Wisconsin in December and dismissing anything negative that came along with it. Flanagan called that trip the dress rehearsal. Hoppner reiterated the line that "we all know we're such a different team than we were in December," and that appears to be the mantra that is pushing Syracuse on this week and giving the team confidence.
"We're the definition of the underdog," Hoppner told media at Tennity Ice Pavillion on Wednesday. "We're excited for the challenge. We're going to go play our hearts out and just enjoy the moment. Whatever happens, happens."
The Orange aren't looking to take this first NCAA berth as mere experience, however. Flanagan said the team isn't just looking to go have fun, but to go out and win a hockey game.
Regardless of the outcome of Saturday's NCAA quarterfinal, the Syracuse women's hockey program has set a new standard for itself, something Flanagan said was a long time coming. He joined the program 11 years ago, and this was always his goal, it just took a little longer to achieve than he'd have liked.
"There was a lot of disappointment along the way, but I think that makes this even more special," Flanagan said. "When you have a lot of disappointment, things didn't come easy, and I think you really respect how hard it is to win a championship. Yeah, it took a long time, but it's worth the wait.
"This group has accomplished what other teams hadn't, but it's for them as well. I think for our program this is a signature time for us. It's something that our younger kids can build off this and for our seniors to leave a legacy of a championship and an NCAA berth. For our younger kids now, this is what they know. This is the culture. It's taken us a little while, but this is the culture that we want."
It was a long road, but having achieved that first step is one of the most difficult pieces. Now that the Orange players know what this feels like, they're going to be even hungrier to repeat the feeling. There's extra motivation that comes from having reached the top before. No matter the outcome of their game against Wisconsin, that's the biggest takeaway from finally winning the conference tournament and getting the NCAA berth.
"I'd like to think that it could propel us where our culture believes that at the start of each year that this is something (we can do)," said Flanagan.