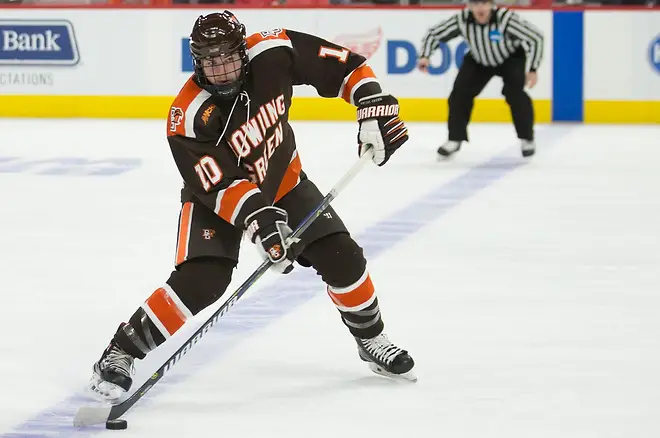 Bowling Green coach Chris Bergeron knows his team is on the bubble.
Despite sweeping their WCHA quarterfinal series against Michigan Tech last weekend, the Falcons didn't see any movement in the PairWise rankings — they're holding firm at No. 16. Which means that, if the season ended today, Bowling Green would yet again be the last team out of the NCAA tournament.
"At 16, we talk about the bubble team, and we are that for sure," Bergeron said. "We've been this way before. Unfortunately, we've found ourselves here as the last team out a few years ago. It's an unfortunate situation but we put ourselves in, [but] we need to focus on the task at hand."
Luckily for the Falcons, the season doesn't end today, and the NCAA tournament is still very much a possibility for them. The only catch is, they likely won't be relying on an at-large bid. The Falcons, the No. 3 seed in the WCHA tournament, travel to Marquette, Mich., this weekend for a semifinal matchup with No. 2 seed Northern Michigan.
And Bergeron says his team knows what it needs to do in the final two rounds of the playoffs.
"There's a championship on the line and we want to focus on that. We know if we focus on that, the PairWise will take care of itself," he said. "At this point we've put ourselves in the situation where we're going to have to keep winning."
The Falcons (23-9-5) won a ton of games this season but were inconsistent in the last month or so of the season. Before this weekend's sweep of Michigan Tech, the Falcons hadn't swept an opponent since Dec. 14-15 against Minnesota State. It kept them from rising higher in the PairWise but also prevented them from finishing the season as the No. 2 seed in the playoffs. Northern Michigan ended up overtaking Bowling Green on the final weekend of the regular season.
That's why the Falcons are hitting the road to Marquette this weekend, for a rematch of last season's WCHA semifinal series. The Wildcats won that series in three games, including a 3-2 overtime victory in game three.
Bergeron said last season's loss isn't looming large for Bowling Green, mostly because the teams have already played four times this year. They split the season series 2-2.
"I don't think last year has much residual effect. We've played four times since that series last year. We were both fighting hard for second place to get home ice for the second round and they earned it," he said. "We know how difficult it is, and we know how good they are at home. We know how good they are overall. But we feel like we're playing pretty good right now and we want to continue that way."
Northern Michigan (21-14-2) is coming off a sweep of Alaska and is in the midst of a six-game winning streak. The Wildcats are 8-1-2 in their last 11 games.
"They've got some of the top guys in the league at all three positions, and we know how difficult it is to play up there." Bergeron said, noting that they got a split when they played in Marquette Feb. 1-2. "Hopefully that makes us a little more comfortable or confident going in there because we have won in that building. But we've also lost in that building a few times, so it's another very big challenge for us."
Both teams are coming off series sweeps, and both scored lots of goals in the process (nine apiece, to be exact).
In Bowling Green's case, they were able to exploit their power play in a big way against Michigan Tech. They went 4-for-7 on the man advantage, Max Johnson, who had three goals and three assists in the series, scored two of those power play goals while Connor Ford scored the other two.
"It was a good six period of hockey for us. We felt our process were good, we felt like we were competitive and certain parts of our game which had been a little inconsistent were really going for us over the course of the weekend," Bergeron said. "The pucks went in that net for sure. That's a good thing for us, since we've been a little inconsistent with scoring. The power play was really good over the course of the weekend, which we're going to need if we want to continue to play well."
It's a series that doesn't seem to favor one team or the other, and where both teams seem about as evenly matched as any two in the conference. Both teams likely need to lift the Jeff Sauer WCHA Championship Trophy to make it back to the NCAA tournament. The winner this weekend gets one step closer to that with a spot in the one-game WCHA final.
"Winning is the only way to guarantee us we get to where we want to get to," Bergeron said. "We're a program that we feel championships are realistic expectations. There's a championship on the line, and we need to earn our way into that."