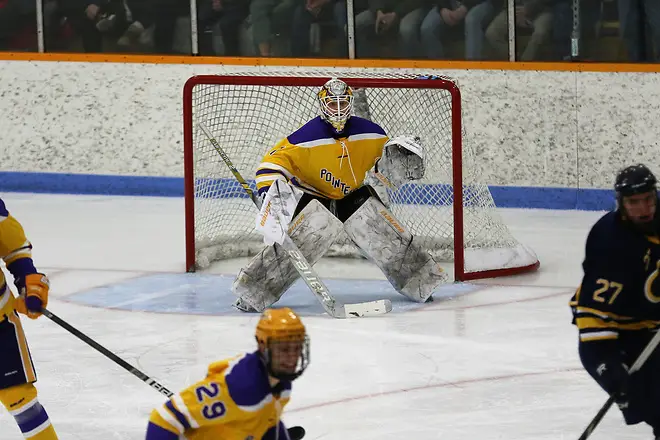 Connor Ryckman had an opportunity to gain experience last season as a freshman at Wisconsin-Stevens Point, which reached the NCAA Division III Frozen Four. He appeared in five games last season, winning four times while tallying 88 saves.
The story is different this season. Ryckman is no longer an unknown. He's the WIAC Player of the Year and has played a key role in his team's return to the NCAA tournament.
The unbeaten and top-ranked Pointers play in the national quarterfinal at home Saturday against reigning national champion St. Norbert, the third-ranked team in the country.
"It's special to play on this team and be part of an undefeated team, but right now we're focused on the next game. Our focus has to be on the game in front of us," Ryckman said.
Yet, Ryckman will tell you the experience he gained last season has been invaluable.
"I had a chance to play last year and learned a lot from it," Ryckman said. "Max (Milosek) is a legend around here and really guided me in the right direction. P.J. was a big help, too. I learned how important it is to come in day in and day out and work as hard as you can."
Ryckman didn't start out as a goalie, but in youth hockey, he was needed as a fill-in and hasn't left since.
Having a team with a stellar defense and an offense that has cranked out 109 goals, including 22 from Tanner Karty, the WIAC Player of the Year in 2018, may make goaltending feel easier. Karty has dished out 26 assists as well.
"It puts you at ease knowing you have guys who are going to find ways to score goals," Ryckman said. "I don't think about the pressure of playing goalie. I just go out and make plays."
The Pointers hope to make more plays Saturday when they battle the Green Knights for the second time this season. The teams played to a 1-1 tie earlier. This will be the 81st meeting between the two schools.
Regardless of who the opponent is, the Pointers know everyone is good at this point in the season.
"When you get to the NCAA tournament, there are no easy games," Pointers coach Tyler Krueger said. "Everyone is playing their best hockey this time of the year. We need to do things a certain way for us to be successful, no matter who we are playing."
The Pointers have been off since winning the conference tournament earlier this month. They didn't let the time go to waste. Then again, the bye is nothing new.
"This is the third bye week that we've had this season, so it's not unfamiliar to us," Krueger said. "It gives us chance to spend more time on special teams than usual. Our power play has been coming on as of late, and we need to get it to peak. It also allows us to focus on a few key parts of our game that we think need work. Mainly, we have learned from our first two bye weeks that we need to work extremely hard and keep the competition level high to keep our edge."
Once the puck drops Saturday night at K.B. Willett Arena, the mission is simple.
"Anything can happen in the tournament. It's a one-game scenario. We just have to go in there ready to get the job done," Ryckman said.
Is there any added pressure on the Pointers based on the fact that they go into the tournament unbeaten? Not really.
"Pressure isn't something that is real, it is something that is created in your mind," Krueger said. "In big games, you have to let go of the outcome and trust the preparation and work we've put in all year. We've overcame every obstacles imaginable this year, so we know there is no situation we cannot overcome. Big games like these are like falling in love, you can't force it. The more you try and force things, the more they elude you. Just embrace the moment and have a blast. In my mind, these guys are already champions no matter what happens."