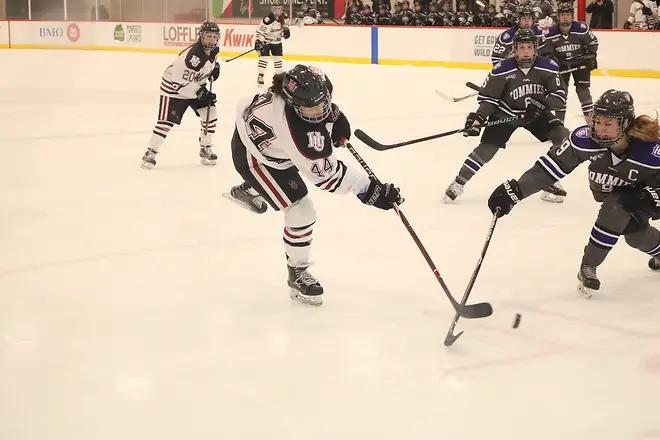 No. 2 Plattsburgh versus No. 5 Adrian: Plattsburgh 4-1
The score in this game was close until the third period; however, Plattsburgh outplayed Adrian for almost the entire game. Plattsburgh seemed to be a step ahead of the Bulldogs in every aspect, such as puck races, battles along the board, and capitalizing on opportunities. Adrian had a couple chances that could have shifted the momentum in their favor, but didn't execute on. The Cardinals look strong as they head into the national championship game against Hamline. Plattsburgh had a slow start to its first two games in the national tournament and had to battle back to win those games. Plattsburgh coach Kevin Houle said to see his team start the game on a strong note was relieving.
"Finally coming out of the second period with a lead was refreshing," he said. Houle also noted a difference in the tournament due to three out of four teams being from the west.
"(It's) a different dynamic with West as a majority, but excited to be here and want to be in a national championship, and that's where we are."
Cardinals captain Courtney Moriarity was the difference-maker in this game, scoring the first two goals to give her team a jump in the game. There is no team that can beat Plattsburgh if they play this way tomorrow.
No. 1 St. Thomas versus No. 4 Hamline: Hamline 3-0
The Tommies were upset by their conference rival for the second time this season, and this time it was on the big stage. Kenzie Torpy's absence without a doubt played a factor in this game, but teams can't rely on a single player to carry them to the finals. Injuries are a part of the sport, and teams that make it to the finals have depth on their roster.
Hamline's offense out-powered the remaining core of St. Thomas's widely known defense. Becca Zarembinski and Bre Simon scored in the first period to give Hamline a nice lead to start the game. Then in the second period, Madison Kolbow helped increase her team's lead to three goals.
"It is huge for our growing program," said Hamline coach Natalie Darwitz. "Four years ago, Hamline was at the bottom of the league nationally, and now four years later we are competing for a national championship. The young ladies we recruit trusted our vision for this program and put in the work to get to where we are now."
Darwitz was also quoted saying she wanted to "dictate the pace" of the game, and that is exactly what happened. The Pipers took advantage of St. Thomas' star player being sidelined and made the Tommies play catch-up from the very start of the game. Hamline looked to be connecting well and executing their game plan, which makes them a dangerous team coupled with the talent on their roster.