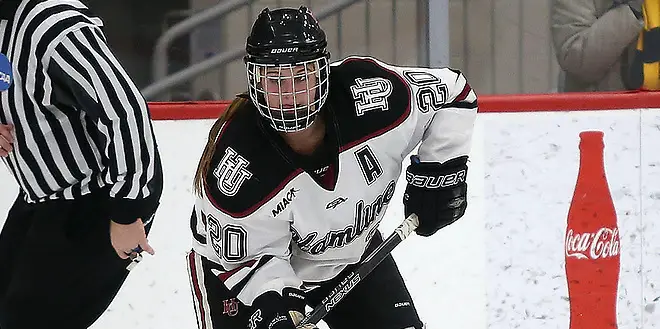 Thursday night in St. Paul, Minnesota, the Frozen Four banquet was held and the individual national awards were announced. Taking home one of the most prestigious awards at the Division III level, the 2019 Laura Hurd Award, is junior Bre Simon from Hamline University. The award is voted on by the nation's Division III head coaches.
Simon, a native of Elk River, Minnesota, leads the nation in scoring with 63 points on 26 goals and 37 assists in 28 games heading into Friday's NCAA semifinal against St. Thomas.
Through three seasons, Simon has 74 goals and 72 assists for 146 points. She averages better than 2.25 points per game.
"Bre scored a point against every single team she faced this season," said Pipers coach Natalie Darwitz in a statement. "She is the backbone of our team, and it begins and ends with Bre. She is a coach's dream. Not only does she put up points, but she does all of the little things you love to see as a coach, both on and off the ice."
Although Simon has enjoyed an abundance of individual success with the Pipers, Darwitz said that Simon prefers to be more reserved and is always team first.
"Bre dictates our pace. She is an action-oriented person. The impact that she made of her season and in our program is immeasurable. What I love about her is you would never know off the ice that she is our top player; she does not like the attention and is more reserved. She just wants what is best for the team."
Darwitz also acknowledged Simon's easy-going and great personality plays a factor in her success.
"Bre has matured before our eyes in three years, both on and off the ice. She now understands the impact she has and can influence others. She is an easy-going kid and lights up a room when she smiles. She does not let the attention of being a good player and having other teams try and stop her get to her, she keeps with the process and keeps playing her game."
Simon, who is the only player from Hamline to win the Hurd Award, said winning this award is an incredible honor and credits her coaches and teammates for helping her along the way.
"It's a huge honor, I honestly have no words knowing that all of my hard work on and off the ice paid off. My teammates and coaches have pushed me each day. They have really shaped me into the player I am today. I'm so grateful for each one of them."
The runner-up for this year's Hurd Award is St. Thomas senior goaltender Kenzie Torpy.
The award is named in honor of former Elmira star Laura Hurd, who died in a car accident shortly after graduation. Hurd was a four-time All-American who led Elmira to victory in the first NCAA Division III women's championship.