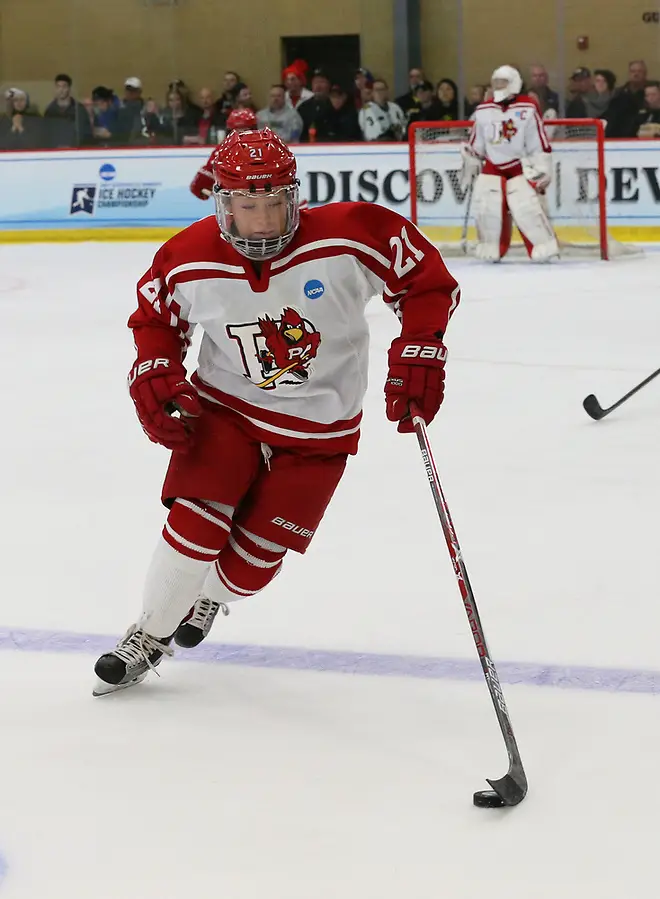 Championship Game
No. 4 Hamline versus No. 2 Plattsburgh
Hamline pulled the upset, beating the number one team in the country to make it to this championship game. The Pipers are rolling on a high note after being the only team to beat St. Thomas, and they did it twice. Hamline's top forwards, Bre Simon and Leah Schwartzman, have been doing a great job leading their team throughout the year, especially in the national tournament. The Pipers' defense stepped up against St. Thomas in the semifinal round and didn't let the Tommies score. Statistically, Plattsburgh has better forwards and will make Hamline's defense work harder, but it must be reassuring for Hamline to see their defense execute against a top opponent on the big stage.
As for Plattsburgh, their star forwards have been coming up big as well. Courtney Moriarty was the key player in their semifinal round win, and her other linemate, Annie Katonka, scoring in the other national tournament games. It's clear both teams are more forward oriented, which makes it a defensive game. Both teams have the talent to score, but whatever team has the better defense and goalie will be hoisting the trophy. Hamline's defense and goaltender have been shaky all season but have been playing their best hockey in this tournament. Plattsburgh has the better defense and goaltender on paper, but has only been consistent in the game against Adrian. Another factor to consider is the team that will score first and make the other team play catchup. Both teams throughout the season are used to scoring numerous goals in a game and winning by a decent-sized margin. Plattsburgh seems to be the better comeback team, so Hamline will need to score first and continue to score and put distance on the scoreboard to fend off the Cardinals.
Third Place Game
No. 1 St. Thomas versus No. 5 Adrian
This game will be extremely hard to predict, as the status of St. Thomas's star goaltender's appearance in net is unknown. The Tommies were not able to get the job done without Kenzie Torpy, and if she's not in net, that will give the Bulldogs a great advantage. However, if Torpy plays and is not completely healthy that won't help the team as well. The Tommies picked a bad time to find a new identity as a team, and it's clearly affecting them negatively. Adrian took a crushing defeat against Plattsburgh, and not only from the score. The Cardinals completely outperformed the Bulldogs, and if St. Thomas was smart, they should take notes from that game. However, the Bulldogs are good at bouncing back from a bad night and coming back stronger. Adrian still has a strong goaltender in freshman Denisa Jandová, and their forwards are good enough to create opportunities for their team. This game will come down to capitalizing on the opportunities given and created. Nether St. Thomas nor Adrian could finish scoring from the chances that arose during their semifinal games. If Torpy doesn't play, the Tommies need to focus on scoring and continuing to play the defensive game that they've played all year round, despite who is in net. Adrian needs to play its game and execute.