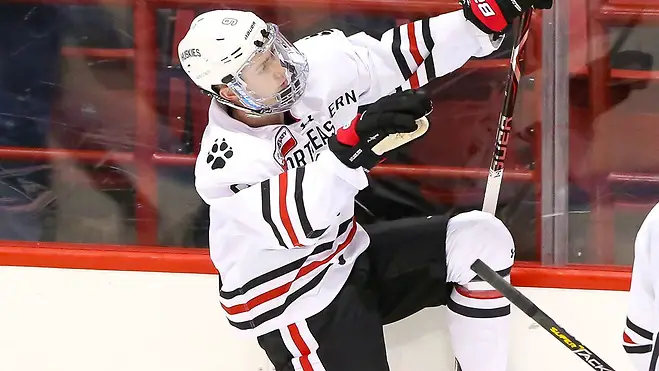 Hockey East announced Wednesday the 2018-19 All-Rookie Team and six other individual awards as voted by the league's 11 head coaches.
All-Rookie Team
F: Tyler Madden, Northeastern
F: Jack Dugan, Providence
F: Joel Farabee, Boston University
F: Chase Gresock, Merrimack
D: Marc Del Gaizo, Massachusetts
G: Tomáš Vomáčka, Connecticut
Madden was the lone unanimous selection.
In addition, Providence senior Vincent Desharnais has been named Best Defensive Defenseman and Maine junior Chase Pearson was voted Best Defensive Forward.
Massachusetts sophomore Mitchell Chaffee is the league's top scorer and the Hockey East Three Stars champion is Northeastern sophomore goaltender Cayden Primeau.
Hockey East's two sportsmanship awards will be given to the same recipients as a year ago, as Providence junior defenseman Jacob Bryson has garnered the Len Ceglarski Sportsmanship Award and UMass Lowell has earned the Charlie Holt Team Sportsmanship Award for accruing the fewest penalty minutes in Hockey East games.